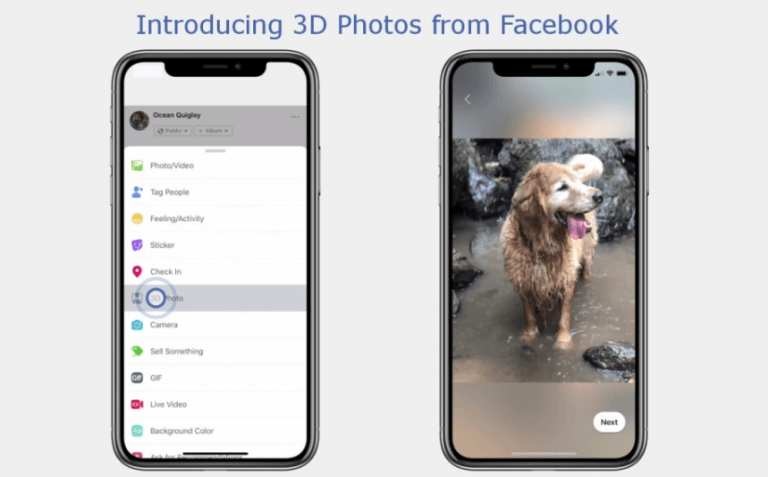 Do you remember those lenticular images that used to move as you shake them? Facebook's 3D photos are similar to that, only much deeper, thanks to artificial intelligence. Facebook announced on Thursday that it's rolling out 3D photos.

"Today we're starting to roll out 3D photos, a new way to share your memories and moments in time with a fun, lifelike dimension in both News Feed and VR. With technology that captures the distance between the subject in the foreground and the background, 3D photos bring scenes to life with depth and movement," Facebook wrote in a blog post.
The feature was initially announced in May during F8. At the time, the company announced that users would be able to take 3D images using their smartphone and share them on the social network. The feature had been planned for a summer release, but despite the late arrival, it looks like it was worth the wait.
How Value Investors Can Win With Tech And "Fallen" Growth Stocks
Many value investors have given up on their strategy over the last 15 years amid concerns that value investing no longer worked. However, some made small adjustments to their strategy but remained value investors to the core. Now all of the value investors who held fast to their investment philosophy are being rewarded as value Read More
What are Facebook's 3D Photos?
Unfortunately the new feature is available only on compatible devices sporting a dual-lens camera and portrait mode, which iPhones, Samsung Galaxy devices and some Huawei models have. Facebook's 3D Photos allow you to take a picture of yourself, family, friends or pets and then share it on the social network as a 3D photo. Facebook allows you to scroll, pan, or tilt the photo to make it look as realistic as possible.
Facebook's 3D photos can also be viewed in virtual reality using the Oculus Browser, Oculus Go, or Firefox on the Oculus Rift. The company has just begun to roll out the feature, which will be available to everyone in the coming weeks.
It's clear Facebook is constantly looking for ways to make VR more accessible and liven up 3D using AI. The company's efforts began with texts and statuses being turned into images and moved toward videos and live broadcasts. The most innovative feature of the bunch had been the 360-degree photos, which are perfect for looking at landscapes. However, Facebook has now taken another huge step forward with 3D photos.
How do Facebook's 3D Photos work?
TechCrunch's Devin Coldewey did thorough research on how Facebook implements artificial intelligence to keep the social network together, especially when it comes to adding layers of photos together so they move and change as a phone tilts or moves. Portrait mode activates both cameras simultaneously, which allows AI to manipulate the parallax differences in portrait mode to show what's located behind the subject.
For better photo quality, Facebook's 3D photos work the best with subjects being three to four feet away from the camera on a background that's rich in color. Having more distinct colors in the photo will make the layer separation in images more detailed, but shinier objects like glass or plastic can confuse the AI.
Updated on