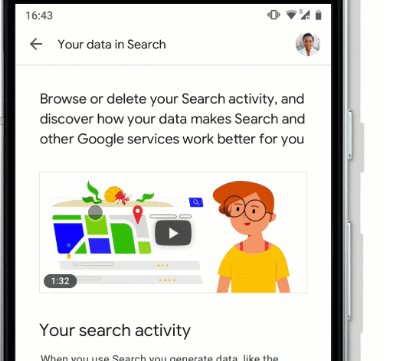 Almost everyone knows Google keeps a record of all the searches you make on Google.com. Deleting your search history is also not an easy thing, but now the search giant is making it easy for you to delete your search history.
How to delete your search history
Previously, to delete your search history, you had to visit the Google account landing page to view and delete it. However, you can now delete your search history from within search itself.
"Having access to relevant and actionable privacy controls directly from the Google products you use every day is just one way that we are continuously working to build privacy that works for everyone," Google said in a statement.
Looking at Trends with AlphaSimplex's Dr. Kathryn Kaminski
ValueWalk's Raul Panganiban interviews Dr. Kathryn Kaminski, Chief Research Strategist at AlphaSimplex, and discuss her approach to investing and the trends she is seeing in regards to quant investing and hedge funds. Q1 2021 hedge fund letters, conferences and more The following is a computer generated transcript and may contain some errors. Interview with AlphaSimplex's Read More
To try this new, easy way to delete your search history, tap on the three lines on the left side of a Google Search page. Next, click the "Your data in Search" option. There, you will find the queries you asked Google recently and the option to delete them.
Google's new "Your data in Search" option also allows users to change their ad settings. Users can also adjust their activity controls to limit the amount of information Google can save on them. Though Google does not sell user data, it does use it to target ads on its various services, like Maps and YouTube.
Google's new functionality is now available on both desktop and mobile web. For the iOS and Android apps, the new way to delete your search history will arrive in the next few weeks. Google Maps will also be getting the functionality, but not until some time next year.
Users deserve more
This new Google generosity follows a string of recent data privacy scandals. In August, the Associated Press reported that the search giant continued to store time-stamped location data even when users disabled their "Location History." Then last month, Google reverted changes made to Chrome that automatically signs a user in if they want to use another Google service like Gmail.
A recent software bug granted developers access to the private data of Google+ users. Google has now scrapped the social network completely. It's not just Google which is having a tough with privacy issues; Facebook is struggling with data issues too.
Although it's a good thing Google is making its privacy settings more accessible, a consumer advocacy group feels users deserve even more control over their data.
"I'm glad they're making the settings a little easier to find, but the settings they present you with still don't give users the controls they deserve." Consumers Union director of Privacy and Technology Policy Justin Brookman said, according to Consumer Reports.
As an example, Brookman says users must disable their Web & App Activity to keep Google from storing future search activity, but disabling it also turns off few useful functions in services such as Maps.
Google Lens comes to image search
In September, Google promised to add Lens to image search, and now the feature is available to users in the U.S. Google introduced Lens in May 2017 to help users learn more about the images they are looking at.
"Starting today, when you see something in an image that you want to know more about, like a landmark in a travel photo or wallpaper in a stylish room, you can use Lens to explore within the image," Google said when announcing the new feature.
To use the Lens feature, first you will have to do a Google search and then go to the Images tab. For instance, if you search for a new sofa and go to the Images tab and click on one of the results, you will notice a Lens icon beneath the photo. Tapping it will make dots appear on the image to help you explore further, like by seeing similar sofas you can buy.
Google Lens has been available for Google Assistant and Google Photos for some time now. The feature is integrated into the Pixel phones as well.