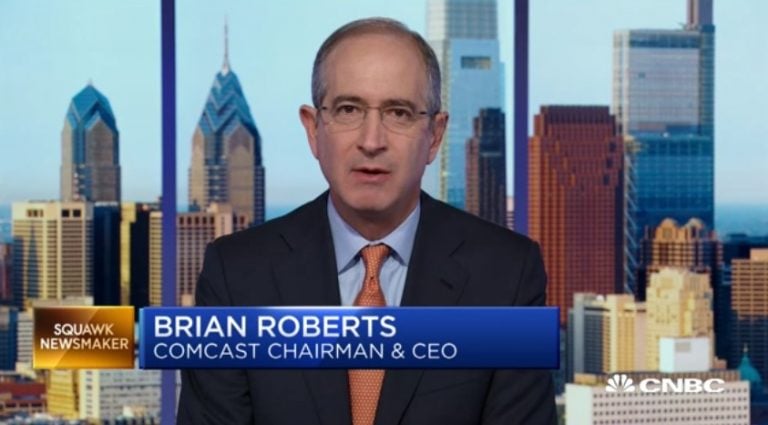 First On CNBC: CNBC Transcript: Comcast Chairman and CEO Brian Roberts Speaks with CNBC's "Squawk Box" Today

WHEN: Today, Thursday, October 25, 2018
WHERE: CNBC's "Squawk Box"
Fund Manager Profile: Zhang Hui Of China's Southern Asset Management
Historically, the Chinese market has been relatively isolated from international investors, but much is changing there now, making China virtually impossible for the diversified investor to ignore. Earlier this year, CNBC pointed to signs that Chinese regulators may start easing up on their scrutiny of companies after months of clamping down on tech firms. That Read More
The following is the unofficial transcript of a FIRST ON CNBC interview with Comcast Chairman and CEO Brian Roberts on CNBC's "Squawk Box" (M-F 6AM – 9AM) today, Thursday, October 25th. The following is a link to video of the interview on CNBC.com:
Watch CNBC's full interview with Comcast CEO Brian Roberts
Q3 hedge fund letters, conference, scoops etc
All references must be sourced to CNBC.
BECKY QUICK: OKAY. A LOT OF EARNINGS THAT ARE OUT THIS MORNING. WE'VE ALREADY TOLD YOU ABOUT COMCAST EARNINGS. COMCAST COMING IN WITH EARNINGS THAT HAD BEEN BETTER THAN EXPECTED. ADJUSTED EPS UP 27% TO 65 CENTS A SHARE. THAT WAS 4 CENTS BETTER THAN THE STREET HAS BEEN ANTICIPATING. ALSO SAW REVENUE NUMBERS THAT WERE BETTER THAN EXPECTED. AND JOINING US RIGHT NOW TO TALK ABOUT THAT IS BRIAN ROBERTS. HE IS COMCAST CHAIRMAN AND CEO. AND BRIAN, THANKS FOR BEING HERE TODAY.
BRIAN ROBERTS: HI BECKY. THANKS FOR HAVING ME.
QUICK: SO A LOT OF NUMBERS THAT WERE IN THIS REPORT THAT WERE BETTER THAN WE WERE EXPECTING, NOT JUST THE ONES WE JUST MENTIONED BUT ALSO THINGS LIKE HIGH SPEED INTERNET CUSTOMER ADDITIONS. WHAT, TO YOU, IS THE MOST IMPORTANT TAKEAWAY FROM THIS REPORT?
ROVERTS: WELL, WE CONTINUED THE GREAT MOMENTUM. AND I THINK THERE ARE SOME FOLKS, PERHAPS, THAT LOST FOCUS OF WHETHER WE BELIEVED IN THE CORE BUSINESS. AND THESE RESULTS, ONCE AGAIN, THIRD QUARTER, I THINK THE LAST ONE YOU JUST SAID. IF I COULD PICK ONE OR TWO, I WOULD 363,000 NET BROADBAND ADDITIONS IN THE QUARTER. THAT'S THE BEST IN TEN YEARS, AND DAVE WATSON AND THE TEAM ARE DOING A FANTASTIC JOB. OUR PRODUCTS BETTER, OUR HIGH SPEED INTERNET IS JUST GOING GREAT. AND EBITDA GROWTH FOR THE CABLE COMPANY WAS UP 7.6%, THAT'S THE BEST IN SIX YEARS. SO, WE'RE SEEING A REALLY GOOD TRANSFORMATION OF THE CABLE BUSINESS INTO CONNECTIVITY, INTO HIGHER MARGINS, LOWER CAPITAL SPENDING AND THAT'S WHY THE NUMBERS ALL SEEM TO BE BETTER THAN PEOPLE'S EXPECTATIONS AND WE'RE DELIGHTED.
QUICK: YEAH, THE NUMBERS AT NBCUNIVERSAL WERE ALSO PRETTY STRONG, TOO. REVENUE UP 8.1%. AND I BELIEVE THAT THE CABLE NETWORK IS UP BY BETTER THAN 10%. WHAT ARE YOU SEEING? WHAT'S DRIVING SOME OF THE REVENUE GROWTH THERE?
ROBERTS: CAN'T HEAR THE FEED.
QUICK: BRIAN, I DON'T KNOW IF YOU CAN HEAR ME. I'LL TRY AND REPEAT THAT. WE WERE LOOKING AT SOME OF NUMBERS ALSO JUST WHEN IT COMES TO NBCUNIVERSAL AND THE REVENUE NUMBERS WERE STRONGER THAN ANTICIPATED. 8.1% GROWTH FOR NBCUNIVERSAL, FOR THE CABLE NETWORKS, IT WAS UP BY BETTER BY 10%. I JUST WONDER WHAT'S DRIVING THE GROWTH THERE. IT SOUNDS LIKE WE'RE HAVE SOMETHING PROBLEMS. WE'RE GOING TO TALK MORE ABOUT THESE NUMBERS. WE'LL TRY AND FIX THIS IN THE MEANTIME. ONE OF THE THINGS WE DEFINITELY WANT TO POINT OUT WAS JUST ASK, JOE, AS YOU HAD MENTIONED, ABOUT THE THEME PARKS. A LITTLE WEAKNESS BUT THAT COULD BE FROM SOME OF THE FREE CASH FLOW THAT THEY'RE SPENDING TO BUILD A PARK IN BEIJING.
JOE KERNEN: PARTLY THERE, TOO, AS WELL. AND I WAS THINKING ABOUT IT, BECAUSE IN PREVIOUS YEARS AND QUARTERS, THE THEME PARKS, EVERYTIME THEY COME ON IT'S LIKE, "LOOK AT."
QUICK: -- WAY BETTER THAN EXPECTED.
KERNEN: SO HOW DO YOU DO COMPARISONS WHEN IT WAS ALREADY –
MICHAEL SANTOLI: COMPARING TO – THE LAUNCH OF A NEW ATTRACTION – RUSH OF TRAFFIC --
KERNEN: EXACTLY.
QUICK: AND WE ALSO HAVE THE SITUATION IN JAPAN WHERE THERE WAS SOME ONE-OFF BECAUSE OF WEATHER AND A POTENTIAL EARTHQUAKE.
KERNEN: IT'S FASCINATING TO ME TO SEE. AND "DESPICABLE ME." THAT – WHO THOUGHT OF THAT?
QUICK: -- "DESPICABLE ME 3."
KERNEN: YEAH, 3 – FRANCHISE.
QUICK: RIGHT. STRONG COMPS FROM A YEAR AGO. IT WAS PROFITABLE BECAUSE OF THE MARKETING – I MEAN BECAUSE OF ALL THE PRODUCTS THAT CAME OUT ASSOCIATED WITH THAT -- TOYS.
KERNEN: BRIAN ALSO MENTIONED THE IDEA THAT YOU'RE, YOU KNOW, SO INTERESTED IN SKY, BECAUSE YOU'RE WORRIED ABOUT YOU'RE EXISTING -- WELL, NOW, WE KNOW HOW WELL THE EXISTING BUSINESS HAS DONE. AND THERE'S A REASON, I THINK HE WANTS TO TALK ABOUT SKY, TOO. BECAUSE I THINK THERE'S A REASON THAT HE WENT AFTER THAT.
QUICK: LET'S CHECK IN WITH HIM AGAIN. BRIAN, I DON'T KNOW HOW MUCH OF THAT CONVERSATION YOU ACTUALLY HEARD. BUT LET'S PICK UP WHERE WE LEFT OFF.
ROBERTS: SORRY ABOUT THAT. NOT MUCH.
QUICK: LET'S JUST PICK UP WHERE WE LEFT OFF. AND THAT'S WITH THE NUMBERS AT NBCUNIVERSAL. REVENUE FOR BOTH OVERALL WITH THAT PART OF THE COMPANY, UP 8.1%. BUT THEN THAT THE CABLE NETWORKS UP BY BETTER THAN 10%. WHAT'S DRIVING GROWTH THERE?
ROBERTS: LET ME JUST START, JUST IN CASE YOU DIDN'T HEAR IT BEFORE AND SORRY TO BE REPETITIVE IF YOU DID, BUT THE HEADLINE, IN MY OPINION, IS WE HAD THE BEST BROADBAND QUARTER IN YEARS. 363,000 NET ADDS. AND WE NOW HAVE A GIGASPEED AVAILABLE, MORE THAN ANY OTHER COMPANY IN THE U.S, TO EVERY ONE OF OUR CUSTOMER HOMES IS AVAILABILITY OF THE FASTEST INTERNET THAT ANYBODY HAS. AND WE HAD THE BEST EBITDA QUARTER IN CABLE IN SIX YEARS AT 7.6%. AND OUR FREE CASH OR NET CASH FLOW GREW 15.6% AND THAT'S THE THIRD CONSECUTIVE DOUBLE DIGITS. SO THE CORE BUSINESS IS REALLY SHOWING GREAT MOMENTUM. IT'S BEEN THAT WAY ALL YEAR, AND I THINK DAVE WATSON AND THE TEAM ARE DOING A SENSATIONAL JOB. AT THE SAME TIME, AT NBCUNIVERSAL, THE TELIVISION BUSINESSES, CABLE AND BROADCAST WERE UP 6%. WE KNEW WE HAD "DESPICABLE ME 3" LAST YEAR SO FILM WOULD HAVE A TOUGH COMP BUT STILL HAD A GOOD QUARTER. AND MSNBC, JUST TO PICK ON ONE CABLE NETWORK, HAS THE LONGEST LEAD IT'S EVER HAD OVER CNN IN THE KEY DAY PARTS. SO THE COMCAST, NBC, AND UNIVERSAL, I'M REALLY THRILLED WITH THE THIRD QUARTER. AND THAT'S WHY WE WERE ABLE TO BEAT A LOT OF EXPECTATIONS.
QUICK: BRIAN, YOU REFERENCED THIS AT THE TOP, JUST THAT THERE WILL BE LINGERING QUESTIONS ABOUT THE STRENGTH OF THE BUSINESS. IF THAT -- PEOPLE WONDERING IF THAT'S WHY YOU WERE INTERESTED IN AN ACQUISITION. HOW MUCH OF THE OVERHANG IN STOCK WAS BECAUSE OF THAT? AND HOW MUCH OF THE OVERHANG DO YOU THINK WAS JUST BECAUSE OF PEOPLE WONDERING HOW MUCH YOU WOULD PAY FOR ANY ACQUISITION?
ROBERTS: I THINK THERE'S A LOT OF -- I THINK WHEN THERE'S UNCERTAINTY, IT'S TOUGH FOR INVESTORS, AND I UNDERSTAND THAT. AND WHEN YOU'RE MAKING A BIG BET THAT MAY OR MAY NOT HAPPEN, MAY OR MAY NOT BE THE RIGHT THING TO DO, THERE'S UNCERTAINTY WITH THAT, TOO. THE GOOD NEWS IS, I THINK THIS FEELS LIKE A NEW BEGINNING. THE MOMENTUM FROM CABLE IS POWERING EBITDA AND A FREE CASH FLOW FOR THE COMPANY, NEW SUBSCRIBER GROWTHS. BUT NOW THAT SKY IS RESOLVE, WE REALLY ARE BETTER TOGETHER. AND IF I MIGHT, I WOULD TAKE A COUPLE POINTS ABOUT SKY. FIRST OF ALL, IT WAS A COMPETITIVE PROCESS. IT TOOK A LONG TIME. SAME FOR FOX. WE ENDED UP WINNING BY ABOUT 10%, WHICH IS THE SAME MARGIN THAT DISNEY BEAT US FOR FOX BY 10%. THAT'S WHAT IT WAS. I THINK THAT'S THE MARKET WAS. AND I THINK THE VALUE IS DEFINITELY THERE AND WILL SHOW THAT OVER TIME. WHAT IT DOES FOR US IS YOU START AND YOU THINK, IS SKY A GOOD BUSINESS AS A STAND ALONE COMPANY? AND IT'S A FABULOUS COMPANY. IT'S VERY DIFFERENT THAN THE U.S. THEY'RE NOT JUST THE PROVIDER, THEY'RE NOT JUST THE CONTENT COMPANY. THEY ARE BOTH. THE TOP FIVE SHOWS ARE ALL ORIGINALS OF SKY ENTERTAINMENT, THE SKY SPORTS, SKY NEWS, SKY MOVIES ARE ON ALL OF THE PLATFORMS FROM DIFFERENT COMPETITORS. AND THEY'RE REALLY LEADING THE WAY IN THAT WHOLE -- MOST EUROPEAN MARKETS. IT TRIPLES OUR FOOTPRINT IN THE TELEVISION BUSINESS AND DOUBLES OUR FOOTPRINT IN THE BROADBAND SPACE. THEY'RE THE NUMBER TWO BROADBAND PROVIDER. PEOPLE REALLY DIDN'T UNDERSTAND THAT. THEY'RE JUST LAUNCHING AN EXCITING BROADBAND PRODUCT IN ITALY. AND SO WHEN YOU PUT US TOGETHER, OUR CABLE CHANNELS AND OUR BROADCAST CHANNELS, WE'RE THE TOP FOUR -- IN THE TOP FOUR COUNTRIES WHERE WE OPERATE, WE'RE NUMBER ONE IN EACH OF – WE'RE THE NUMBER ONE CONTENT PRODUCER IN EACH OF THOSE COUNTRIES. AND IF YOU LOOK AT IN TERMS OF THE MODEL THAT HAS POWERED COMCAST TO HAVE 23 STRAIGHT YEARS OF EBITDA GROWTH, THAT'S THE SUBSCRIPTION BUSINESS. WELL THAT'S WHAT SKY HAS AS WELL. SO IT ADDS TO OUR SUCCESSFUL FORMULA. SO WE THINK TOGETHER WE CAN DO SO MUCH MORE. WE HAVE A NUMBER ONE PLATFORM. NUMBER ONE IN U.S. CABLE. NUMBER ONE IN U.S. BROADBAND NUMBER. ONE IN UK-PAID TV. AND THAT IS GREAT FOR OUR PARTNERS AND CONTENT PROVIDERS AND TECHNOLOGIES AS WE GO FORWARD. SO WE'RE CONTROLLING OUR DESTINY INTO THE FUTURE, THAT I THINK LOOKS VERY INTERESTING AND EXCITING.
KERNEN: BRIAN, IF YOU WERE TO TOTALLY JUST TO TELL US WHAT YOU ARE THINKING AND YOU DON'T HAVE TO REALLY IF YOU DON'T WANT TO, BUT IS THIS THE REAL OUTCOME THAT YOU WANTED ALL ALONG? I KNOW HOW MUCH YOU WANTED SKY AND I KNOW THAT COMCAST WENT AFTER THE OTHER ASSETS BUT IT SEEMS LIKE THAT OTHER PLAY MADE IT POSSIBLE JUST FOR EVERYTHING TO WORK OUT FOR SKY. IS THIS THE BEST OUTCOME FOR YOU? OR WOULD YOU HAVE LIKED THE WHOLE THING? I THINK YOU ALWAYS –
ROBERTS: THIS IS A TIME I CAN SAY I CAN'T HEAR YOU ANYMORE AND MY FEED WENT OUT. LOOK, IT'S -- WE'RE THRILLED WITH THE OUTCOME. I'LL LET YOU SPECULATE HOW THE JOURNEY GOT US HERE.
KERNEN: I THINK -- YEAH.
ROBERTS: BUT, REMEMBER, WE DID BID FOR SKY BEFORE WE BID FOR FOX. I THINK THEY'RE BOTH WONDERFUL COMPANIES, RUPERT MURDOCH, JAMES MURDOCH, LACHLAN AND MANY OTHER PEOPLE BUILT IS A VERY SPECIAL COMPANY, AND THAT'S TRUE WITH BOTH PARTS OF IT. BUT SKY DOES LOOK A LOT LIKE COMCAST, NBCUNIVERSAL. THAT SUBSCRIPTION MODEL, THAT MARKET LEADERSHIP, THEIR BRAND IS BETTER THAN ANY MEDIA BRAND IN THE U.S. OR COMMUNICATIONS BRAND. THEY REALLY ARE A PRODUCTS COMPANY. AND THEY HAVE GREAT LEADERSHIP IN JEREMY DARROCH AND I'M PLEASED THAT HE'S STAYING WITH US AND IS GOING TO LEAD SKY AND WORK WITH STEVE BURKE AND THE REST OF THE TEAM HERE WITH DAVE, AND MYSELF, MIKE CAVANAGH , AND WE'RE GOING TO DRIVE A COMPANY THAT'S SO UNIQUE AND NOW GLOBAL. IT'S AN EXCITING DAY.
KERNEN: IT WAS A LONG SHOT, TOO, I THINK. YOU WERE IN THAT CAB, AND I MEAN, WITH THE WAY THE OWNERSHIP WAS WITH RUPERT, RIGHT? IT WAS A LONG SHOT AT THE TIME. AND IF YOU LOOK AT JUST THE ENTIRE STRATEGY, THE ART OF WAR, WHATEVER IT WAS -- TO END UP HERE, I DON'T KNOW WHAT THE INITIAL CHANCE ARE WHEN YOU SAID, "YOU KNOW WHAT, SKY IS PRETTY ATTRACTIVE." DID YOU -- WHAT DO YOU THINK IN YOUR MIND THE INITIAL CHANCE OF YOU SUCCEEDING WERE WHEN YOU WERE DECIDING --
ROBERTS: WE KNEW THE PRIZE WAS WORTH IT. I DON'T KNOW WHAT THE PERCENTAGE WOULD BE. BUT I LEARNED FROM MY FATHER, IF YOU DON'T TRY, YOU DON'T FIND OUT HOW IT TURNS OUT. AND IF THE WORST THAT HAPPENS WAS WE DIDN'T PREVAIL. EVEN THOUGH IT'S TOUGH ON TYPES OF INTERVIEWS, IT'S NOT HOW YOU BUILD A GREAT COMPANY. AND WE'VE BEEN DOING THAT FOR A LOT OF YEARS, WHEN WE BOUGHT AT&T BROADBAND AND EVEN NBCUNIVERSAL AT THE TIME RAISED A FEW EYEBROWS. AND I WILL SAY, ONE OF THE THINGS THAT HEARTENS ME THE MOST, IS THE REACTION OF THE EMPLOYEES. IF YOU THINK ABOUT IT, THE EMPLOYEES AT SKY, THE EMPLOYEES AT NBC, AND THE EMPLOYEES AT COMCAST KNOW THIS COMPANY BETTER THAN JUST CASUAL PART-TIME INVESTOR WITH A PORTFOLIO. THIS IS ALL WE DO. AND FOR MOST OF US, IT'S WHERE WE HAVE MOST OF OUR NET WORTH. THE REACTION FROM THE EMPLOYEES IS UNLIKE ANY DEAL I'VE EVER BEEN PART OF. MAYBE BECAUSE IT'S A LONG SHOT. MAYBE IT'S BECAUSE IT LASTED A LONG TIME. I THINK IT'S MORE THAN THAT. I THINK IT IS THE ENTHUSIASM TO TAKE WHAT THEY DO, NOW BE ABLE TO DO IT ON A GLOBAL SCALE. DO IT WITH THE BEST IN BOTH CONTINENTS, COMCAST IS NUMBER ONE AT WHAT WE DO WITH XFI AND X1 AND OUR GREAT PRODUCTS. AND NBC IS NOW THE NUMBER ONE BROADCAST NETWORK. FIRST TIME IN 16 YEARS. AND THE FIFTH YEAR AND SIXTH YEAR SINCE 18-49. BUT IT'S NUMBER ONE OVERALL. AND OVER AT SKY, THE NUMBER ONE BRAND IN ENTERTAINMENT AND COMMUNICATIONS. AND TO HAVE ALL THOSE PARTS TO NOW LEAD INTO THE FUTURE, IT'S TRANSFORMATIVE. AND WE'RE DELIGHTED HERE TO HAVE THE KIND OF GREAT RESULTS TO SHOW WE CAN OPERATE WELL AND WE HAVE A GREAT STRATEGIC ROAD AHEAD.
QUICK: HEY, BRIAN. LET ME ASK YOU AGAIN ABOUT WALL STREET REACTION TO SOME OF THESE THINGS. THERE ARE A NUMBER OF ANALYSTS ON THE STREET WHO NOW EITHER HAVE BUY OR OVERWEIGHT RATINGS ON COMCAST. BUT THEY'VE RAISED SOME CONCERNS. EVEN SOME OF THOSE VERY SAME ANALYSTS WHO THINK THAT THE STREET REACTION BY SELLING THIS WAS OVERDONE. ONE ANALYST RAISED THIS QUESTION, HE SAID THAT YOU PAID A FULL MULTIPLE AT THE TOP OF THE CYCLE AND THAT'S A DEVIATION FROM THE NORMAL SORT OF ACQUISITION THAT COMCAST MAKES. WHAT'S YOUR RESPONSE TO THAT? HOW DO YOU ANSWER THAT TO SAY IT WAS WORTH IT?
ROBERTS: WELL, YOU JUDGE US IN 20 YEARS. I TRY TO THINK THE JOB FROM MANAGEMENT IS TO PUT ON EAR MUFFS AND TRY TO DO WHAT YOU THINK IS RIGHT. IF YOU HAD A PRIVATE COMPANY AND OWNED ALL, WHAT WOULD YOU DO IF IT WAS ALL YOUR OWN MONEY? AND I THINK THE EMPLOYEES, NOT JUST ME, THE SENIOR LEADERSHIP TEAM, WE'RE ALL IN THAT THIS WAS THE RIGHT STRATEGIC MOVE FOR THE COMPANY, AT THE RIGHT PRICE. WE WERE 10% HIGHER BIDDERS, I SAID I DON'T THINK THAT'S A BIG GAP AT A POINT A 39% STOCKHOLDER, YOU NEEDED A MARGIN TO OUTBID THE OTHER FOLKS. BUT WHAT WE'RE GOING TO DO THIS MORNING IS INTRODUCE JEREMY AND THE SKY NARRATIVE FOR REALLY THE FIRST TIME TO AMERICAN INVESTORS. IT'S IS NOT A STOCK THAT WAS WIDELY FOLLOWED OVER HERE. IT DID HAVE LARGE SHAREHOLDERS SO IT'S KIND OF BEEN IN TAKEOVER MODE. THEY ONLY PUT THE THREE DIFFERENT COUNTRIES TOGETHER INTO ONE SKY IN THE LAST FEW YEARS. AND SO JEREMY IS GOING TO TAKE INVESTORS ON OUR EARNINGS CALL IN A LITTLE BIT THIS MORNING THROUGH A GREATER DETAIL. AND I THINK AS PEOPLE GET MORE EDUCATED AND SEE THE ANSWERS TO THE OBVIOUS QUESTIONS, THE "WHAT ABOUT THE CHANGE? HOW IS SKY POSITIONED TO CONTINUE TO GROW?" THEY'VE GROWN EVERY YEAR THEY'VE BEEN IN BUSINESS. THAT'S BASICALLY THE SAME TRUE FOR COMCAST. THEY HAVE THE BEST PRODUCT WE FEEL THAT'S DEFINITELY THE CASE HERE IN THE U.S. AND THE CHEMISTRY IS OFF TO A FABULOUS START. SO IT'S ONE DAY AT A TIME. THERE AREN'T ALWAYS ANSWERS. BUT THE GOOD NEWS IS, ALL OF THAT IS BEHIND US. OUR PRIORITY IS TO GET OUR BALANCE SHEET BACK AT WHERE IT WAS AS QUICKLY AS POSSIBLE THAT'S THE PRIORITY AND FOCUS NOW, EXECUTE AND GET THE CASH FLOW LEVELS BACK TO WHAT THEY'VE HISTORICALLY BEEN. AND THAT'S WHAT WE'VE TOLD THE RATING AGENCIES. SO WE KNOW WHAT OUR WORK AHEAD OF US IS. WE'RE THRILLED TO HAVE THIS OPPORTUNITY AND SO FAR OFF TO A GREAT START. IT'S ONLY BEEN A MONTH. SO IT'S VERY, VERY EARLY.
SANTOLI: BRIAN, YOU STARTED OUT BY HIGHLIGHTING THE STRENGTH IN THE CORE BUSINESS. WANTED TO GET A SENSE OF JUST HOW SUSTAINABLE SOME OF THAT IMPROVEMENT IS. BECAUSE YOU TALKED ABOUT THE NET ADDITIONS OF CABLE, COMMUNICATIONS, CUSTOMERS, BROADBAND. IT'S A BIG NUMBERS. IT'S OBVIOUSLY GROWING FASTER THAN THE INDUSTRY. WHERE IS THAT MARKET SHARE COMING FROM AND CAN THAT KIND OF THING CONTINUE? AND THEN THE REDUCTION IN CAPITAL SPENDING, IS THAT A STRUCTURAL THING OR IS THAT JUST YOU DIALLING IT DOWN FOR NOW?
ROBERTS: WELL, WE'VE SEEN -- NO, CAPITAL SPENDING HAS BEEN COMING DOWN. I'LL TAKE THE SECOND ONE FIRST. CAPITAL SPENDING AS A PERCENTAGE OF REVENUE HAS BEEN COMING DOWN AND WE PREDICTED THAT IN THE BEGINNING OF THE YEAR AND WE'VE REVISED THAT AND EVEN CONFIRMED THAT AND MADE IT SLIGHTLY BETTER, I BELIEVE. THE SAME FOR BROADBAND CAN BE SAID. I DON'T KNOW. I NEVER LIKED TO LOOK FORWARD AND GIVE GUIDANCE THAT YOU DON'T KNOW WHERE A SALE WILL GO TOMORROW. SO THE BETTER WAY TO LOOK AT IS WHAT HAPPENED THIS QUARTER AND LAST QUARTER, WHICH WAS THE BEST IN NINE YEARS OR SO. LAST SECOND QUARTER. SO, WE'VE HAD THIS MOMENTUM NOW FOR A LITTLE BIT. I DON'T KNOW THAT IT CAN CONTINUE TO BE 150% OF THE YEAR BEFORE OR EVEN HIGHER. BUT WE ARE SEEING NORTH OF 1 MILLION BROADBAND SUBS YEAR IN, YEAR OUT. WHY IS THAT? WELL, STREAMING IS OUR FRIEND. PEOPLE WANT THE BEST. THEY HAVE NOW -- OUR POWER USERS HAVE 20 CONNECTED DEVICES. THEY'RE USING 600 GIGABITS A MONTH. THAT'S 10% OF OUR CUSTOMERS. THAT'S MORE THAN TRIPLE WHAT THE AVERAGE CUSTOMER IS DOING. AND WHAT -- IF YOU HAD TO MAKE A BET IN FIVE YEARS, THREE YEARS, TEN YEARS, WILL YOU LOOK MORE LIKE THE POWER USER TODAY OR WILL YOU USE LESS TOMORROW? AND I THINK THE TREND HAS BEEN WITH SMART DEVICES, INTERNET OF THINGS, GAMING, ALL SORTS OF APPLICATION, VIRTUAL REALITY, WHATEVER MIGHT BE COMING NEXT, YOU NEED THE BEST NETWORK. AND THAT'S JOB ONE. AND THAT'S WHY I THINK IT'S SUSTAINABLE.
KERNEN: OTHER PEOPLE, BRIAN, HAVE SAID, YOU KNOW, PAID TV, WE STILL HAVE THOSE CORD CUTTING WORRIES. SO IT'S WORRISOME ENOUGH TO HAVE A BIG PRESENCE IN THE UNITED STATES WITH THAT. NOW, YOU'VE DOUBLED DOWN ON THAT WHOLE BUSINESS. AND IN 20 YEARS, I WONDER WHAT EVERYTHING LOOKS LIKE AT THAT POINT. SO –
ROBERTS: SO –
KERNEN: YEAH, GO AHEAD.
ROBERTS: WELL, I THINK THAT'S A VERY FAIR QUESTION. FIRST OF ALL, WE HAD A GOOD QUARTER IN VIDEO THAT WE'VE SEEN MANY, MANY MORE COMPETITORS HERE IN THE U.S. ONE OF THE THINGS THAT I THINK INVESTORS WILL HEAR ABOUT TODAY AND CAN LEARN ABOUT IS THE STRUCTURAL DIFFERENCES, VERY SIGNIFICANT DIFFERENCES BETWEEN EUROPE AND AMERICA IN THE PAID TV MARKET. FIRST OF ALL, FREE TO AIR IS MUCH -- THERE'S 100 FREE TO AIR CHANNELS. THAT'S NOT THE CASE IN THE U.S. THERE'S -- IN SOME OF THE MARKET. EACH MARKET IS DIFFERENT FROM ITSELF. THERE'S LOWER PAID TV PENETRATION. MORE UPSIDE IN EUROPE THAN THERE IS IN THE U.S. AND THE DIFFERENCE IS THAT THE PROGRAMMING IS CALLED SKY ATLANTIC, SKY NEWS, SKY MOVIES, SKY SPORTS. WHETHER IT'S ON OUR PLATFORM OR ON OTHER PLATFORMS. AND THERE'S LESS NEW COMPETITORS BECAUSE OF SOME OF THE THOSE STRUCTURAL DIFFERENCES. AND SKY MADE A TOUGH DECISION, AND I GIVE GREAT CREDIT TO THE LEADERSHIP, BACK IN 2005 THEY STARTED TO CREATE LIGHT PACKAGES, WHAT WE WOULD CALL LIGHT PACKAGES HERE TODAY. YOU COULD BUY IT BY THE DAY OR BUY JUST THE SPORTS THAT YOU'RE INTERESTED IN. AND SO, THEY COMPETE WITH THEMSELVES AND GAVE CUSTOMERS MORE CHOICES. AND THAT'S WHY THE RESULTS ARE BALANCED AND GROWING. BUT THEY ALSO HAVE A BROADBAND BUSINESS, DIFFERENT RULES THAT ALLOW THEM TO HAVE BROADBAND. THEY BUILT SOME OF THEIR OWN FACILITIES BUT THEY LEASE OTHERS. THEY HAVE A MOBILE BUSINESS LIKE WE DO, A HARD LINE PHONE BUSINESS. AND BECAUSE THE BRAND IS SO RESPECTED, THEY MOVE AND SELL NEW PRODUCTS. AND SO, THEY HAVE A PRETTY EXCITING ROAD MAP AT SKY FOR THE NEXT SEVERAL YEARS. AND AS THE MARKET CHANGE, GREAT LEADERSHIP EVOLVES WITH IT. THIS GIVES US GREAT TREMENDOUS FLEXIBILITY AND CAPABILITY THAT WE DIDN'T HAVE BEFORE TO INNOVATE, TO ATTRACT CONTENT, TO DO GLOBAL DEALS. I THINK PEOPLE WILL BE VERY PLEASED WITH HOW SKY PERFORMS, BUT IT'S EARLY AND WE'RE JUST GOING TO HAVE TO SHOW YOU.
KERNEN: JUST ONE MORE, JUST CORD CUTTING. WHERE IS HULU GOING, WHAT ARE YOUR PLANS?
ROBERTS: YOU, DROPPED OUT AGAIN, UNFORTUNATELY.
KERNEN: OH, REALLY.
QUICK: I THINK HE'S SERIOUS. I THINK HE'S SERIOUS.
KERNEN: IT REALLY DID. IT WAS ON HULU. WELL LET'S SEE IF WE CAN GET HIM BACK. I WANTED TO GIVE HIM A CHANCE TO SAY SOMETHING ABOUT -- I WANTED TO GIVE HIM A CHANCE TO SAY SOMETHING ABOUT CNBC, IN RELATIONSHIP TO THAT MSNBC COMMENT. I MEAN, I KNOW HE LOVES ALL OF HIS CHILDREN –
QUICK: LET'S TAKE A LOOK AT SHARES. LET'S TAKE A LOOK AT SHARES OF COMCAST: UP BY 3.25%. $1.28 TO $35.40. THE SHARES HAVE COME UNDER PRESSURE BUT YOU CAN SEE THEY ARE REBOUNDING OFF THE LOWS. THERE WAS ALL THAT CONCERN ABOUT WHAT WOULD HAPPEN WITH THE DISNEY FOX ACQUISITION AND THEN SKY. YOU CAN SEE RIGHT NOW UP BY ABOUT 3.25.
KERNEN: WHAT ABOUT HULU, BRIAN, DO YOU HAVE -- WHAT CAN YOU TELL US?
ROBERTS: I CAN'T REALLY -- THERE'S NO REAL NEW NEWS TODAY. WE HAVE A GOOD CONTENT RELATIONSHIP WITH HULU, AND THERE'S NOTHING DRIVING ANY IMMINENT DECISIONS. SO WE'LL JUST HAVE TO STAY TUNED. WE'VE BEEN THERE – NBC, IT'S REALLY AN NBC PROPERTY, THE INVESTMENT. AND IT'S BEEN THERE SINCE DAY ONE OF HULU. AND WE'RE BACK ON THE BOARD. AND LET'S SEE WHERE THINGS GO FROM HERE.
QUICK: OK, BRIAN, WE WANT TO THANK YOU VERY MUCH FOR YOUR TIME THIS MORNING. WE REALIZE IT'S A BUSY MORNING, YOU HAVE A LOT TO DO, BUT WE DO APPRECIATE YOUR STOPPING BY HERE.
ROBERTS: THANKS. GOOD TO SEE YOU.
Updated on