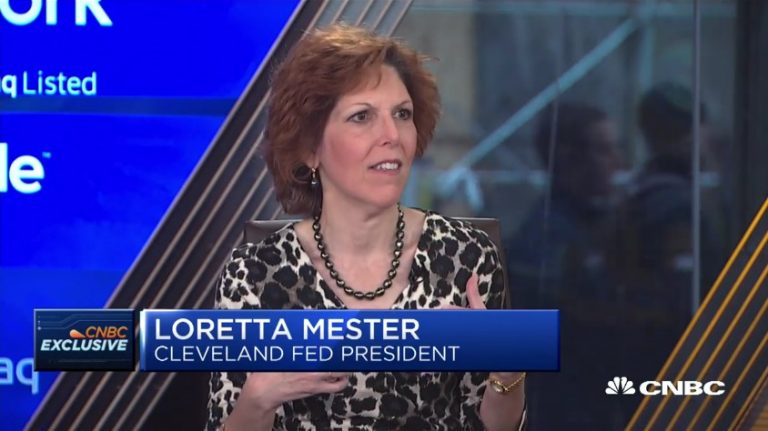 CNBC Exclusive: CNBC Transcript: Cleveland Fed President Loretta Mester Speaks with CNBC's Steve Liesman Today
WHEN: Today, Friday, October 26, 2018
WHERE: CNBC's "Squawk Box"
Bedford Park Opportunities Fund Q2 Letter: Long Converge Technology Solutions
The Bedford Park Opportunities Fund returned 13.5% net of all fees and expenses in the second quarter of 2021, bringing its year-to-date return to 27.6%. Q2 2021 hedge fund letters, conferences and more   In the fund's second-quarter investor letter, which ValueWalk has been able to review, Jordan Zinberg, the President and CEO of Bedford Read More
The following is the unofficial transcript of a CNBC EXCLUSIVE interview with Cleveland Fed President Loretta Mester and CNBC's Steve Liesman today, Friday, October 26th. The following is a link to video of the interview on CNBC.com:
Watch CNBC's full interview with Cleveland Fed President Loretta Mester
Q3 hedge fund letters, conference, scoops etc
Watch CNBC's full interview with Cleveland Fed President Loretta Mester from CNBC.
STEVE LIESMAN: THANKS. BECKY. CLEVELAND FED PRESIDENT LORETTA MESTER JOINS US NOW THIS MORNING. THANKS SO MUCH FOR COMING INTO THE STUDIO HERE.
LORETTA MESTER: THANKS VERY MUCH FOR HAVING ME.
LIESMAN: YOU KNOW, WE WERE TALKING AT THE BREAK ABOUT THE MARKET, ACTUALLY – WE WERE ACTUALLY ON-AIR WHEN WE WERE DOING THAT. IT'S DOWN ONE DAY, IT'S UP ONE DAY, IT'S DOWN, IT'S UP. DO YOU LOOK AT IT BEING DOWN AND SAY, "OH MY GOD, I'VE GOT TO STOP RAISING RATES," IT GOES BACK UP, YOU SAY, "OH MY GOD, I'VE GOT TO STOP -- I HAVE TO HIKE RATES AGAIN"? HOW DO YOU PROCESS – AND THIS IS NOT -- THESE THESE ARE NOT SMALL SWINGS, THESE ARE BIG SWINGS IN THE MARKET. HOW DO YOU PROCESS THESE?
MESTER: YEAH, SO I LOOK AT THREE THINGS. FIRST IS, IS THE TRADING ORDERLY, ARE THE MARKETS FUNCTIONING? THEY ARE. SECOND, IS IT, YOU KNOW, EVERYONE RUSHING OUT OF A RISK, IS IT A PANIC, IS IT – YOU KNOW – A PESSIMISM, OVERLY PESSIMISTIC? DOESN'T SEEM TO BE, THEY'RE BUYING AND SELLING IN THE MORNING. SO THIRD IS IT'S A REASSESSMENT OF EVERYONE IS DOING A REASSESSMENT OF THEIR OUTLOOK. WE'RE GOING TO BE DOING A REASSESSMENT OF OUR OUTLOOK AS WELL AS WE GO INTO MEETINGS OVER THE NEXT COUPLE, YOU KNOW, OF MONTHS. SO AGAIN WE'RE SORT OF EVALUATING RISK AND RETURN AND TRYING TO SEE WHERE THE ECONOMY IS GOING. FOR THE FED, YOU KNOW, WE HAVE A MEDIAN RUN HORIZON, SO WE TRY TO FORECAST WHAT'S HAPPENING IN THE MARKETS – NOT IN THE MARKETS, IN THE ECONOMY OVER THE MEDIAN RUN AND WE FOCUS ON OUR TWO DUAL MANDATE GOALS. SO THERE'S RISK OUT THERE, I THINK PEOPLE ARE REASSESSING RISK, THEY'RE TRYING TO SEE HOW STRONG MOMENTUM IN THE ECONOMY IS AND RE-EVALUATING THINGS.
LIESMAN: IS WHAT YOU'VE SEEN SO FAR IT ENOUGH SO FAR TO CHANGE YOUR OUTLOOK, OR DOES IT HAVE AN ECONOMIC EFFECT THAT CHANGES YOUR MEDIAN MARKET OUTLOOK?
MESTER: NOT AT THIS POINT. I THINK, YOU KNOW, THIS IS A NATURAL THING THAT'S GOING IN THE MARKETS. OF COURSE IT GETS YOUR ATTENTION. YOU KNOW, WE MONITOR IT. BUT RIGHT NOW, I THINK OF IT AS A RISK TO THE OUTLOOK BUT NOT SOMETHING THAT'S CHANGED MY MODAL OUTLOOK.
LIESMAN: LET'S TALK ABOUT THAT OUTLOOK. A LOT OF FOLKS, FORECASTERS, INVESTORS, SEE GROWTH SLOWING. DO YOU SEE GROWTH SLOWING? AND WHEN YOU LOOK AT SOME SECTORS, HOUSING FOR EXAMPLE SEEMS TO BE TAKING IT PRETTY HARD ON THE CHIN, ESPECIALLY THIS RISE IN INTEREST RATES. AUTOS AS WELL. DO YOU SEE SLOWING IN THE ECONOMY AND HOW MUCH SLOWING?
MESTER: SO I HAVE A FORECAST OF A TAD OVER 3% FOR THE YEAR, FOR THIS YEAR. AND I HAVE IT SLOWING A BIT NEXT YEAR, ABOUT 2 3/4 TO MAYBE TO 2 TO 3. SO THERE IS A SLOWING BUT MY LONG TERM GROWTH RATE FOR THE ECONOMY, POTENTIAL GROWTH RATE, IS 2%, SO WE'RE STILL GOING TO BE ABOVE TREND GROWTH IN MY FORECAST AT THIS POINT. BUT THERE IS SOME SLOWING GOING ON. AND I THINK THAT MIGHT BE WHAT'S SHOWING UP HERE. IS THAT YOU LOOK OUT AND YOU SAY THERE IS SLOWING, AND SO EARNINGS ARE A BIT DOWN, IN CERTAIN COMPANIES, AND YOU KNOW, WE'RE SLOWING BUT STILL ABOVE –
JOE KERNEN: IS IT JAY'S POWELL'S FED NOW COMPLETELY? AND EVERYBODY GETS IN LINE AND HAS THEIR OWN OPINIONS. BUT YOU'RE GOING TO DO WHATEVER. I MEAN --
MESTER: SO THE MEETINGS ARE VERY GOOD MEETINGS. YOU COME INTO THE MEETING AND YOU BRING YOUR INFORMATION THAT YOU GET FROM YOUR DISTRICT AND YOUR REGIONAL CONTACTS AND YOUR EVALUATIONS WITH YOUR MODELS AND YOUR FORECAST OF THE NATIONAL ECONOMY. AND THEN THERE'S A GOOD DISCUSSION AT THE MEETINGS AROUND THE TABLE. SO EVERYONE'S BRINGING THESE DIVERSE VIEWS FROM ALL PARTS OF THE COUNTRY –
KERNEN: REALLY – WHAT I WAS GETTING TO --
MESTER: -- AND THEN WE DISCUSS --
BECKY QUICK: SO NOBODY KNOWS WHAT THEY WILL VOTE WHEN THEY WALKING IN? THAT YOUR VOTE CAN BE SWAYED AND ANYBODY'S VOTE CAN BE SWAYED? – NOT NECESSARILY WHAT JAY POWELL –
MESTER: WELL, I THINK YOU WALK IN WITH AN IDEA OF WHERE YOU ARE AND WHAT YOUR FORECAST IS FOR THE ECONOMY. BUT THEN YOU LISTEN TO WHAT OTHER PEOPLE ARE BRINGING TO THE TABLE.
QUICK: TO GET A NATIONAL OVERVIEW --
MESTER: TO GET A NATIONAL OVERVIEW AND TO GET AN ASSESMENT OF YOU KNOW, WHETHER PEOPLE ARE HEARING THE SAME THAT YOU HEAR IN THEIR AREA OF THE COUNTRY OR NOT. AND THAT HELPS YOU FORMULATE.
KERNEN: WHERE I WAS GOING IS WHEN POWELL SPOKE A FEW WEEKS AGO NOW, WHICH IS NOW A PRETTY FAMOUS SPEECH -- IT'S GOTTEN THAT WAY, IT DIDN'T SEEM THAT APPARENT.
LIESMAN: I WAS OFF THAT WEEK SO I WAS NOT HERE --
KERNEN: BUT IN HINDSIGHT, SUDDENLY IT'S TAKEN ON ALL THIS IMPORT FOR SOME REASON. HE SEEMED TO SAY WE'RE SO FAR BELOW NEUTRAL, SOME PEOPLE ASSUMED HE MEANT IT DIDN'T MATTER WHAT THE DATA DID BETWEEN NOW AND WHERE THE DOT PLOTS GO, WE'RE GONNA GO NO MATTER WHAT BECAUSE WE'RE SO FAR BEHIND. AND SOME PEOPLE TIE SOME OF THE RECENT TURBULENCE TO BEING TOO STRIDENT, THEY CALLED IT ROOKIE MISTAKE OR WHATEVER. WHEN YOU HEARD IT DID YOU THINK THAT HE WAS SAYING SOMETHING THAT COULD BE INTERPRETED IN SUCH AN INCENDIARY WAY?
MESTER: WELL I THINK WE ALL TRY TO BE CAREFUL WITH OUR COMMUNICATIONS. AND WE TRY TO GIVE THE PUBLIC --
KERNEN: DID HE ERR? IN YOUR VIEW?
MESTER: -- WHAT WE THINK OF AS WHERE WE'RE GOING WITH POLICY. KNOWING THAT THE DATA IS GOING TO INFORM OUR VIEWS AND OUR – OUTLOOK --
KERNEN: WE SHOULD ASSUME THAT.
MESTER: SO I THINK YOU HAD TO LOOK AT THE WHOLE PANOPLY OF COMMUNICATIONS. SO THE STATEMENT IS ONE, THE MINUTES ARE A VERY GOOD ONE, THE PRESS CONFERENCE ARE ANOTHER ONE.
QUICK: I THINK THE REASON THIS PROBABLY TOOK MORE LIFE –
KERNEN: YEAH, IT'S HIS FED.
QUICK: -- IS BECAUSE ALL OF THOSE THINGS YOU TALK ABOUT ARE ORCHESTRATED A LITTLE MORE CLOSELY. THIS WAS A SOMETHING THAT WAS A QUESTION -- A RESPONSE TO A QUESTION IN AN INTERVIEW, WHICH MADE PEOPLE THINK, "OKAY, MAYBE THAT'S WHAT REALLY TELLING US WHAT HE'S THINKING ON THE INSIDE," AND MAYBE THAT'S WHY PEOPLE ARE PANICKING ABOUT IT.
MESTER: SO I WOULD JUST RECOMMEND LOOKING AT ALL OF THE COMMUNICATIONS AS A SET OF -- WE'RE TRYING TO GIVE OUR RATIONALE –
LIESMAN: BUT THERE'S A SPECIFIC QUESTION --
KERNEN: MY FIRST QUESTION WAS WHETHER IT'S HIS FED. BECAUSE I DON'T LISTEN TO ANYBODY ELSE THEN. I JUST LISTEN TO HIM.
MESTER: WELL I THINK YOU SHOULD LISTEN TO THE GROUP. BECAUSE WE'RE TRYING --
KERNEN: THAT HASN'T WORKED IN THE PAST. BECAUSE IT WAS BEN BERNANKE'S FED, IT WAS ALAN GREENSPAN'S FED, IT WAS JANET YELLEN'S FED.
QUICK: I'M NOT SURE THAT THAT'S THE CASE.
LIESMAN: I WONDER THOUGH IF WHAT WE'RE AFTER HERE IS A DIRECT RESPONSE TO THE STATEMENT BY CHAIRMAN, WHICH IS DO YOU THINK WE ARE A LONG WAY FROM NEUTRAL?
MESTER: I THINK -- YOU LIKE TO HIKE WHEN YOU GO TO JACKSON HOLE. RIGHT? AND WHEN YOU'RE HIKING, YOU GO OUT AND HAVE A DESTINATION IN MIND --
QUICK: YOU'RE NOT TALKING ABOUT RATES. YOU'RE –
MESTER: NO. NO. NO.
KERNEN: YEAH. THAT'S WHAT I THOUGHT, TOO. I WAS LIKE, "OH MY GOD."
MESTER: YOU HAVE A DESTINATION IN MIND, AND THEN THE CONDITIONS ON THE PATH ARE GOING TO TELL YOU WHETHER YOU GET THERE OR NOT. YOU MAY SLOW DOWN A LITTLE BIT IF THE CONDITIONS ARE – LIKE, THERE'S DEBRIS ON THE TRAIL, OR YOU MIGHT GO ON. MOREOVER, IF YOU SEE A NICE LAKE, YOU MIGHT DECIDE TO ABANDON THAT, YOU KNOW, DESTINATION AND STAY AT THE LAKE. SO WE'RE GOING TO BE USING WHAT THE ECONOMY IS TELLING US AND THE DATA THAT COMES IN TO INFORM OUR OUTLOOK. AND THAT'S GOING TO DETERMINE. WHEN YOU THINK ABOUT WHERE WE'RE GOING IN THE TERMS OF RATE, RIGHT, WE ALL PUT IN A LONG TERM GROWTH RATE FOR THE ECONOMY IN THOSE SEPs.
LIESMAN: AND A LONG RUN NEUTRAL RATE.
MESTER: AND LONG RUN NEUTRAL RATE IN THE ECONOMY.
LIESMAN: RIGHT.
MESTER: BUT, YOU KNOW, WE ARE GOING TO USE THE DATA TO TELL US WHETHER, WHERE WE ARE RELATIVE TO OUR TWO GOALS. SO WE'RE ALWAYS FOCUSED ON THE TWO GOALS --
LIESMAN: SORRY, BUT I HAVE TO COME BACK AT THIS QUESTION THOUGH, WHICH IS -- MAYBE YOU DON'T WANT TO ANSWER, WHICH IS FINE. BUT WE'RE AT 2.2 1/4 NOW.
MESTER: RIGHT.
LIESMAN: WHERE IS NEUTRAL IN YOUR OPINION AND WHAT DO WE NEED TO GET THERE?
MESTER: SO THE LONG RUN, IF YOU LOOK AT THE SEPs, MY LONG RUN FED FUND'S RATE IS 3%. BUT THE NEUTRAL RATE IS GOING TO VARY OVER TIME. IT'S NOT A ONE TIME NUMBER. SO IF THERE'S HEADWINDS IN THE ECONOMY AS THERE WAS IN THE FINANCIAL CRISIS, RIGHT, WE WENT SLOWER, RIGHT, BECAUSE THE SHORT NEUTRAL RATE WAS LOWER. IF THERE'S, YOU KNOW, TAILWINDS, RIGHT, THEN THE SHORT RUN NEUTRAL RATE IS GOING TO BE ABOVE. SO WE HAVE TO USE WHAT'S GOING ON IN THE ECONOMY TO INFORM US WHERE THE POLICY SHOULD BE.
KERNEN: RIGHT. DATA DEPENDENT. NO ONE KNOWS WHAT IS GOING TO HAPPEN. BUT WHEN HE SAID IT, WE ALREADY KNEW ABOUT THE TRADE ISSUES. AND SHOULD THAT HAVE BEEN MORE PART OF HIS –
QUICK: WHAT DO YOU MEAN THE TRADE? THE TARIFFS?
KERNEN: THE HEADWINDS OF WHERE WE ARE IN TRADE IS ALREADY SOMETHING I WOULD HAVE PUT INTO MY DATA SET IN TERMS OF A CALCULUS TO MAYBE NOT BE SO SURE THAT WE WERE NOT SO FAR BEHIND.
MESTER: SO THAT'S FINE. WE DO THAT. BUT WE ASSESS -- WE TALK TO OUR FIRMS. SO THE MAJORITY OF FIRMS IN MY DISTRICT, AND YOU KNOW WE HAVE A HEAVIER MANUFACTURING DISTRICT THAN SOME OTHER PLACES IN THE COUNTRY, RIGHT, THEY HAVEN'T REACTED THEY SAID TO THE TRADE. THEY BASICALLY, THEY ARE CONCERNED ABOUT, THEY TALK ABOUT IT, BUT HAVE THEY CHANGED THEIR INVESTMENT PLANS? NOT YET.
KERNEN: STEVE IS VERY CONCERNED. YOU'VE BEEN CONCERNED FOR A WHILE. VERY CONCERNED.
MESTER: SOME MANUFACTURING FIRMS SAY THAT, YOU KNOW, IT'S VERY DISRUPTIVE BECAUSE THEY HAVE TO THINK ABOUT THEIR SUPPLY CHAINS AND CHANGING SUPPLY CHAINS IS VERY DISRUPTIVE. SO I THINK THAT IS IN THE CALCULUS OF RISK. AND IF YOU LOOK AT THE MINUTES OF THE FOMC MEETING, YOU'LL SEE THAT TRADE AND TARIFF POLICY IS ONE OF THE RISKS TO THE FORECAST.
QUICK: CAN I JUST FOLLOW UP ON THIS? YOU SAID EARLIER, LORETTA, THAT EVERYONE WALKS INTO THAT MEETING WITH THEIR OWN IDEAS WHAT THEY'RE SEEING IN THEIR DISTRICTS. WHAT WE'RE TRYING TO FIGURE OUT IN THE MARKETS RIGHT NOW IS HOW QUICKLY THE ECONOMY IS CHANGING, HOW QUICKLY THE ECONOMIC GROWTH IS BEING IMPACTED. FROM WHAT YOU'RE HEARING FROM EVERYONE, WHAT IS YOUR OPINION RIGHT NOW THAT YOU'RE TAKING IN FROM EVERYONE WE HEAR: IS THIS SLOWDOWN FOR REAL? IS THIS SOMETHING WE NEED TO BE CONCERNED ABOUT?
MESTER: I THINK THE ECONOMY IS SLOWING FROM THE VERY STRONG GROWTH WHAT WE HAD EARLIER. IT'S STILL AN ABOVE TREND GROWTH RATE. SO WE SEE IT SLOWING DOWN. NOW, YOU KNOW, WE'RE ALWAYS CONTINUALLY ASSESSING THE RISKS OF THE FORECASTS. IT COULD BE THAT -- THERE'S UPSIDE AND DOWNSIDE RISKS, THERE'S BALANCED RISKS HERE WHICH WE HAVEN'T HAD IN A LONG TIME, RIGHT. SO THE UPSIDE RISKS, IT COULD BE THAT, YOU KNOW, BUSINESS SENTIMENT IS VERY HIGH, THAT'S A TAILWIND. WE HAVE FISCAL POLICY, THAT'S BEEN A TAILWIND. ON THE DOWN SIDE WE HAVE THE GLOBAL ECONOMY IS SLOWING, RIGHT, AND THAT POTENTIALLY AFFECTS THE U.S. ECONOMY THROUGH APPRECIATION OF THE DOLLAR AND OTHER AVENUES. WE ALSO HAVE THE TRADE AND TARIFF UNCERTAINTY. EVEN IF YOU THINK ABOUT THE DIRECT EFFECTS OF THE TARIFFS, RIGHT, IT'S ALSO THE UNCERTAINLY THAT THE TARIFF AND THE TRADE POLICY CAN HAVE ON FIRMS. AND SO THERE IS SOME DOWNSIDE RISK AND SOME UPSIDE RISKS.
LIESMAN: YOUR COLLEAGUE NEEL KASHKARI IN THIS MORNING'S "WALL STREET JOURNAL" TAKES ACCOUNT OF ALL THAT UNCERTAINTY. THE CONCLUSION HE COMES TO IS IT'S TIME TO STOP HIKING RATES. THAT THE FED SHOULD STOP HIKING RATES AND TAKE A LOOK AT THE EFFECT OF TRADE, TAKE A LOOK AT THE EFFECT FISCAL POLICY AND TAKE A LOOK AT THE GLOBAL WEAKNESS. DO YOU JOIN HIM IN THAT SENTIMENT?
MESTER: HE'S BEEN SAYING THAT A LONG TIME, SO THAT'S NOT A NEW VIEW FOR NEIL.
KERNEN: HE WAS SAYING IT WHEN I THOUGHT HE WAS WRONG.
LIESMAN: HE SAID IT AGAIN THIS MORNING.
MESTER: YEAH, YEAH, YEAH. SO I MEAN I THINK THAT'S THE POINT THAT WE ALL COME IN WITH SORT OF DIFFERENT VIEWS OF THE ECONOMY. I THINK THAT WE – YOU KNOW, FINANCIAL CONDITIONS ARE STILL ACCOMODATIVE. I THINK THAT THE ECONOMY IS STILL GROWING ABOUT TREND. I THINK THE EMPLOYMENT RATE IS AT ITS LOWEST LEVEL SINCE THE LATE '60s. AND I THINK INFLATION IS AT OUR TARGET. SO THAT'S A STRONG OUTLOOK, RIGHT, AND SUGGESTS THAT WE PROBABLY NEED TO GRADUALLY THINKING MORE ABOUT TAKING BACK SOME OF THE ACCOMMODATION. BUT AGAIN, I DON'T THINK WE CAN SAY WHERE WE'RE GETTING TO AT THIS POINT. WE'VE GOT TO ASSESS THE CONDITIONS ON THE GROUND AND AS WE GO FORWARD USE THOSE CONDITIONS TO INFORM OUR OUTLOOK.
QUICK: WE HAD RICK RIEDER FROM BLACKROCK ON THIS WEEK, AND HE LOOKS AT THE BOND MARKETS. AND HIS CONCERN WITH WHAT HE'S BEEN SEEING IN THE MARKETS IS THAT IT'S THIS BIG KIND OF GAME OF JENGA, YOU KNOW WHERE YOU PULL OUT BRICK BY BRICK AND HOPE THAT YOU'RE NOT GOING TO TOPPLE THE TOWER. HE SAID THE FED IS PULLING OUT BRICKS FROM ONE SIDE AS IT RAISES RATES AND PULLS AWAY LIQUIDITY AND THE TREASURY IS PULLING FROM THE OTHER SIDE AS THEY ARE SELLING MORE BONDS TO FINANCE THE NEEDS OF THE GOVERNMENT. HE THINKS IT'S GOING TO BE OKAY, THAT THE JENGA TOWER IS NOT GOING TO TOPPLE, BUT HE THINKS IT'S GOING TO HAPPEN -- THAT IT WILL BE SAFE BECAUSE THE FED WILL STOP. IS THAT --?
MESTER: WELL, I THINK WE'RE GOING TO KEEP OUR FOCUS ON THE ECONOMY, RIGHT. WHAT'S GOING ON WITH INFLATION, WHAT'S GOING ON WITH MAXIMUM EMPLOYMENT, RIGHT. AND SO THAT'S WHAT WE'RE FOCUSED ON, ALWAYS WHEN WE'RE THINKING ABOUT CALIBRATING OUR POLICY WITH THE ECONOMY. AND SO IF CONDITIONS ON THE GROUND CHANGE AND FORECAST OVER THE MEDIAN RUN CHANGES, WE'RE GOING TO TRY TO SET POLICY APPROPRIATELY TO KEEP THOSE GOALS IN MIND. SO AGAIN, YOU KNOW, HE COULD BE RIGHT IN TERMS OF, YOU KNOW, WE MIGHT MOVE FASTER OR SLOWER. BUT WE'RE ALWAYS FOCUSED ON THOSE DUAL MANDATE GOALS. AND IT'S ALWAYS INFORMED BY THE DATA WHAT'S GOING TO HAPPEN TO MEDIAN RUN OUTLOOK AND THE RISKS AROUND THE OUTLOOK.
LIESMAN: I THOUGHT WHEN JOE ASKED YOU ABOUT THE MEETING, HE WAS GOING TO ASK YOU IF THERE WAS BACON AT THE MEETING. I WILL DO THAT FOR YOU. IS THERE BACON AT THE MEETING?
MESTER: THERE PROBABLY IS BUT I DON'T EAT BACON, SO I DON'T KNOW.
LIESMAN: YOU DON'T EAT BACON. OKAY. IT HAD TO BE ASKED. OTHERWISE WOULD BE A LOST OPPORTUNITY. GO AHEAD JOE, PLEASE.
KERNEN: I JUST -- I WANT WAGES TO GO UP, FINALLY. BECAUSE WE HEAR ABOUT THAT'S WHERE THE POPULIST RAGE COMES FROM AND THAT NO SOCIETY CAN CONTINUE ALOON THIS PATH. AND THEN I JUST I SEE THE FED WATCHING SO CLOSELY FOR THE SLIGHTEST WAGE PRESSURE TO TURN THE SCREW THE MINUTE WE SEE WHAT WE'RE TRYING TO ACCOMPLISH HAPPEN. IS THERE SOME WIGGLE ROOM?
MESTER: OKAY, I DON'T INTERPRET IT THAT WAY AT ALL. YOU'RE PROBABLY NOT SURPRISED.
KERNEN: ISN'T WAGE PRESSURE THE ONE THING THAT REALLY GETS YOUR ATTENTION IN TERMS OF WHETHER YOU'RE BEHIND THE CURVE AND ISN'T THAT WHAT WE WANT DEEP DOWN?
MESTER: IT DEPENDS ON WHY -- THERE ISN'T THAT MUCH PASS-THROUGH AS FAR AS I KNOW FROM WAGES TO PRICE INFLATION, RIGHT? WE SEE THAT FIRMS ARE TELLING US THEY'RE RAISING WAGES BECAUSE IT IS HARD TO FIND LABOR. BUT WE HAVEN'T BEEN A BIG SURGE IN PRICE INFLATION. SO WE ARE FOCUSED ON PRICE INFLATION, THAT'S OUR GOAL. NO, WAGES COULD BE GOING UP BECAUSE OF PRODUCTIVITY GOING UP, RIGHT. THAT WOULD BE A VERY GOOD THING. THERE'S NO INFLATIONARY PRESSURE FROM THAT, ALRIGHT, IF THAT'S THE CASE. SO AGAIN, WE FOCUS ON THE TWO GOALS. ALRIGHT, I AGREE WITH YOU. WAGES GOING UP IS A GOOD THING, IF IT'S DRIVEN BY PRODUCTIVITY.
KERNEN: WELL WE WORRY ABOUT IT. WE WORRY ABOUT WHAT THE -- "UH-OH, THE WAGE NUMBER GOT TOO HOT. THE FEDS—"
LIESMAN: THE MARKET DOES. THE MARKET WORRIES ABOUT IT PROBABLY AS A REACTION TO WHAT IT THINKS THE FED IS GOING TO DO. LORETTA, WE'RE KIND OF OUT OF TIME BUT I HAVE TO ASK YOU ONE QUESTION. THE FIRST IS THE PRESIDENT HAS CRITICIZED THE FEDERAL RESERVE. AND I'VE GOT TWO QUESTIONS ABOUT THAT. THE FIRST IS, IS IT -- FROM YOUR STANDPOINT, IS IT APPROPRIATE FOR THE PRESIDENT TO CRITICIZE THE FEDERAL RESERVE AND TO COMMENT THE WAY HE DOES ON POLICY. AND THE SECOND IS THE SUBSTENCE OF HIS COMMENTS WHICH ARE THAT THE FED IS MOVING TOO FAST AND THAT THE FED IS MOVING UNDER PRESIDENT TRUMP BUT DIDN'T MOVE UNDER PRESIDENT OBAMA -- ONLY ONCE.
MESTER: SO WE FOCUS ON SETTING POLICY, FOCUSED ON THE TWO GOALS CONGRESS GAVE US. THAT'S HOW WE DO POLICY. WE COME IN THE ROOM, WE BRING OUR VIEWS ON THE ECONOMY, WE BRING OUR FORECAST ON THE ECONOMY, AND THAT'S HOW WE SET POLICY. ANYONE CAN SAY ANYTHING THEY WANT ABOUT OUR POLICY, RIGHT, BUT WE -- WHEN WE GO INTO THAT ROOM, WE BRING OUR VIEWS AND WE FOCUS ON THE TWO DUAL MANDATE GOALS THAT CONGRESS GAVE US. AND THAT'S HOW WE DO POLICY. I'VE BEEN GOING TO FOMC MEETINGS SINCE THE END OF 2000, AND I CAN TELL YOU – AND MULTIPLE OF COURSE CHAIRS OF THE COMMITTEE -- AND I CAN TELL THAT'S EXACTLY HOW WE WORK. WE LOOK AT THE ECONOMY, WE BRING OUR FORECAST, WE LOOK AT THE DUAL MANDATE GOALS AND WE ALWAYS SET OUR POLICY FOCUSED ON THOSE GOALS.
QUICK: ALAN GREENSPAN WAS HERE LAST WEEK. HE SAID THE FED HAS TO PUT EARMUFFS ON AND THAT'S WHAT THEY DID WHEN HE WAS THERE. DO YOU STILL?
MESTER: WE FOCUS ON THE GOALS. I MEAN WE'RE SET UP TO HAVE THE LUXURY TO BE AN APOLITICAL ORGANIZATION AND THAT'S WHAT WE DO.
KERNEN: THAT WAS GREAT. THANK YOU.
QUICK: THANK YOU SO MUCH FOR BEING HERE. STEVE, THANK YOU.