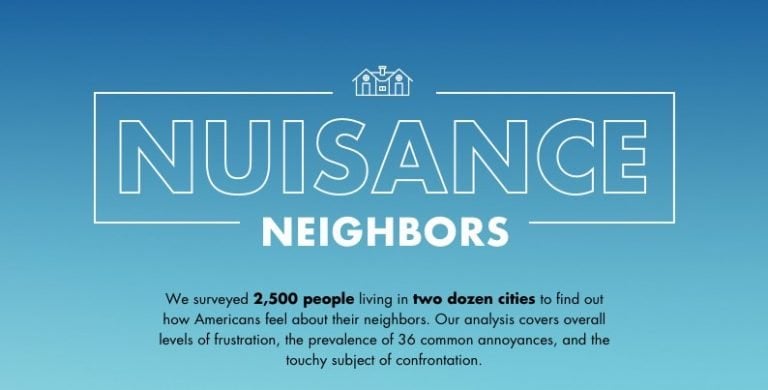 Whether you own your own home or choose to rent, there's one thing we all have in common: neighbors.  Some we love and others drive us absolutely crazy. In a recent national survey of the American public, Improvenet set out to identify two things.  First to identify the cities in American with the most annoying neighbors and also to found out the most common complaints neighbors have in each city.
David Abrams Explains How To Value Stocks
Continued from part one... Q1 hedge fund letters, conference, scoops etc Abrams and his team want to understand the fundamental economics of every opportunity because, "It is easy to tell what has been, and it is easy to tell what is today, but the biggest deal for the investor is to . . . SORRY! Read More
To do this they surveyed 2,500 people living in two dozen cities across the United States to find out which cities have the worst neighbors.  Their analysis covered overall levels of frustration with nuisance neighbors, the prevalence of 36 common annoyances, and the always touchy subject of confrontation.
[REITs]
Q2 hedge fund letters, conference, scoops etc
Listed below is the rankings of the most annoying neighbors in America:
Dallas
Miami
Austin
Philadelphia
Los Angeles
New York
San Francisco
Chicago
Houston
San Diego
San Jose
Phoenix
Columbus
San Antonio
Detroit
Nashville
Indianapolis
Boston
Las Vegas
Denver
Seattle
Atlanta
Portland
Minneapolis
They also looked at the things that annoy us most about our neighbors.  Listed below is the top 36 annoyances as well as the worst city for each complaint.
Loud music (Houston)
Loud voices by Adults (Philadelphia)
Loud parties (Los Angeles)
Parking issues (Philadelphia)
Loud pets (Indianapolis)
Loud voices by kids (San Antonio)
Dog poop/pee (Nashville)
General grumpiness (Detroit)
Loud TV (San Antonio)
Overflowing garbage/recycling (Seattle)
Dirty yard (Detroit)
Loud movement indoors (New York)
Aggressive dogs (Austin)
Smoke from tobacco (Las Vegas)
Loud home improvement work (Boston)
Smoke from marijuana (Phoenix)
Trespassing (Indianapolis)
Dirty home exterior (Detroit)
Public intoxication (Denver)
Unsightly storage (Nashville)
Unannounced visits (Atlanta)
Property damage (San Diego)
Loud sex (Minneapolis)
Boundary disputes (Boston)
Cooking smells (New York)
Storage in common areas (New York)
Ugly landscaping (Philadelphia)
Smelly pets (San Antonio)
Smoke from grilling (Austin)
Obnoxious outdoor lighting (Denver)
Ugly homes (Nashville)
Missing newspaper/mail (Austin)
Obstructed view (San Diego)
Indecent exposure (Nashville)
Holiday decorations (Austin)
Sings in yard/window (Indianapolis)
The survey also found that over 54% of American have actively confronted a neighbor about their bothersome behavior.
The preferred methods of confrontation for a majority of Americans is listed below: .
Face-to-face
Through police
Phone call
Through home/condo association
Signed note (on door or in mailbox)
Text
Anonymous note
Through another neighbor
Email
Through attorney
Without question the leading offender was noise. Americans tend to get very angry regarding noisy neighbors.  Loud music was the biggest offender on the list but loud kids and pets also made the list.  The full analysis about annoying neighbors in American can be seen in the graphic below.