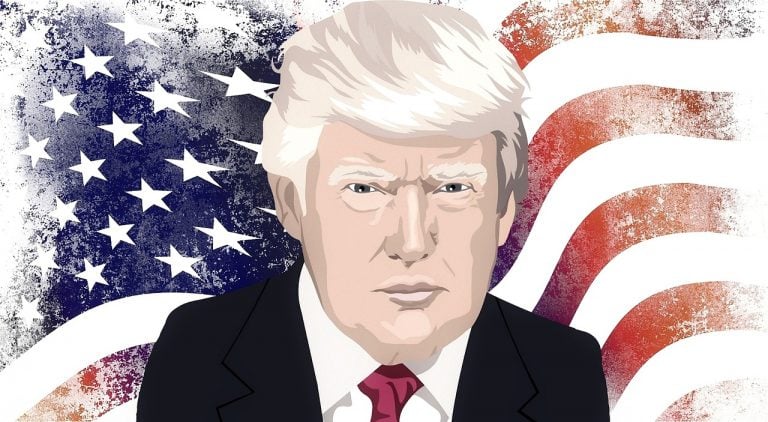 The New York Times claims Russia and China are eavesdropping on President Trump's personal, unsecured iPhone. As expected, China denies the iPhone tapping claims, but Beijing also offered Trump a solution: "use Huawei."

China has two suggestions for President Trump
Citing reports from American intelligence, The New York Times claimed on Wednesday that Chinese and Russian spies listen to Trump's phone calls on his iPhone. Trump has repeatedly been told that calls made via his personal cellphone are not fully secure, but he continued to use his phones for personal calls, the report said.
Citing current and former U.S. officials, the Times said that by intercepting the calls, China aims to determine what he thinks, whom he listens to and more. Overall, the main objective is said to be learning how to end the current trade war between the two countries.
Morningstar Investment Conference: Gabelli Funds On Where To Invest Amid Inflation
Numerous news headlines have trumpeted major concerns about inflation, which has been at 40-year highs. But how should investors handle inflation as it pertains to their portfolios? At the Morningstar Investment Conference on Monday, Kevin Dreyer, co-CIO of Gabelli Funds, outlined some guidelines for investing in the age of inflation. Historic inflation Dreyer started by Read More
Following the iPhone tapping story, Trump took to Twitter as usual, calling the report incorrect, long and boring:
The so-called experts on Trump over at the New York Times wrote a long and boring article on my cellphone usage that is so incorrect I do not have time here to correct it. I only use Government Phones, and have only one seldom used government cell phone. Story is soooo wrong!

— Donald J. Trump (@realDonaldTrump) October 25, 2018
In another tweet, the President said, "I rarely use a cellphone, & when I do it's government authorized. I like Hard Lines. Just more made up [sic] Fake News!"
The Chinese Foreign Ministry also dismissed the New York Times' iPhone tapping report, but not without taking a dig at Trump. At a news conference on Thursday, Chinese Foreign Ministry spokeswoman Hua Chunying said such reports are evidence that "The New York Times makes fake news.
"Seeing this report, I feel there are those in America who are working all-out to win the Oscar for best screenplay," she said, according to the South China Morning Post.
She also offered two suggestions to the Trump administration.
"If they are really very worried about Apple phones being bugged, then they can change to using Huawei" or "stop using all forms of modern communication devices and cut off all ties with the outside world."
Russia also dismissed the claims.
"We already treat these sort of stories with a certain humor," presidential spokesman Dmitry Peskov said, according to the BBC.
Huawei not considered to be the safest
China's suggestion of Huawei as a secure way of communication might not go down well with many. The Chinese company has long been under scrutiny in the United States. Intelligence agencies have often warned about the risk of espionage with Huawei.
Previously, the U.S. Democratic National Committee warned party candidates against using Huawei or ZTE devices. AT&T also broke ties with Huawei for the launch of its Mate 10 Pro flagship phone at the last moment after political pressure.
Both the U.S. and Australia have banned the Chinese company from winning any government contracts. Even the U.K. government has a cyber-security facility dedicated to locating backdoors in Huawei products.
The U.S. Department of Homeland Security has also raised concerns regarding cellphone surveillance activity in the Washington area several times this year. In a letter to several senators in March, the agency talked about noticing cellphone activity consistent with mobile subscriber identity catchers.
Huawei was founded by Ren Zhengfei, a former People's Liberation Army engineer. The company's ownership structure is also secretive, so it is believed that the company has deep ties with the Chinese government.
However, Huawei is unfazed by these accusations. The company is on track to ship 200 million handsets in local and global markets this year. In the second quarter, Huawei overtook Apple to become the second biggest smartphone vendor behind Samsung.
iPhone tapping is not an issue
The Times claimed that Trump has three iPhones: a fully-secured iPhone for calls; a second secure iPhone that supports Twitter and other apps; and a personal iPhone with no added security. Trump and the White House denied this claim as well, saying he only has one official iPhone.
As far as which is more secure — the iPhone or a Huawei handset — a point worth mentioning is that The New York Times didn't say the iPhone is at fault here. Rather, the newspaper states that it's a carrier vulnerability.
"But the calls made from the phones are intercepted as they travel through the cell towers, cables and switches that make up national and international cellphone networks," the report claimed.
Thus, if Trump is being snooped on at all, it is because of insecure cellular networks, which means he would face the same issues if he used an Android phone, including one from Huawei. As of now, there are no comments from either Huawei or Apple on the story.
Updated on