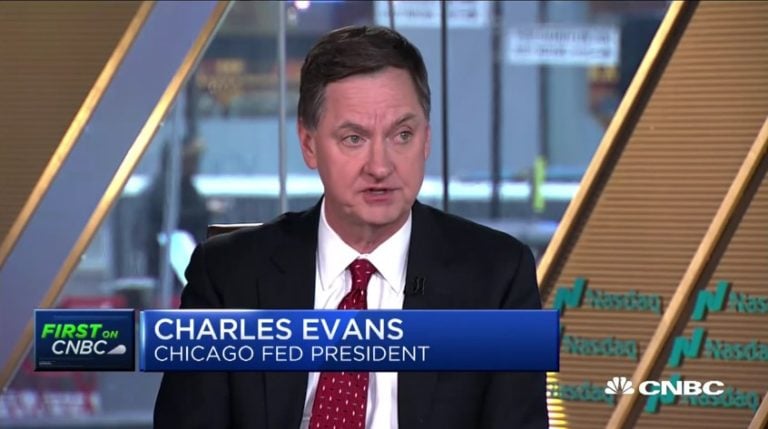 CNBC Exclusive: CNBC Transcript: Chicago Fed President Charles Evans Speaks with CNBC's Steve Liesman Today
WHEN: Today, Friday, October 12, 2018
WHERE: CNBC's "Squawk Box"
Canyon Distressed Opportunity Fund likes the backdrop for credit
The Canyon Distressed Opportunity Fund III held its final closing on Jan. 1 with total commitments of $1.46 billion, calling half of its capital commitments so far. Canyon has about $26 billion in assets under management now. Q4 2020 hedge fund letters, conferences and more Positive backdrop for credit funds In their fourth-quarter letter to Read More
The following is the unofficial transcript of a CNBC EXCLUSIVE interview with Chicago Fed President Charles Evans and CNBC's Steve Liesman on CNBC's "Squawk Box" (M-F 6AM – 9AM) today, Friday, October 12th. The following is a link to video from the interview on CNBC.com:
It's time to adjust policy stance at least to neutral, says Chicago Fed president Charles Evans
Q3 hedge fund letters, conference, scoops etc
All references must be sourced to CNBC.
ANDREW ROSS SORKIN: OKAY. THANK YOU FOR THAT, RICK. MEANTIME, WE WANT TO GET TO ANN ARBOR, MICHIGAN RIGHT NOW, WHERE STEVE LIESMAN IS WITH A VERY SPECIAL GUEST CHICAGO FED PRESIDENT CHARLES EVANS. AND THE TIMING COULD NOT BE BETTER. STEVE.
STEVE LIESMAN: YEAH, ANDREW. I'D RATHER BE LUCKY THAN GOOD HERE. I'M AT THE ENGAGE STUDENT INVESTMENT CONFERENCE. 500 STUDENTS FROM AROUND THE COUNTRY GATHER AND THEY HAVE AN INVESTMENT CONTEST AND EVERYTHING, SPONSORED BY THE DAVID KUDLOW FOUNDATION. I JUST WANTED TO TELL YOU THAT BECAUSE THAT'S WHY WE'RE HERE, WITH CHICAGO FED PRESIDENT CHARLIE EVANS. CHARLES, THANK YOU FOR JOINING US.
CHARLES EVANS: GOOD MORNING, STEVE.
LIESMAN: THERE'S ONLY PLACE TO START. THE PRESIDENT YESTERDAY SAID, "THE FEDERAL RESERVE IS CRAZY." HOW DOES A FEDERAL – MEMBER OF THE FEDERAL OPEN MARKET COMMITTEE REACT TO THOSE COMMENTS?
EVANS: WELL, YOU KNOW, WE'RE, YOU KNOW, LOOKING AT THE ECONOMY, WE'RE LOOKING AT A VERY STRONG ECONOMY, STRONG FUNDAMENTALS, AND WE'RE ADJUSTING THE POLICY STANDS. WE'VE BEEN DOING THAT GRADUALLY. INCREASING RATES. WE'VE BEEN MOVING UPWARD, TARGETING 2 TO 2.25% RIGHT NOW. I KIND OF THINK NEUTRAL IS IN THE 2.75% TO 3%. SO AFTER MANY, MANY YEARS OF ACCOMMODATIVE POLICY WHICH I HAVE SUPPORTED STRONGLY BECAUSE INFLATION IS NOW UP AT 2%, IT'S TIME TO READJUST THE POLICY STANCE AT LEAST TO NEUTRAL. LET'S SEE HOW THE ECONOMY IS PERFORMING AT THAT POINT. AND THEN WE MIGHT HAVE TO DO A LITTLE BIT MORE AFTER THAT.
LIESMAN: SO, LET'S DO THE MATH. NEUTRAL YOU'RE AT 2, 2.25% NOW. YOU THINK 2.25 TO 3 IS NEUTRAL. SO THAT'S THREE MORE HIKES FROM HERE TO GET TO NEUTRAL. DOES THAT SOUND RIGHT?
EVANS: THAT SOUNDS RIGHT. BY THAT MEASURE. BY THAT MEASURE.
LIESMAN: I DON'T LIKE DOING MATH LIVE IN THE MORNING ON AIR.
EVANS: I DON'T EITHER.
LIESMAN: AND THEN DO WE HAVE TO GO TO A RESTRICTIVE POLICY, YOU THINK, AT THIS POINT?
EVANS: SO I WOULD SAY THAT MY FORECAST, WHICH HAS GROWTH ABOVE TREND, THIS YEAR: 3.2%. NEXT YEAR: 2.5%. YEAR AFTER THAT MAYBE 2%, 2.2%. THAT'S ABOVE TREND AND I EXPECT THE UNEMPLOYMENT RATE TO FALL TO 3.5% BEFORE IT EASES BACK UP A LITTLE BIT. THIS IS AN ENVIRONMENT WHERE I'M NOT WORRIED ABOUT INFLATION. I THINK INFLATION COULD GO TO 2.2%, 2.3%. AND THAT'S EASILY CONSISTENT WITH SYMMETRIC 2% INFLATION. BUT WITH UNEMPLOYMENT LIKE THAT, SETTING POLICY EVER SO SLIGHTLY RESTRICTIVELY MAKES SENSE. AND WE COULD HOLD THAT SOME MEASURE LIKE THAT FOR SOME TIME UNTIL WE GET EXACTLY -- EXACTLY IS NOT THE RIGHT WORD -- UNTIL WE GET OUTCOMES, YOU KNOW, REALLY CONSISTENT WITH OUR DUAL MANDATE. WHICH AT THE MOMENT WE'RE ACTUALLY – WE JUST WANT TO MAINTAIN THIS.
LIESMAN: SO WHAT DOES RESTRICTIVE MEAN? DOES IT MEAN ONE QUARTER POINT ABOVE NEUTRAL? DOES IT MEAN TWO QUARTER POINTS? HOW MANY QUARTER POINTS ABOVE NEUTRAL?
EVANS: I'VE SAID IN PAST PUBLIC COMMENTARY THAT I KIND OF THINK OF MAYBE 50 BASIS POINTS ABOVE NEUTRAL. NOW, YOU HAVE TO REMEMBER THERE'S A LOT OF UNCERTAINTY ABOUT NEUTRAL. WE HAVE DIFFERENT OPINIONS ABOUT THAT THAT IS. THERE'S EVEN DIFFERENT MEASURES IN TERMS OF SHORT RUN, NEUTRAL, AND THIS LONGER TERM THAT'S IN THE SEP. SO WE MIGHT HAVE TO SORT FEEL OUR WAY AROUND THAT A LITTLE BIT, BUT I'M GOING TO BE LOOKING AT HOW INFLATION IS PERFORMING AND THE MOMENTUM IN THE ECONOMY.
LIESMAN: BUT – I MEAN THERE'S TWO ASPECTS TO THE PRESIDENT'S COMMENTS. ONE IS THE RHETORIC. AND WE CAN GET TO THAT IN A SECOND, I DO WANT TO GET TO THAT. BUT THE OTHER IS THE SUBSTANCE. AND HE'S NOT ALONE IN CRITICIZING A LOT OF WHAT YOU JUST SAID. WHICH IS YOU'RE GOING TO BE RAISING RATES AND YOU'RE FORECASTED TO GO ABOVE NEUTRAL, IN THE ABSENCE OF ANY CLEAR AND PRESENT INFLATION DANGER. HOW DO YOU JUSTIFY THAT? IF INFLATION REMAINS QUIESCENT, HOW DO YOU -- WHY DO YOU KEEP GOING ABOVE NEUTRAL?
EVANS: I WAS IN FLINT, MICHIGAN, ON WEDNESDAY AND I WAS ASKED A VERY SIMILAR QUESTION. AND I SORT OF SAID EXACTLY WHAT YOU SAID WHICH IS, "IT'S A FAIR QUESTION TO ASK, YOU KNOW, 'DO WE REALLY NEED TO INCREASE RATES? DO WE NEED TO INCREASE THEM AS MUCH AS SOME PEOPLE SAY?'" THIS IS WHAT THE POLICY DEBATE IS. AND I WOULD SAY WITH THE UNEMPLOYMENT RATE HEADED TO 3.5%, WE'RE IN A MORE NORMAL ENVIRONMENT WHERE AN ACCOMMODATIVE STANCE OF POLICY, WHEN WE'VE GOT PRO-CYCLICAL FISCAL POLICY AND A VERY STRONG ECONOMY, WE PROBABLY NEED TO BE A LITTLE BIT ON THE ABOVE NEUTRAL SIDE. BUT I DON'T KNOW THAT WE NEED TO BE A LOT. AND AS WE CONTINUE TO RAISE RATES, WE'RE GOING TO BE DATA DEPENDENT AND LOOK AT HOW THINGS ARE PLAYING OUT. AND IF THERE'S SOME BREAK IN HOW OUR OUTLOOK IS INFERRED THEN WE WOULD DO SOMETHING DIFFERENT. BUT AT THE MOMENT IT LOOKS REALLY GOOD. FUNDAMENTALS ARE STRONG.
LIESMAN: YOU MENTIONED THE PRO-CYCLICAL POLICY. THERE'S A CERTAIN IRONY HERE OF A PRESIDENT COMPLAINING ABOUT INTEREST RATES GOING UP. HOW MUCH OF WHAT YOU'RE DOING ON POLICY RIGHT NOW IS BECAUSE OF PRESIDENTIAL POLICIES WHICH HAVE IMPROVED THE ECONOMY BUT ALSO PERHAPS CREATED STRAINS ON INTEREST RATES?
EVANS: MAYBE IT'S – I DON'T WANT TO GET BOGGED DOWN IN A WHOLE LOT OF RHETORIC AND COMMENTARY. WE'RE LOOKING AT THE STATE OF THE ECONOMY. IT'S CERTAINLY THE CASE THAT WE HAVE BEEN DEALT, YOU KNOW, TAX CUTS WHICH ARE STRONGLY IMPROVING CONSUMERS AND BUSINESSES. I MEAN, YOU KNOW, I THINK THAT'S PROBABLY WORTH 0.4%, 0.5% ON GROWTH THIS YEAR AND NEXT YEAR. IT'S DEFINITELY ADDED TO THAT. THIS IS COMING THOUGH AT A TIME WHEN THE UNEMPLOYMENT RATE IS BELOW MANY PEOPLE'S MEASURES OF THE SUSTAINABLE RATE OF UNEMPLOYMENT. NOW, I THINK THIS IS A GOOD THING AT THE MOMENT. I THINK IT ALLOWS MORE PEOPLE TO COME INTO THE LABOR FORCE, INCREASE THEIR ATTACHMENT TO THE WORKFORCE AND HAVE A LONGER PERMANENT EFFECT, POTENTIALLY, ON THAT. BUT HAVING SAID, THAT AT SOME POINT, YOU MIGHT SEE WAGE GROWTH – I'D LIKE TO SEE IT HIGHER. WE MIGHT SEE IT A LITTLE MORE IN LINE WITH STRONGER INFLATION THAN WOULD BE IDEAL. SO WE JUST HAVE TO UNDERSTAND THAT PROCESS.
LIESMAN: SO YOU'RE REALLY COMING TO THE PARTY AND SAYING WE NEED TO, WHAT -- TAKE AWAY THE PUNCH BOWL HERE?
EVANS: I DON'T THINK I'VE SAID THAT AT ALL.
LIESMAN: OR TAKE SOME OF ALCOHOL OUT OF THE PUNCH BOWL?
EVANS: I DON'T THINK I'VE SAID THAT. ON THE WAY TO NEUTRAL, WE'VE STILL GOT THE PUNCH BOWL, YOU KNOW, IN PLAY, GOING UP A LITTLE BIT. IF YOU LIKE THAT, YOU KNOW, ANALOGY. I GUESS IT'S A LITTLE BIT. BUT IT'S VERY SMALL POTATOES AT THIS POINT.
LIESMAN: I NEED TO GET TO THE MARKET, BUT I WANT TO ASK ABOUT THE RHETORIC OF THE PRESIDENT. SHOULD THE PRESIDENT BE SAYING THE FED IS CRAZY? SHOULD THE PRESIDENT BE COMMENTING? WHAT IS THE -- YOUR THOUGHTS ON WHETHER OR NOT IT'S APPROPRIATE FROM THE EXECUTIVE ABOUT THE FEDERAL RESERVE?
EVANS: I CAN'T ANSWER THAT, BUT I'LL SAY THAT THE FEDERAL RESERVE HAS A LARGE AMOUNT OF AUTONOMY THAT IS GRANTED US BY CONGRESS AND THE PRESIDENT THROUGH THE FEDERAL RESERVE ACT. WE'RE SUPPOSED TO PURSUE MONETARY AND FINANCIAL CONDITIONS THAT SUPPORT MAXIMUM EMPLOYMENT AND PRICE STABILITY. I BELIEVE WE'VE DONE VERY WELL ON OUR DUAL MANDATE OVER THE LAST FEW YEARS. AND THIS NATURAL ADJUSTMENT OF POLICY UP A LITTLE BIT ABOVE SOME BENCHMARK THAT MIGHT BE VIEWED AS NEUTRAL. I THINK IT'S WHAT WE DO. AND THEN, YOU KNOW, WE LET PEOPLE COMMENT. AND WE'LL, YOU KNOW, JAY POWELL WILL GO TO CONGRESS. HE'S ACCOUNTABLE. HE GOES OUT IN PUBLIC. HE JUST DID A LARGE NUMBER OF MEDIA EVENTS TO EXPLAIN EXACTLY WHAT WE'RE DOING. SO I THINK OUR COMMUNICATIONS ARE IN LINE WITH THE POLICIES. THAT WE'RE PRESCRIBING. AND I THINK IT'S VERY IMPORTANT. WE NEED TO BE ACCOUNTABLE. AND I THINK THAT JAY POWELL AND THE FED ARE DOING A GOOD JOB WITH THAT.
LIESMAN: I WANT TO GET TO BECKY IN JUST A SECOND, FROM ENGLEWOOD CLIFFS. BUT I DO WANT TO ASK YOU ABOUT THE RECENT MARKET SELL OFF. 800 POINTS. HOW DO YOU VIEW THAT? IS THAT A CONCERN FOR YOU THAT THERE'S OVER-VALUATION IN THE MARKET AND THAT THERE'S POTENTIAL ECONOMIC EFFECTS FROM THE SELL OFF?
EVANS: SO, YOU KNOW, AT THE FEDERAL RESERVE, WE OBVIOUSLY PAY ATTENTION TO FINANCIAL STABILITY ISSUES. MARKET VALUATIONS ARE PART OF THAT ALSO. LEVERAGE, CREDIT SPREADS, HOW PEOPLE ARE ABLE TO GAIN ACCESS TO MORTGAGE BORROWING AND BUY HOUSES AND ALL OF THAT. EVERY QUARTER WE HAVE A DISCUSSION ABOUT THAT AND IT'S CERTAINLY THE CASE THAT ASSET VALUATIONS HAVE BEEN MORE ELEVATED. AND THAT SORT OF PROBABLY ADJUSTS UPWARDS THE RISK ASSESSMENT FOR FINANCIAL STABILITY. BUT ON BALANCE IT STILL SEEMS MODERATE. I CAN'T SAY I DON'T KNOW ANYTHING ABOUT THE VALUATIONS ON THE STOCK MARKET. I MEAN, PAUL KRUGMAN THE OTHER DAY I SAW SOMETHING WHERE HE SAID HE'S NOT QUALIFIED -- HE DOESN'T KNOW WHY THE STOCK MARKET WENT UP OR DOWN. I DON'T KNOW BETTER THAN THAT MYSELF AT THE MOMENT. BUT I WILL SAY THAT WHAT IS OF GREAT INTEREST AND IMPORTANCE IS THE ABILITY OF THE ECONOMY TO CONTINUE ALONG ITS CURRENT PATH EVEN WITH THE INCREASE IN VOLATILITY THAT WE'VE SEEN. SO THE FACT THAT THE ECONOMY CAN CONTINUE TO GO, LABOR MARKET BE STRONG AFTER THIS SETTLES OUT, WOULD BE A VERY STRONG SOUNDING FOR THE CURRENT ECONOMY.
LIESMAN: BECKY, GO AHEAD.
BECKY QUICK: PRESIDENT EVANS, THANKS FOR BEING WITH US TODAY. YOU SAID THAT THE ECONOMIC FUNDAMENTALS ARE STRONG AND WE CERTAINLY SEE THAT IN A LOT OF DIFFERENT PLACES. BUT WE'VE ALSO STARTED SEEING SOME WEAKNESS IN SOME AREAS. PARTICULARLY IF YOU LOOK AT PLACES LIKE MORTGAGES WHERE THE 30 YEAR FIXED MORTGAGE IS NOW AT 5% AND UP, THAT'S AFFECTING HOME SALES. YOU CAN SEE IT IN AUTO SALES AND THEN YOU SEE IT IN COMPANIES. AND WE'RE GETTING INTO EARNINGS SEASON, SO WE'RE STARTING TO LISTEN TO WHAT COMPANIES AND CEOs ARE SAYING THEY SEE. PPG CAME OUT WITH EARNINGS IT WAS CONCERNING BECAUSE THEY TALKED ABOUT HIGHER PRICES AND WEAKER DEMAND COMING FROM CHINA, COMING FROM AUTO SALES IN THE UNITED STATES AND EUROPE. AND THAT'S KIND OF A DANGEROUS COMBINATION, IF YOU'RE TRYING TO FIGURE OUT CORPORATE PROFITABILITIES – TO BE FACING HIGHER PRICES AND DEMAND AT THE SAME TIME.HOW DO YOU TAKE ALL OF THAT ADDED UP AND KIND OF PUT THAT INTO YOUR FED DECIDING CALCULATOR?
EVANS: BECKY, THAT'S A REALLY GOOD LIST OF ISSUES TO BE THINKING ABOUT ON THE CORPORATE EARNINGS SIDE. CORPORATIONS, I THINK THEIR BALANCE SHEETS ARE REALLY GOOD. THEY'VE BEEN DOING STOCK BUYBACKS. AND SO, IF THEY HAVE CHALLENGES WITH WHERE THEY ARE, THAT'S PART OF THE DECISIONS THEY MADE. I THINK THAT'S NOT SOMETHING THAT CONCERNS ME AT THE MOMENT. I THINK MORTGAGE RATES GOING UP, AUTO RATES GOING UP, THAT OBVIOUSLY HAS AN EFFECT ON THE CONSUMER. NOW I HAVE TO SAY THAT IS PART OF THE MONETARY TRANSMISSION MECHANISM. SO AS WE ADJUST RATES UP, I EXPECTED MORTGAGE RATES TO GO UP. IF THEY GO UP A BIT MORE AND ALREADY THE CREDIT STANDARDS FOR GETTING A MORTGAGE ARE MUCH MORE DIFFICULT THAN THEY WERE 10, 15 YEARS AGO. SO IT'S A MORE CHALLENGED ENVIRONMENT. WE NEED TO BE LOOKING AT THE HOUSING SIDE TO SEE THAT BUILDING IS PROCEEDING. AND I KNOW WHEN I GO AROUND MY DISTRICT AND I TALK TO PEOPLE IN FT. WAYNE, FLINT, IN IOWA, THEY WILL SAY THAT, YOU KNOW, THE MIDDLE MARKET FOR HOUSING IS A VERY DIFFICULT ONE. THE SUPPLY IS NOT REALLY SUFFICIENT. AT HIGHER LEVEL THERE'S PLENTY OF DEBT. SO I THINK THERE ARE SUPPLY CHALLENGES AND WE'LL MONITOR THAT. BUT YOU KNOW, AT THE MOMENT THIS SEEMS LIKE NORMAL TRANSMISSION MECHANISM.
JOE KERNEN: HEY, CHARLIE. IF YOU WERE CONVINCED THAT THE SECULAR DISINFLATION WAS THE NEW NORMAL AND IT HAS BEEN FOR AWHILE, WOULD YOU RECALIBRATE HOW NORMALIZED RATES REALLY NEED TO BE? IF SOMEONE COULD TELL YOU THERE WILL BE NO WAGE INFLATION, THAT IT'S NOT GOING TO BE LIKE PREVIOUS CYCLES WHERE THAT FINALLY REARS ITS HEAD -- IS IT POSSIBLE TO JUST ROLL THE DICE AND STAY LOW AND JUST MAYBE NOT GET BACK TO THE NORMAL RELATIONSHIP YOU SEE BETWEEN FED FUNDS AND WHERE INFLATION --? BECAUSE YOU'RE A LITTLE BIT BELOW RIGHT NOW, BASED ON WHERE INFLATION IS. BUT IT'S GOOD. I MEAN, PEOPLE -- I KNOW TRUMP IS LOOKING AT IT SIMPLISTICALLY, BUT LOWER RATES FOR EVERYBODY, WE ALL LIKE LOWER RATES, EXCEPT MAYBE BANKS. SO IS IT POSSIBLE WE COULD BE IN A PERIOD WHERE YOU DON'T HAVE TO GO BACK TO THE OLD WAY OF DOING THINGS BECAUSE IT'S ACTUALLY DIFFERENT?
EVANS: THAT'S A GOOD SET OF OBSERVATIONS ON THE LOWER RATES MUST BE GOOD. I MEAN, I'M OLD ENOUGH TO REMEMBER JUST A FEW YEARS AGO WHERE I WOULD COME ON HERE AND GET BEAT UP BECAUSE INTEREST RATES WERE REALLY LOW AND WE WERE KILLING SAVERS AND EVERYBODY ELSE. AND SO IT DEPENDS WHERE YOU ARE AND WHERE YOUR PORTFOLIO IS. I WOULD SAY THAT BECAUSE WE HAVE BEEN ABLE TO INCREASE INTEREST RATES GRADUALLY, SO PEOPLE HAVE BEEN ABLE TO SEE IT COMING AND THAT WE'RE AT A DECENT LEVEL, 2% TO 2.25%, THAT FEELS PRETTY GOOD FOR A LOT OF DIFFERENT PEOPLE, ALONG THE LINES OF WHAT YOU'RE SAYING. SO ON THE WAGE SIDE, THERE'S A SENSE IN WHICH I'VE BEEN DISAPPOINTED THAT WAGES HAVEN'T BEEN STRONGER. NOW I HAVE TO GO BACK AND LOOK AT THE DATA AND RECOGNIZE – YOU KNOW WHAT, PRODUCTIVITY GROWTH HAS NOT BEEN AS STRONG. I ALWAYS SAY IN THE 2000s WE USED TO SEE WAGE GROWTH, NOMINAL WAGE GROWTH 3-4%. WELL WE HAVEN'T SEEN THE SAME LEVEL OF PRODUCTIVITY GROWTH SO THAT CAN'T BE SUPPORTED BY BUSINESSES. INFLATION HAS BEEN LOWER, THAT ALSO REDUCES THAT. IF, IN FACT, WAGES END UP GROWING LOWER THAN THOSE BENCHMARKS AND BUSINESSES AREN'T ABLE TO GET THE PRICES AND WE END UP WITH LOWER INFLATION, THAT WOULD TELL US THAT OUR POLICY IS MORE RESTRICTIVE. WHEN WE SAY WE'RE SUPPOSED TO DELIVER 2% INFLATION SYMMETRICALLY, WE'RE SUPPOSED TO DELIVER IT. AND IF PART OF NOT BEING ABLE TO DO THAT IS WAGE GROWTH IS LOWER, WE NEED TO DO SOMETHING TO MAKE SURE OTHER PARTS OF –
KERNEN: I'VE GOT A LIST OF OTHER NOBEL PRIZE WINNING ECONOMISTS. I'VE GOT A LIST TOTALLY DIFFERENT THAN -- IF YOU NEED ONE TO CITE DOWN THE ROAD BESIDES PAUL KRUGMAN, I'VE GOT A WHOLE OTHER LIST THAT I CAN SEND YOU SO THAT YOU DON'T NEED NECESSARILY TO MENTION – OR WHATEVER. ANDREW PROBABLY LIKES IT.
EVANS: I JUST THOUGHT THIS WAS A USEFUL ONE BECAUSE IT WAS TALKING ABOUT THE STOCK MARKET. IF YOU'VE GOT A LIST OF NOBEL PRIZE WINNERS WHO KNOW EXACTLY WHY THE STOCK MARKET DID WHAT IT DID, TELL ME.
KERNEN: THERE'S A LOT OF THINGS HE DOESN'T KNOW WHY IS OCCURRING, I THINK. GIVEN SOME OF HIS RECENT STUFF. ANYWAY, ANDREW.
ANDREW ROSS SORKIN: HEY CHARLIE. I JUST WANTED TO -- YOU TOUCHED ON THE TOPIC OF BUYBACKS BEFORE, OR REALLY JUST THE REMARKABLE NUMBER OF BUYBACKS THAT HAVE TAKEN PLACE IN THE MARKET, ESPECIALLY AFTER THE TAX CUTS. ONE OF THE REASONS WE'VE TALKED ABOUT WHETHER THERE'S EVEN VOLATILITY IN THE MARKETS TODAY IS IN PART BECAUSE DURING EARNINGS SEASON, THEY EFFECTIVELY -- COMPANIES ARE POTENTIALLY OUT OF THE MARKET, FOR AT LEAST SOME COMPANIES. HOW DO YOU THINK ABOUT BUYBACKS? HOW DO YOU THINK ABOUT IT IN THE MARKET? AND HOW DO YOU THINK OF ITS REAL IMPACT ON THE ECONOMY?
EVANS: WELL, I MEAN, IT CERTAINLY -- I THINK TAX REFORM WAS A GOOD THING. I THINK THE TAX CUTS HELP A LOT OF PEOPLE. I THINK IF WE'D BEEN ABLE TO DO IT IN A BUDGET NEUTRAL FASHION, THAT WOULD HAVE BEEN BETTER IN TERMS OF REDUCING INCREASED PRESSURES FROM THE DEBT OVER THE NEXT TEN YEARS. BUT IN TERMS OF CORPORATE EARNINGS AND CORPORATIONS, I TALK TO A LARGE NUMBER OF BUSINESS PEOPLE. THEY ARE REALLY QUITE SMART. ESPECIALLY IN THE THINGS THAT THEY ARE WORKING ON, THEIR BUSINESSES. AND SO THEY KNOW WHEN THEY MAKE THESE DECISIONS TO GIVE BACK CAPITAL TO OTHERS. THERE IS A RISK THAT SIX MONTHS LATER, THEY MIGHT HAVE NEEDED THAT. I ASSUME THEY'VE DONE THIS FOR ALL THE BEST BUSINESS REASONS. AND IT'S BEEN RISK MANAGED VERY WELL. SO I'M NOT GOING TO SECOND GUESS THAT.
QUICK: HEY, CHARLIE. PETER FISHER WAS HERE EARLIER. AND HE SAID IT'S TIME TO GET RID OF THE DOT PLOT. THAT NOBODY KNOWS WHERE WE'RE GOING TO BE THREE YEARS FROM NOW. IT'S RIDICULOUS AT THIS POINT BECAUSE OF THE INCREASED VOLATILITY WE'RE GONNA SEE BECAUSE YOU ALL ARE SO DATA DEPENDENT AT THIS POINT. DOES HE HAVE A GOOD POINT?
EVANS: NOT REALLY. I THINK THAT THE DOT PLOTS ARE A VERY GOOD COMMUNICATIONS VEHICLE. THERE ARE A LOT OF PEOPLE WHO LOOK AT THE LARGE DISPERSION IN THE DOTS AND THEY GO, I DON'T KNOW HOW TO MAKE SENSE OUT OF THAT. OKAY. THAT'S A REASONABLE REACTION. BUT I WILL TELL YOU WHEN THERE'S A LARGE DISPERSION OF THE DOTS, THAT IS REFLECTIVE OF THE DEBATE THAT WE ARE HAVING IN THE COMMITTEE. IF YOU DON'T WANT THAT TYPE OF TRANSPARENCY IN ALL OF OUR DIFFERENT ARGUMENTS, YOU KNOW, GETTING RID OF THE DOT PLOT WOULD TAKE SOME OF THAT INFORMATION AWAY. SO I REALLY DON'T UNDERSTAND IT. NOW, FROM A MARKET PERSPECTIVE, I CAN KIND OF UNDERSTAND, "THIS IS COMPLICATING MY LIFE. IT'S EASIER WHEN I KNOW A LITTLE BIT MORE. THIS MIGHT BE TOO INFORMATIVE." SO I THINK IT'S A VERY GOOD VEHICLE. I THINK THERE ARE MOMENT WHERE IS IT'S BETTER.
QUICK: ALTHOUGH -- IF YOU ARE DATA DEPENDENT, I CAN UNDERSTAND THE ARGUMENT THAT IT'S HARD TO KNOW WHERE YOU'RE GOING TO BE IN TWO OR THREE YEARS BECAUSE WE DON'T KNOW WHAT THE DATA IS GOING TO BE THIS WEEK OR NEXT.
EVANS: YEAH, I AGREE WITH THAT. I MEAN, THIS IS -- LOOKING OUT INTO THE FUTURE IS DIFFICULT. EVERYBODY'S GOT TO DO IT IF THE FACT THAT YOU DON'T PUT A FORECAST OUT AND THEREFORE PEOPLE THINK THAT YOU'RE SMART BECAUSE IT WASN'T PROVEN WRONG, I DON'T THINK THE WORLD WORKS THAT WAY.
LIESMAN: THERE'S A QUOTE IN A BOOK BY PETER BERNSTEIN "AGAINST THE GODS." IT'S "WE'RE AWARE THE LONG RANGE FORECASTS ARE USELESS HOWEVER WE STILL REQUIRE THEM FOR PLANNING PURPOSES." LET'S – I WANT TO TALK ABOUT --
EVANS: COLUMBUS HAD TO HAVE A FORECAST ON WHERE HE WAS HEADED EVEN THOUGH HE WAS WRONG.
LIESMAN: RIGHT. EVEN THOUGH HE ENDED UP A COUPLE THOUSAND MILES AWAY.
KERNEN: STEVE, I WANT TO KNOW EXACTLY -- BECKY NEEDS TO KNOW THIS TOO. THE PUNCH BOWL. I JUST -- IT USED TO BE GRAIN ALCOHOL. I MEAN, WHAT IS IT -- WINE SPRITZER NOW? WHAT ARE WE? HOW WOULD YOU CHARACTERIZE THAT? SORT OF -- IT'S PRETTY WEAK PUNCH AT THIS POINT.
LIESMAN: I'M A LITTLE DIFFERENT. WELL, YOU KNOW, IT'S FULL OF RUM IN MY BOOK.
KERNEN: STILL?
LIESMAN: AND SOME AWFUL SORT OF TASTING FRUIT PUNCH STUFF.
KERNEN: I THINK IT'S LIKE A WINE. IT'S GOT 4% ALCOHOL IN IT. BUT IT'S GOT – I THINK, LESS THAN BEER. BARTLES AND JAYMES.
LIESMAN: BUT JOE, THE TROUBLE WITH THE PUNCH BOWL IS YOU DRINK IT, YOU DON'T REALIZE YOU'RE GETTING DRUNK. AND THE TROUBLE WITH THIS CONVERSATION IS I'VE GOT A FED PRESIDENT TO MY LEFT AND WE'RE HAVING A CONVERSATION ABOUT ALCOHOL, FRUIT AND PUNCH AND BOWLS. BUT LET ME --
KERNEN: WITH MARIJUANA LEGAL, IT'S A WHOLE NEW – I DON'T KNOW WHAT WE'RE SPIKING IT WITH.
LIESMAN: IT'S A WHOLE NEW THING WHAT WE COULD TALK ABOUT.
KERNEN: YEAH, I WONDER WHAT THAT WOULD DO. HIGHER RATES OR LOWER.
LIESMAN: I DON'T KNOW IF WE SHOULD ADMIT TO ON TELEVISION. RIGHT. BUT I WANT TO GET BACK TO WHAT'S HAPPENING WITH THE 10-YEAR RIGHT NOW. 3.25%. AND I HAVE TO SAY WE HAD A WHOLE BUNCH OF TALKING AND HAND WRINGING SEVERAL MONTHS AGO ABOUT THE YIELD CURVE BEING FLAT AND INVERTING. AND NOW IT'S GOING THE OTHER WAY. WHAT MESSAGE DO YOU TAKE FROM HIGHER INTEREST RATES RIGHT NOW? IS THIS AN INFLATION CONCERN? IS IT A GROWTH RESPONSE? IS IT A RESPONSE TO THE FED? HOW DO YOU DISSECT WHAT'S HAPPENED TO INTEREST RATES OF LATE?
EVANS: YEAH, IT'S A GOOD QUESTION. YOU KNOW, THE DISCREPANCY BETWEEN THE 10-YEAR AND 2-YEAR RATE I DON'T THINK IS AS BLOWN OUT AS MUCH AS YOU MIGHT HAVE EXPECTED WITH THE 10-YEAR RATE GOING UP. SO THE YIELD CURVE DISCUSSIONS -- IF THAT'S OF INTEREST, THAT STILL IS HANGING AROUND. I WOULD SAY THAT ACCORDING TO SOME OF THE ANALYSES THAT HAVE TRIED TO DISSECT HOW MUCH OF IT IS INFLATION AND EXPECTATIONS, HOW MUCH OF IT IS THE REAL RATE, HOW MUCH OF IT IS TERM PREMIUM, IT'S BEEN A LITTLE BALANCED. YOU KNOW, IT'S PROBABLY BEEN HALF OF IT AT TERM PREMIUM AND HALF OF IT REAL RATE AND HALF OF IT INFLATION EXPECTATIONS. AND SOI DON'T SEE IT AS ANYTHING TO CAUSE ME TO CHANGE HOW I'M THINKING ABOUT THE ECONOMY. OBVIOUSLY IF IT CONTINUED, THEN HIGHER TERM PREMIUM WOULD – YOU KNOW, THE HIGHER RATES ARE GOING TO FEED INTO HIGHER MORTGAGE RATES, HIGHER AUTO RATES AND THE CONSUMER. AND SO, IF ANYTHING, THAT MIGHT -- AS THE FED – AS WE'VE OFTEN SAID IN THE PAST -- DO PART OF THE TIGHTENING FOR US. WE HAVE TO UNDERSTAND THE FINANCIAL MARKETS. BUT REMEMBER AS WE STARTED INCREASING RATES—
LIESMAN: -- IF IT HAD TO HAPPEN, IT WENT THE OTHER WAY. YOU GUYS WERE --
EVANS: YEAH, WE HAD MORE FINANCIAL MARKET CONSERVATION. AND SO THIS MIGHT BE JUST BALANCING IT OUT.
LIESMAN: SO DOES IT HELP YOU OUT A LITTLE BIT?
EVANS: I THINK WE HAVE TO LOOK AT HOW OUR FORECAST IS ADJUSTED WITH THE NEW FINANCIAL CONDITIONS. AT THE MOMENT I DON'T SEE A BIG CHANGE. FUNDAMENTALS ARE REALLY STRONG. I THINK SOMETHING MUCH LARGER WOULD HAVE TO YOU KNOW TAKE PLACE IN ORDER TO CHANGE MY FORECAST DRAMATICALLY.
LIESMAN: CHARLES EVANS, CHICAGO FED PRESIDENT. THANKS FOR JOINING US TODAY FROM ANN ARBOR AND THE ENGAGE CONFERENCE. GUYS, BACK TO YOU IN ENGLEWOOD CLIFFS AND THANKS VERY MUCH WITH YOUR HELP.