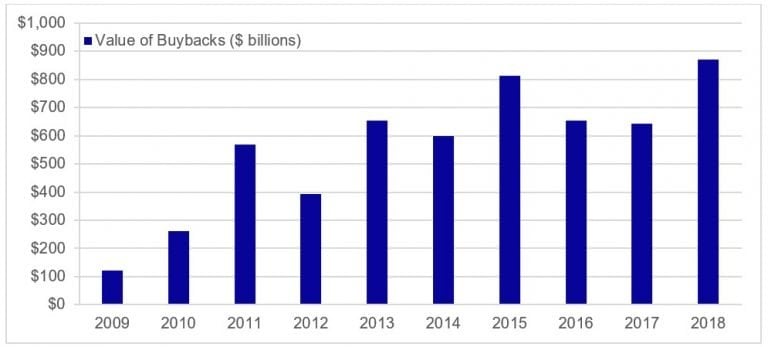 2018 continues to be a record-setting year for buyback announcements. As of October 26th, U.S. companies have authorized more than $869 billion in buybacks. That number surpasses the previous set record of $813 billion in 2015, and there are still two months left in the year. At this pace, U.S. companies are still on track to authorize more than $1 trillion in buyback announcements in 2018. But despite a record-setting year, technology companies dipped to the lowest volume of buyback announcements in October since last year.
Buyback announcements are arguably a powerful tool for gaining insight into the internal perspective of a company. This insight is rooted in the concept of buybacks itself: when a company believes their stock is undervalued in the market and a better investment opportunity than other projects, the company can issue an authorization to purchase back shares, which will help boost the stock price.
[REITs]
Hedge fund managers present their best ideas at Robinhood [In-Depth]
The latest Robinhood Investors Conference is in the books, and some hedge funds made an appearance at the conference. In a panel on hedge funds moderated by Maverick Capital's Lee Ainslie, Ricky Sandler of Eminence Capital, Gaurav Kapadia of XN and Glen Kacher of Light Street discussed their own hedge funds and various aspects of Read More
Q3 hedge fund letters, conference, scoops etc
Source: Bloomberg LP, FactSet and Catalyst Capital Advisors LLC.
Any increases in buyback announcements, then, tends to signify that a business has a positive outlook and believes their stock is a good investment opportunity. . Any decrease in buyback announcement activity, conversely, could signal that a business is not so confident in future projections. Additionally, the aggregate buyback announcement activity of related businesses may signal structural challenges or opportunities within industries.
2018 has for the most part been a good year for tech companies. As of October 26th, the S&P 500 Information Technology sector is up +8.1% versus the S&P 500 Index which is down -0.6%. Apple (AAPL) is up 29.3% this year and announced the largest buyback ever at $100 billion in May. This performance was strongly reflected in the sector's record-setting buyback authorizations. This year alone, tech companies have announced a cumulative of $329 billion in buyback authorizations so far, accounting for almost 40% of the year's total buyback authorizations. May was the biggest month, bolstered by Apple's announcement. The enormity of these authorizations should not be ignored. This sector announced $181 billion in May alone.
This increase in buybacks was a direct impact of new tax laws, which gave companies the ability to bring back significant amounts of cash from overseas. Known as repatriation, these favorable policies played to the advantage of tech companies in particular, sparking a wave of new cash, and in turn, a spike in buybacks. Tech companies have used the buyback announcement as an "option" to put this significant amount of cash to work if other investment opportunities do not arise.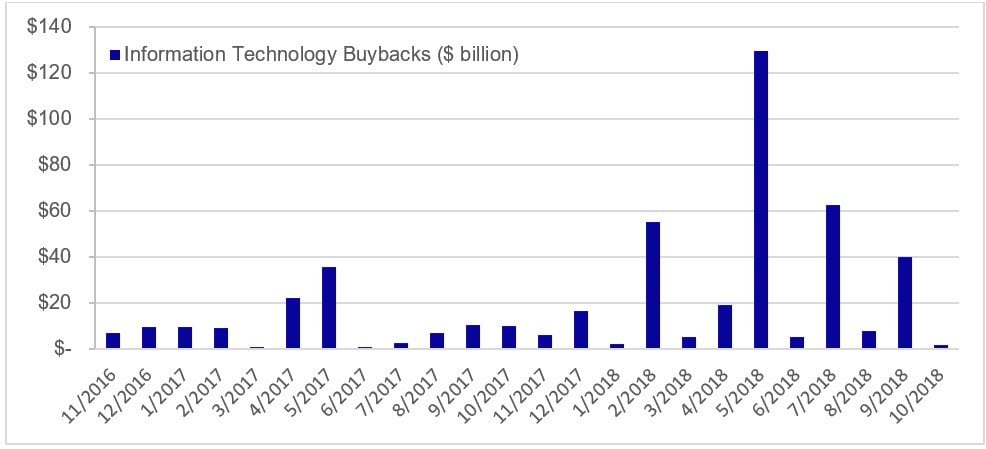 Source: Bloomberg LP, FactSet and Catalyst Capital Advisors LLC.
October's drop-off is particularly significant given buyback activity for the previous months of the year. As of October 26, technology companies have only announced $1.7 billion in buybacks, compared to the YTD monthly average through September of more than $36 billion for the sector. That is a 96% decrease from September, and 95% below the monthly average for this sector. The tech sector hasn't seen this low level of authorizations in over 15 months.
This behavior from tech companies now appears to be mirroring the activity of industrials companies in March and June. As the trade war ramped up, and industrials companies were clear targets, buyback activity significantly dropped in this sector compared to historical trends. Between March and June, the S&P 500 Industrials Sector dropped -6.3% versus the S&P 500 Index return of +0.2%. The sudden drop in buyback activity was an indication that industrials companies in aggregate lacked confidence, that they believed the trade war would have a real impact, and that their stocks were probably not a good investment opportunity.
Technology companies brushed off the initial trade war rhetoric. However, this current drop-off is likely driven by increased trade-war rhetoric and corresponding market volatility. After months of relatively low volatility, market movement has picked up and shows no signs of waning. This, coupled with the typical slowdown prior to the earnings season kickoff, has significantly impacted the rate at which companies are authorizing buybacks. This could be an early warning sign that technology companies now, in fact, believe they will be substantially impacted by the trade war.
This dip, in a year that continues to be record-setting, is worth noting. The drop is significant not merely in numbers, but also as we enter a period of increased uncertainty. Investors should continue to monitor the buyback activity of technology companies as an indication if the companies continue to see a lack of opportunity in their own stocks.