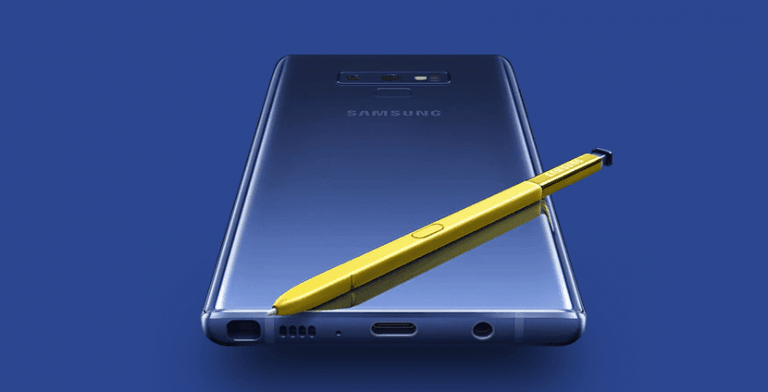 People who purchased Samsung's Galaxy Note 9 flagship have already complained about various issues such as 'frozen' soft keys, camera lagging, software problems, and display flickering. The Korean electronics behemoth could fix most of these issues via over-the-air software updates. But many Galaxy Note 9 owners are complaining about a broken S Pen. The stylus is so fragile that it is breaking off for no apparent reason.
Galaxy Note 9 users frustrated with broken S Pen stylus
The S Pen stylus is an integral part of the Galaxy Note 9. This year, the S Pen received a major upgrade, acquiring many new features. The stylus comes with Bluetooth support, enabling better interactions, control of presentations, and music playback. However, the accessory has become extremely fragile in the process.
In some parts of the world such as Hong Kong, Samsung shipped with the Galaxy Note 9 Special Edition with not one but two S Pen units. That's pretty interesting.  Did Samsung make that decision while designing the fragile S Pen? A large number of Galaxy Note 9 owners have taken to Samsung's official forum, XDA Developers, Reddit, and Twitter to complain about their S Pen breaking down within days of buying the phone.
How Warren Buffett Turned Three Deep Value Stocks Into A $700 Billion Conglomerate
It took decades for Warren Buffett to build Berkshire Hathaway into the conglomerate it is today. Along the way, the Oracle of Omaha and his business partners have acquired a range of different companies and extracted cash from failing businesses to reinvest back into growth stocks. Q2 2021 hedge fund letters, conferences and more The Read More
@SamsungUK @SamsungMobile The top of my S Pen has just broken off inside my note 9 when trying to take it out?! Can I get it replaced in a store somewhere??

— Gary (@taffam) August 25, 2018
One user on Twitter said the clicker of their S Pen broke off while he was taking calculus notes. Another said the S Pen snapped while pulling out. Yet another said the top of their S Pen broke off within just 2-3 days of buying the handset. One affected user pointed out that the top 1/3 of the stylus has "very thin plastic housing."
I got the Note 9 and the clicker on the S pen broke off while I was taking calculus notes :/ not even had the phone for a month and I can't put the S pen in the phone anymore

— Chase Knecht (@ChaseIvar98) September 16, 2018
In most of these cases, users didn't apply too much force or dropped the stylus on hard surfaces. Worse, one Galaxy Note 9 owner said their S Pen broke off after falling on a carpeted floor. If you have paid a thousand dollars to buy the phablet, a fragile and broken S Pen could further add to the cost.
Hey @SamsungSupport, the top of my Note 9's S Pen broke after literally less than 3 days and your support staff wouldn't give me a straight answer if you'd even replace it for me or not. Pretty inexcusable for a $1000 phone's defining feature.

— Dreadful Samaritan (@SubparSamaritan) September 3, 2018
Can you get your broken S Pen replaced?
Samsung has offered replacement S Pen units to some users but not everyone is getting a replacement because getting approval for the physical damage isn't easy. If Samsung deliberately made the S Pen so fragile, it should have at least informed buyers that they needed to take extra care of the stylus.
If your S Pen broke off and you couldn't get a replacement, you can buy a new one directly from Samsung's website for $30. The replacement S Pen is available in Ocean Blue and Lavender Purple colors. Pairing it with your Note 9 is as easy as sliding it in the phone's receptacle. There are also a bunch of third-party options available that claim to work well with the Note 9, but they won't have the unique features offered by Samsung's stylus.
The S Pen is what differentiates the Galaxy Note line from the Galaxy S series and other flagship smartphones out there. People use it for navigation, taking notes, previewing email content, writing Screen Off memos, sending Live Messages, and much more. Thanks to Bluetooth support, the new S Pen also gets remote control capabilities. You can use it to control music playback, change slides during a presentation, and click pictures.
Fortunately, the S Pen is a detachable accessory that you can replace unlike the non-replaceable battery inside Galaxy Note 7. The Note 7 battery debacle had forced Samsung to recall the device twice and eventually discontinue it. The Galaxy Note 9 battery also recently caught fire in a woman's purse. A major hardware flaw in its flagship phones is the last thing Samsung wants.
Priced at $1,000, the Galaxy Note 9 sports a gorgeous 6.4-inch Super AMOLED Infinity display, a 4,000mAh battery, Always On Display support, dual cameras on the phone, a 3.5mm headphone jack, a microSD card slot, Bixby AI assistant, and DeX support.