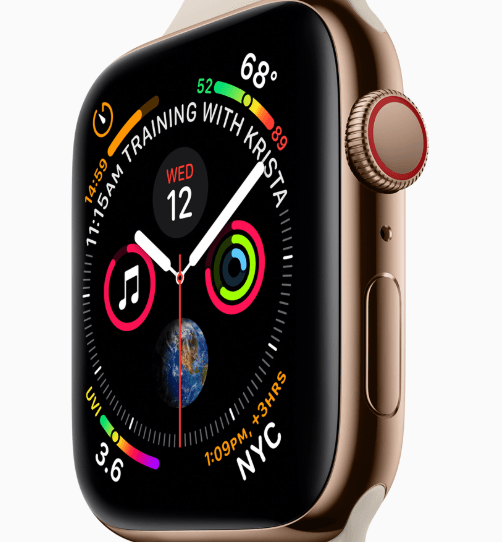 The Apple Watch Series 4 is claimed to be the company's best smartwatch so far, but it is not without issues. Earlier this month, many users reported the daylight saving bug. Now many users are facing the Apple Watch Series 4's light bleed issue.
What is the Apple Watch Series 4's light bleed issue?
Affected users see uneven brightness when the watch's display is dim. The uneven brightness is visible along the edges and in the corners with certain parts appearing brighter than the interior. As of now, it is not known if the Apple Watch Series 4's light bleed issue affects all users, but many users have complained about this problem on social forums recently.
"It's an uneven level of brightness typically found on LCD displays with a darker image displayed. Sometimes patches, or corners or edges. With the Apple watch series 4, there's been reports of light bleed on the edges where the edge of the screen appears to be 3x to 4x brighter than what the screen is intended to show," one user said on Reddit.
Ray Dalio At Robin Hood 2021: The Market Is Not In A Bubble
At this year's annual Robin Hood conference, which was held virtually, the founder of the world's largest hedge fund, Ray Dalio, talked about asset bubbles and how investors could detect as well as deal with bubbles in the marketplace. Q1 2021 hedge fund letters, conferences and more Dalio believes that by studying past market cycles Read More
Different users are experiencing varying levels of brightness. Some are noticing a small uneven brightness around the edges, while others are seeing a greater extent of uneven brightness. Also, users are only noticing the issue when the display is dim and for certain Apple Watch faces or apps.
It's important to note that the Apple Watch Series 4 features an OLED display, which is not backlit. Thus, even though users are calling it a "light bleed issue," the problem isn't caused by light leakage.
What's causing the Apple Watch Series 4's light bleed issue?
As of now, it is not known what is causing the issue, but one Reddit user claims it might have something to do with the fact that the Series 4's OLED display does not feature PMW (pulse-width modulation), which is used to modulate the brightness. This means the display of the Series 4 watch won't flicker like OLED-equipped smartphones, and thus, users may see uneven brightness when the display is dim.
Others say the Apple Watch Series 4's light bleed issue could have something to do with the gray uniformity issues common to some OLED displays. Either way, Apple seems to be aware of it and may consider it to be a problem rather than normal behavior. One affected user took the watch to the Apple Store, said the staff agreed that the behavior is not normal.
"I took my watch to the Apple Store, and they agreed that the amount of light bleed I had was not normal :(. I'm without my watch now until they get it fixed which is a major bummer," the user said on a Reddit thread.
It will be interesting to see how Apple handles this issue. It is not widespread and does not appear to be a major problem as users notice it only in certain circumstances. The issue does not affect usability or meddle with any function of the watch.
Apple Watch sending SMS instead of iMessages
Another issue some Apple Watch Series 4 owners are facing is with iMessage. Many users are having problems getting their watch to send or receive iMessages instead of SMS. Affected users say their watch is "stuck" sending and receiving green bubbles, which indicate it is sending SMS, even when sending a message to iOS users.
Users say this problem occurs even when the iMessages on a connected iPhone work perfectly. Such an issue can be frustrating for users, considering the advantages iMessages hold over SMS, including the ability to contact friends and family even without a cellular connection.
It is not a new issue as users with an Apple Watch Series 3 and watchOS 4 have reported similar issues in the past. Although it is not clear what is causing the issue, many say it can be easily fixed. Affected users have shared a few tricks on Reddit and the Apple Support Community. For example, many users claim toggling iMessage off and on in the Settings fixed the problem for them.
Others say signing out and then signing back in to iMessage on their iPhones resolved the issue. You can do this by going to Settings > Messages > Send & Receive. Next, select "Apple ID" and then "Sign Out." After a few seconds, sign back in.
Some say un-pairing and re-pairing their watch with the connected iPhone solved the issue for them. If these fixes don't work for you, try a full restore. If iMessages don't work even then, contacting Apple Support is the only remaining option.