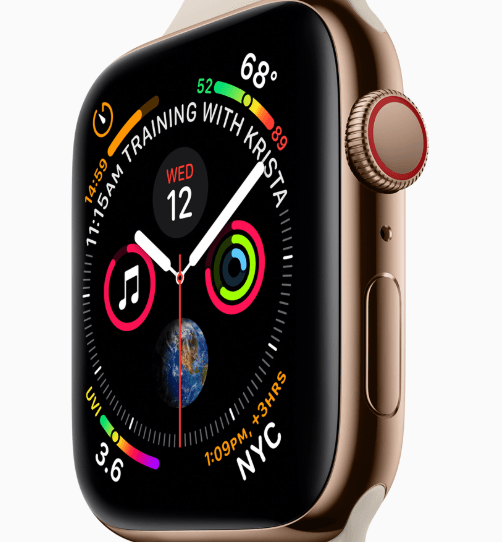 The Apple Watch Series 4 is being touted as the best smartwatch around, and the response so far has also been encouraging for the company. However, like every new product, it is not bug-free. From Australia, there have been several reports about the Apple Watch Series 4 crashing and restarting because it is unable to handle Daylight Saving Time (DST).
Apple Watch Series 4 crashing and restarting: Here's why
Australia has now moved to DST, so it has advanced its clock by an hour. This adjustment in the time appears to be causing issues with the latest Apple Watch. Reports about the Apple Watch Series 4 crashing and restarting indicate that it gets stuck in a reboot loop due to the DST bug in the Infograph Activity complication.
"I woke up this morning to a dead watch at 0% when it was at 70% last night before bed. We had daylight saving this morning at 2am where the clock was brought forward for an hour. The watch was stuck on a reboot loop and would not charge up or restart," complained one Reddit user.
Qualivian Investment Partners July 2022 Performance Update
Qualivian Investment Partners performance update for the month ended July 31, 2022. Q2 2022 hedge fund letters, conferences and more Dear Friends of the Fund, Please find our July 2022 performance report below for your review. Qualivian reached its four year track record in December 2021.  We are actively weighing investment proposals. Starting in November Read More
Reports about the Apple Watch Series 4 crashing and restarting due to DST are not a very big issue, and the issue should correct by itself tomorrow. Apple Watch owners who wish to fix the issue now can try to do so by tweaking the settings in the Apple Watch app on their iPhone.
"I removed the Infograph faces through the app and did a hard reset and my watch came good. I added the Infograph faces — still good," one Reddit user said.
The issue is primarily with the activity complication, which tracks data on calories burned, exercise time and more in a 24-hour period. Since Australians have moved their clocks ahead by one hour, the activity complication is unable to account for the missing hour, and thus, the device is getting confused.
As of now, it is not clear if the smaller activity complications are causing the issue. So far, the bug appears to be limited to the large activity complication. Since the Activity complication is a popular feature among users, the number of those experiencing problems with the Apple Watch Series 4 crashing and restarting issue is expected to be significant.
Not a new issue for Apple
Even though it is not a major issue, Apple will have to fix it so users in other parts of the world do not suffer from the same issue. Europe will move out of Daylight Saving Time by the end of this month, while in the U.S., DST ends on Nov. 4. Thus Apple has some time to come up with a permanent fix.
The DST bug is not a new thing for Apple. It was a common issue during the early days of iOS, causing alarms to fail in Europe, keeping alarms from working on New Year's Day, and resulting in the wrong time being displayed in the built-in calendar app. Even the iOS 9 update disabled alarms for many, while iOS 11.1.2 forced iPhones to crash at 12:15 a.m. on Dec. 2, 2017.
Apple Watch Nike+ Series 4
In other Apple Watch-related news, the company launched the Apple Watch Nike+ Series 4 a few days ago. This limited-edition variant is different from the standard Series 4 model in several ways. There are new Nike watch faces and sport bands. Further, the watch comes with the Nike Run Club app and Nike Training Club app, which offers more than 180 workouts.
Apple's limited-edition watch comes in 40 mm and 44 mm sizes. In the U.S., the Apple Watch Nike+ Series 4 is priced between $399 and $499, while additional bands can be bought for $49 each. The Nike+ Series 4 is available for purchase in several countries, including the U.S., the U.K., Canada, Australia and some European and Asian markets.
The Apple Watch Series 4 comes with a 30% bigger display. Further, it features a redesigned modular watch face which provides more detailed information, like stock information, heart rate, scores from sports teams and more. Apple has also completely redesigned the speaker, making it 50% louder. The microphone is now on the opposite side far away from the speaker to help reduce the echo and make calls clearer.
The Series 4 watch comes in three aluminum finishes: gold, silver and space gray. The Series 4 also comes in gold stainless steel with a Milanese band and in silver and space black stainless steel options. The new bands are compatible with the earlier watches as well.
Updated on