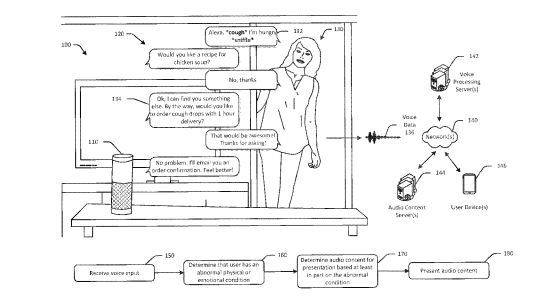 Amazon competes in many different product categories, and now, it wants to compete with doctors as well. A new Alexa patent suggests Amazon plans to make its voice assistant a virtual doctor who will know when you are ill and offer medicine.
What can we learn from the Alexa patent?
According to the new Alexa patent, the feature will use voice data to identify if the user is ill and needs medical attention. In an example given in the Alexa patent, a woman is coughing and sniffling while speaking to her Echo device. Amazon Alexa first suggests that the woman have some chicken soup and then asks if the woman needs cough drops to be ordered from Amazon. The Alexa patent also explains that people who appear to have a sore throat can receive ads for sore throat products. The patent was filed in March 2017 and just published on Tuesday.
"A current physical and/or emotional condition of the user may facilitate the ability to provide highly targeted audio content, such as audio advertisements or promotions, to the user," the patent reads.
Robinhood 2021 Conference: Cathie Wood discusses her investment process with Lee Ainslie [Exclusive]
ARK Invest is known for targeting high-growth technology companies, with one of its most recent additions being DraftKings. In an interview with Maverick's Lee Ainslie at the Robinhood Investors Conference this week, Cathie Wood of ARK Invest discussed the firm's process and updated its views on some positions, including Tesla. Q1 2021 hedge fund letters, Read More
The U.K.'s National Health Service is also planning to come up with a similar service. Earlier this year, Health Secretary Matt Hancock revealed that the agency is working to make information from its NHS Choices online service available via Alexa. However, Amazon will not have to ask users specifically if they are ill; the technology will analyze voice data to determine that.
Amazon has recently increased its focus on healthcare and medicine. A few months ago, the company acquired U.S.-based Pillpack, which sends prescriptions by mail. This new Alexa patent suggests Amazon has bigger plans when it comes to users' health.
On the other hand, a patent filing is no surety that a company will come up with the technology it describes. Tech companies are known to file patents for products and services that are never developed.
Alexa may be able to identify emotions too
In addition to identifying if you are ill, the Alexa would also track your emotions, according to the new patent. The voice assistant would be able to tell by the user's voice if they are feeling bored or tired and then suggest things to fix the mood. When users are crying, Alexa would class them as experiencing an "emotional abnormality."
Amazon's patent also discusses how Alexa could analyze voices "to determine other characteristics, such as the user's age or gender… the voice processing server… may determine an emotional state of the user."
Further, the new Alexa patent also talks about targeting ads based on users' moods. For instance, ads for music could target those who are tired or bored. The patent also mentions a process by which Alexa tries to identify a user's "language accent" and then compare it with the device's geographical location.
Additionally, the patent filing states that Alexa would combine physical and emotional cues with data like age, demographic, location and browsing history to offer a fully-customized conversation.
Making Alexa more human-like
Using speech or voice to interpret a user's condition is a form of human interaction, and Amazon's latest patent hints that the company aims to make Alexa more human-like. Amazon wants to add this ability into Alexa so it can not only offer empathy but also give the online retailer a chance to boost its sales by proposing items to purchase.
Amazon has already added many human-like features into Alexa. For instance, a human assistant will know when the boss needs coffee and recognizes daily routines. Similarly, Alexa has a "routines" feature, which you can use to set the actions you want Alexa to perform after a particular trigger.
For instance, when you say, "Alexa, I'm home!" you can set the assistant to greet you first, turn on the smart lights, play specific music and read the daily news. To create routines, go to the Alexa app, then choose "Menu" and then select "Routines." To start a new sequence, click on the Plus Sign (+), and then choose "When this happens." You will also have to select a trigger, which can be a phrase, a schedule or a motion sensor event. To start building a Routine, select "Add Action." You will also have to select the device to trigger the routine from.