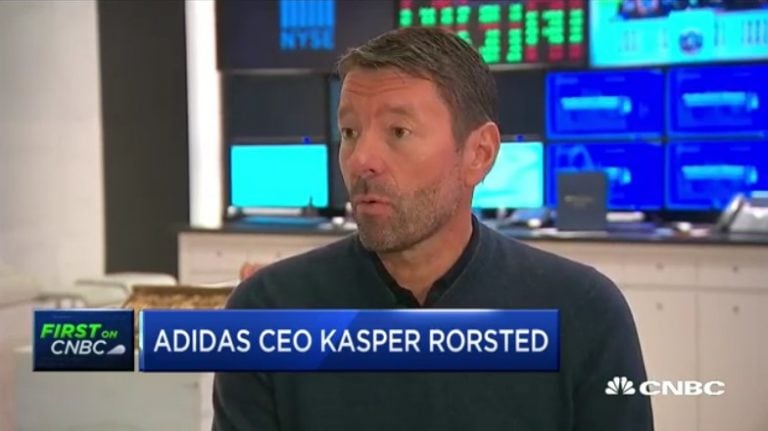 CNBC First On: CNBC Transcript: Adidas CEO Kasper Rorsted Speaks With CNBC's Sara Eisen Today

WHEN: Today, Tuesday, October 9, 2018
WHERE: CNBC's "Squawk Alley"
How Value Investors Can Win With Tech And "Fallen" Growth Stocks
Many value investors have given up on their strategy over the last 15 years amid concerns that value investing no longer worked. However, some made small adjustments to their strategy but remained value investors to the core. Now all of the value investors who held fast to their investment philosophy are being rewarded as value Read More
The following is the unofficial transcript of a FIRST ON CNBC interview with Adidas CEO Kasper Rorsted and CNBC's Sara Eisen on CNBC's "Squawk Alley" (M-F 11AM – 12PM) today, Tuesday, October 9, 2018. The following are links to video of the interview on CNBC.com:
Adidas CEO Kasper Rorsted: No company impact from China-US trade war
Adidas CEO on Kanye West and Nike's Kaepernick campaign
Adidas CEO on business in North America, tariffs and Kanye West
Q3 hedge fund letters, conference, scoops etc
All references must be sourced to CNBC.
Sara Eisen: shares of Adidas are up a little more than 20% so far this year, outperforming the DAX which is down 7%. And joining me to discuss that and a whole lot more is the CEO of Adidas, Kasper Rorsted. Welcome to the NYSE.
Kasper Rorsted: great to be here again.
Eisen: nice to see you. So now that you're here in the u.S., let's start there. As far as what you're seeing in this market. North America has been very competitive. The story over the last year or so is you are taking share. Is that still happening?
Rorsted: here in the first six months we grew more than 20% in the u.S., and I can't speak for third quarter. But we continue to see a very strong u.S. And the market is probably up third to five points, so for the third year in a row, there's no doubt that we are taking share in America.
Eisen: Nike has been resurgent though. And it's stock has actually outperformed yours over the last 12 months. Where are you feeling that most?
Rorsted: we have still outgrown Nike, on a global basis but also in the u.S., but there is no doubt that Nike is coming back. So we're seeing it in the u.S. Predominantly.
Eisen: what about under armor? And under armor has also been resurgent after a few years of losing share, particularly in this market.
Rorsted: but they have single digits growth and we are outgrowing in pretty much every single market in the world right now.
Eisen: what about in Europe? That's also been a place where you have seen growth. And I mentioned your stock price against the broader DAX. What's working in that market?
Rorsted: we saw the first quarter being very solid with 5% going to inflection for the remainder of the year. And we are seeing a somewhat subdued consumer in the European marketplace, no doubt also related to, you know, the overall atmosphere of upcoming brexit.
Eisen: I was just going to ask you about brexit. What if they can't make a deal? How would that impact Adidas?
Rorsted: I think that, if I may, I think that Brexit is probably the most unwise economic position Europe has taken in the last 20 years, along with the UK. There's no doubt that the consumer will be impacted and the economy will be impacted in the UK, in Europe for all businesses, including ours. So we of course are setting up separate warehousing, doing more in hedging. But it is just not a very good financial position made by Brussels and London.
Eisen: why do you say Brussels? It wasn't Brussels' decision.
Rorsted: no, but Brussels can help making the deal more smooth or encourage UK to revote on it. And I don't know any CEO in europe that believes it is a good deal.
Eisen: what are you expecting as far as any deal? Are you expecting them to have some sort of trade deal, where it will make life easier to do business?
Rorsted: very little details on it, but there's no doubt you're going to star having customs on both sides and it will have a negative impact on trading. Europe is a big exporter to the UK and of course, Europe will suffer – Continental Europe -- with what's coming, and the same for the UK with exports to Europe. So it is not good for business in Europe.
Eisen: are you seeing change in consumer behavior already?
Rorsted: no, but we are seeing change in consumer pricing because the UK Pound as you know has been deteriorating over the last two years, since the Brexit vote. And we have seen a slowdown in our UK business.
Eisen: I wanted to ask about china, and whether you've seen a slow down in that business. If you look at the markets, the Chinese economy is suffering. Do you see that with the Chinese consumer?
Rorsted: so in the first six months, we were 25% in china -- a growth of 30% last year. China continues to be very, very hot for us. And we see – you know, we are optimistic for the future also in china. So really in the three key markets, u.S. Growing at 20%, china grows 25%, and online growing 30%. And that picture, we see remaining for the future. Maybe not with the same growth rates, but still very, very strong for all three markets.
Eisen: have you seen any impact from tariffs back and forth between the u.S. And china yet?
Rorsted: no. But also, for us, most of the manufacturing we have in china is for china. So even if tariffs were to come, impacting the sporting goods industry, it wouldn't impact Adidas.
Eisen: so the factories you have in china --
Rorsted: are predominately for china.
Eisen: -- are made for china. So where is your biggest production? Is it in Vietnam?
Rorsted: it's in Vietnam and Indonesia for the rest of the world. And in china for china.
Eisen: are you shifting more into other --
Rorsted: we started this shifting already 8 years ago because of you know, the trading conditions and also pricing in the marketplace.
Eisen: so you -- so if president trump goes through with his threatened next round of tariffs, do you think we will see higher sneaker prices in this country?
Rorsted: I think maybe in the short term, but not in the medium term, and medium is within a year. I don't think it's going to have a huge impact, if it's only china. Of course, if it's impacting all of Asia, it will. But only china, it will have hardly an impact.
Eisen: what about for the broader retail, apparel, and footwear business? How much will it be effected if we see that next round go through?
Rorsted: I can't speak for other companies. For us, it won't have an impact. But there's no doubt there are certain companies that have a very large manufacturing volume coming out of china and they will be impacted.
Eisen: wanted to ask you what's working, because you're talking about double digit growth in various parts of the world. For a long time it was the retro sneakers making a come back, the Stan Smiths and originals. Is that still what's driving your growth?
Rorsted: no, we also see a lot of pump inspired footwear, like the products, we have the Yeezy products from Kanye West. We see 3d printed shoes and we see probably one of the hottest trends is our sustainability shoe made of ocean plastic. So we sell a shoe called "parley shoe" which is made out of 11 plastic bottles. And that is a huge hit with consumers.
Eisen: yeah, consumers are looking for the sustainability push.
Rorsted: and that – we are bringing it from the shoe into the apparel and swimwear, so that is a trend we will continue to see moving forward.
Eisen: I'm glad you brought up Kanye West. You knew I was going to go there. So the news today is that he is going to go to the white house on thursday and have lunch with president trump. Is that good or bad for business?
Rorsted: you know, when you work with a creator like Kanye Trump – you know, Kanye West, you don't get mainstream. And we have been extremely happy with our relationship with Kanye West. I'm meeting him Wednesday night for dinner. He is a fantastic ambassador for the company and he still will be.
Eisen: you're having dinner with him before his lunch with trump.
Rorsted: I didn't even know whether he's going trump. But I'm having dinner with him Wednesday night and I've been very happy with our relationship.
Eisen: you mentioned that Yeezy is still doing well for you. But some in the sneaker world are wondering whether it's peaked, whether we have seen the hottest part of the Yeezys? Because now they're much more widely available.
Rorsted: yes but we're only speaking about the 350 model. You know, we have a very wide set of new products coming out next year. So we think what we are bringing out to the market next year along with Kanye West is going to be really hot on the street.
Eisen: but is it going to be this more democratic Yeezy, where everyone can get it?
Rorsted: no, not at all. We'll still be very scarce on certain models. But on some of the older models, we will bring more volume into it. But if you're looking for the innovation we are bringing in, we're not going to bring that out in volume. So it's still going to be hard to get a very new Yeezy shoe from Adidas.
Eisen: a lot of people are chattering about the basketball shoe that Kanye West has been teasing. What can you tell us about that?
Rorsted: pretty much what you've been teasing. But we have a -- we think we have a hot shoe coming out, according to what's on social media, but you have to wait and see.
Eisen: are nonathletes still driving the biggest buzz in revenue, right now, like a Kanye?
Rorsted: there Kanye is driving a lot of buzz, but 3d printed is also, parley is also, Pharrel is. And then we just had the biggest sporting event, the world championship in Russia, where we sold more than 8 million jerseys. So sport is still a huge part of what we do, or it is the biggest part, because it's two-thirds of our business.
Eisen: what did you think of the Colin Kaepernick ad from Nike, making him the new face of the "just do it" campaign?
Rorsted: I think uniting people is significantly important. I think it was a good move they made. We have a different view but we think it was a good view they had. We think that the more you can unite people through sport, the better it is. We need to unite a society, not separate a society.
Eisen: but it wasn't, I mean a lot of people were upset about it, it was pretty controversial. Is that something you guys would have done?
Rorsted: I can't say we would have done it. But I think it is important to have a point of view. We have a point of view on many things, as our competitors have, and I think it's good to have a point of view.
Eisen: if we look forward, you know the sneaker wars, the story in the stock market is a lot of them are strong. Look at lululemon, it's in the apparel market obviously, but how should we think about it over the next year, of whether – where we are in the cycle of athleisure? Everyone thought that it had peaked and it was dying and then it came roaring back.
Rorsted: I don't think it has peaked, and I don't think it's peaking for a long time. Because the trend towards much more comfortable wear, athleisure wear, even here will come – the fight against obesity. So there is no doubt that sporting goods will continue to grow and outgrow the overall economy. That's our perception.
Eisen: always good to check in with you –
Rorsted: great to see you.
Eisen: -- especially in person.
Rorsted: thank you.
Eisen: Kasper Rorsted, thank you very much.
Updated on