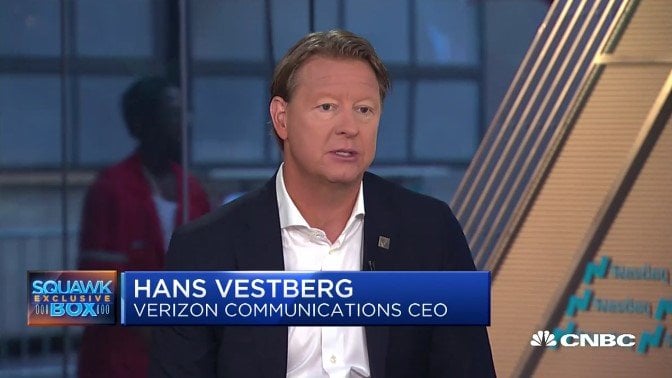 CNBC Exclusive: CNBC Transcript: Verizon CEO Hans Vestberg Speaks with CNBC's David Faber Today
WHEN: Today, Thursday, September 13, 2018
WHERE: CNBC's "Squawk Alley" – Live from Goldman Sachs Communacopia Conference in New York City
Odey Falls -2.5% In Q2, Bets On Economic Recovery
The LF Brook Absolute Return Fund lost -2.52% in the second quarter of 2021, compared to a positive performance of 7.59% for its benchmark, the MSCI Daily TR Net World Index. Year-to-date the fund has returned 4.6% compared to 11.9% for its benchmark. Q2 2021 hedge fund letters, conferences and more According to a copy Read More
Verizon CEO Hans Vestberg On Oath, 5G headsets, and Hurricane Florence
Q2 hedge fund letters, conference, scoops etc
Carl Quintanilla: welcome back to "Squawk alley." let's get to Faber who's at goldman's communicopia with a very special guest. David.
David Faber: thank you, Carl. Yes, a special guest for me as well. Because one in a long line of CEOs of Verizon that I've had the pleasure to interview through the years, but our first time together: Hans Vestberg, thank you for joining us this morning. I want to start off on a relatively small part of your business but one that seems to get a lot of attention here at a communication/media conference, which is oath. Departure of course of Tim Armstrong, the man who has run it and put it together, AOL and Yahoo. You know, many of the participants here that I've run into when they talk about it, the simple question: is it big enough, does it have enough scale, or do you need to either sell it or buy more?
Hans Vestberg: I think, we first of all, are very happy for the assets we have. And I think team and this executive team has put this together. We had a lot of different assets and they put it together. We have our channels, which we're proud of and we can fortify even more, everything from sports to finance. We have just developed an ad tech platform, going all over the organization. And then I also have to say it is a lot of great confidence that is very important for whole the Verizon brand. AI, AML compliance, data centers. So I think this is an important asset for us. Team and the team has put it together. We're doing a good transition with him. As usual, Verizon planned well. And guru is now coming in as the CEO. We've been into the company for awhile, so we feel good about it. We think it's important asset for us both a leverage internally and also an external sort of asset we can use.
Faber: so you feel like it has delivered or will deliver what it hoped for when pursued? Because certainly there were those that believed it was the beginning of what was going to be a larger content strategy.
Vestberg: I think we are at the moment where we now have put all of these together, and now we see the benefits of all of that. So we going to execute on that. And of course we have high ambitions in this area. And I think that this transition is supporting that and the team has done a great job with it. So --
Faber: well, what would be a measure of success then for you, in terms of ambitions?
Vestberg: I think -- our ambition is of course that we both can leverage strength of the Verizon side: the network and then distribution, and bringing the oath assets in there. But also we can see now that when we have sort of streamlined all of this, we can also get the wider external market for ad tech and the channels that we have. And I think that's how we're going to measure the success of it. I think they put a good plan in place and we're going to support them.
Faber: I know during your session here you push back on this idea that there has not been the cooperation that perhaps some had seen, or lack of it that was cited by "The wall street journal." we should assume Verizon wireless is taking advantage of the ad tech platform and content that's being provided by AOL and Yahoo?
Vestberg: yeah. I think that now we're getting this all together. Last week we announced the ad tech platform. So we are in that moment right now to have this conversation, and saying that we bring the best benefits out of Verizon for our customers, for our distribution. So, I think no, I don't think there's merits for this in the media. I usually don't comment on the media, but in this case I think it is wrong.
Faber: alright. Let's get to kind of the core business here—
Vestberg: ok.
Faber: -- which is 5G, of course. My last interview with Lowell McAdam, your predecessor, we spent a lot of time on the prospects of it. I know that's what you spend time talking about. Earlier today though, I was with Tom Rutledge, a semi-competitor in a way at charter of course. And he brings up this idea, Hans, that it is very capital intensive to really deploy a true 5g network. And sort of the idea that you're only going to build 30 million passings in the united states over ten years, and even that's going to cost you a fortune. Do you have the ability to actually cover the country with 5g in a relatively short amount of time so that it becomes something more than something we're just talking about as the future?
Vestberg: I think the big difference here is that first of all, we have been one network for all the five use cases. It is not a separate network that we're doing for the fixed mobile broadband. So it's one network. We have already designed that. It's going from the data center all up to the access and then we'll decide what access we'll have. That's a very important statement first of all. Secondly, of course, that when we now go from 4g to 5g, it is more evolution. When Verizon went from 3g to 4g, we needed to take out all the equipment because CDMA was not compatible with 4G LT. This time it is evolution. So this is the normal path. We are already right now in investing a lot in the whole 5G. Everything from the fiber to the passive infrastructure to equipment. So I think that you might have seen that in a second quarter, we even guided down our CAPEX for this year in the lower range. So we have been much more efficient in our CAPEX. We are not holding back anything we want to do. I think good about the way we are deploying, and we have a great set of engineers and a team ---
Faber: you're going to be in four – I know you're rolling out in four cities before the end of this year.
Vestberg: yes.
Faber: but when can we expect to see beyond that? What are the targets that people can actually look at in terms of saying, "OK, this is something that may be available to me"?
Vestberg: I think that we're already right now rolling out mobility solutions, the technology and the network. It is a little about when the hand sets will be there – when you can acquire them. Because the blocking factor right now is handsets. So -
Faber: so, how long will it be?
Vestberg: I think that the market is expecting something in the middle of '19. I have much higher ambitions. And our team is pushing that consistently to be earlier. We --
Faber: mid '19 is not that far.
Vestberg: no. But you know, our team has always been -- we deliver facts when we're done with, as we're opening for sale today, you can buy a 5g home today on our website. So we will come out as soon as we have the network ready and handsets to be bought. We're working diligent on it. And I'm not happy with middle '19, so we will do it earlier.
Faber: I know you know, a lot of people of course, and again in this kind of audience here, think about the opportunity in the home for providing broadband, essentially wireless and incredible speeds. But do you believe the opportunity may be larger in terms of internet of things and all of the connected devices that are going to be allowed for in a 5g world?
Vestberg: I think I see three business cases on the same 5g network. One is mobility, sort of the enhancement or super enhancement of 4g. The second is the fixed broadband at home. And the third one is the real-time enterprise, where you basically can think about the cordless enterprise, can use low latency, enormous through puts, private 5g networks. That's three business cases. I mean, we are basically into one of them really today, it's the consumer mobility. The other two is new opportunity for us. So that's the focus on the network and what we are deploying today.
Faber: so how many years? I know it's always the question you get. But realistically, how many years until you and I do an interview a number of years from now -- given how young you are, I'm sure you'll still be CEO --
Vestberg: thank you.
Faber -- and we're talking about the ubiquity of this network around the country?
Vestberg: I think you're going see already next year quite a lot of things happen. Ubiquity, is probably coming 2020. You see more of that. But you're going to see a rolling thunder of things happening in 5g. We started this week with a couple of rolling thunder with -- that you can buy commercially, 5g home. You're going to see more coming out from us. And it's going to be a little bit like 4g. It's going to come in a little bit of chunks. But --
Faber: but you need the guys in silicon valley to figure stuff out too, don't you?
Absolutely.
Faber: because when 4g came, it was there, it was only when the applications were available that it really started to change people's lives.
Vestberg: no, I think you're right. I mean, today it is five and a half billion people on this earth that have a mobile phone. It's broadest technology in the world. Of course there is going to be innovation from consumers and ecosystem partners. And we work with them all. And I think that's a great opportunity for us. So yes.
Faber: meanwhile, your stock price reacts to the fact people believe you're in a very competitive environment, regardless what you're going to be bringing in terms of value add. Is that the way you currently see it? The price war so to be speak seemed to have died down, there does seem be a to be a little bit less, perhaps, competition for every single dollar at this point. Is that what you expect to be the market for the next year?
Vestberg: if you're talking about the wireless consumer business, I think first of all it is a competitive market and it has great competitors fighting every day. But we also see in the wireless team, our wireless team has done a great job in the last couple of quarters, coming from the unlimited, continuing with the rolling thunder of new things. I have good confidence that my team will continue to do good job in that area. It's not saying that's going to be easy. But you know, we have the best network and we have great customer base. And we just need to monetize that.
Faber: yeah. Sprint and t-mobile getting together. Does that, if in fact that's allowed, does that change the competitive landscape from your viewpoint?
Vestberg: I don't spend time thinking about it. Me and my team think about executing on the Verizon strategy right now. There's too many things are happening outside that can go either way. That's not the main focus. The main focus for us is to execute on the fundamentals of Verizon. And if we do it right, that's going to be the best competitor that they can have.
Faber: and finally there's a hurricane going to hit the southeastern coast of the united states. You guys are always right at the heart of those kind of things in trying to harden certain and areas and prepare. I mean, is that something right now you're getting a lot of e-mails about?
Vestberg: yeah. I think that first of all you don't build the network today. We build these on stilts and flood protected for years. So first of all, I know we built a good network. Secondly, put in a lot of emergency centers. We're also supporting first responders and the people that are evacuated to see that they have a great service. We're talking to the governors and seeing what more we can do. So we have a full blast of support going into these regions now when the hurricane is expected to come.
Faber: so you think you're fully as prepared as you could be?
Vestberg: absolutely. And we have been preparing for years to be there, building the networks as robust as we are always doing.
Faber: and finally, given this is our first of what I should assume would be many, how should I view the Vestberg era at Verizon?
Vestberg: the Vestberg era.
Faber: yes, what are the goals – how, if any way, will it differ from your predecessors, Lowell McAdam and Ivan Seidenberg?
Vestberg: we are a little bit different, all three of us, I have to say. But I think that first of all, the core strategies of the company, we are very aligned, me and Lowell, and we still work very much together and he's the chairman, so -- and a part of all of the decisions. Then we're different profiles, and I am very much focused on succeeding in 5g, which benefits all the businesses that we have. So I think -- I'm not sure I should look back when I've been here for 30 days, but hopefully one day we'll look back and we're going to have a good conversation when I'm done.
Faber: alright I look forward to that and I appreciate you joining us today. Hans Vestberg, CEO of Verizon.