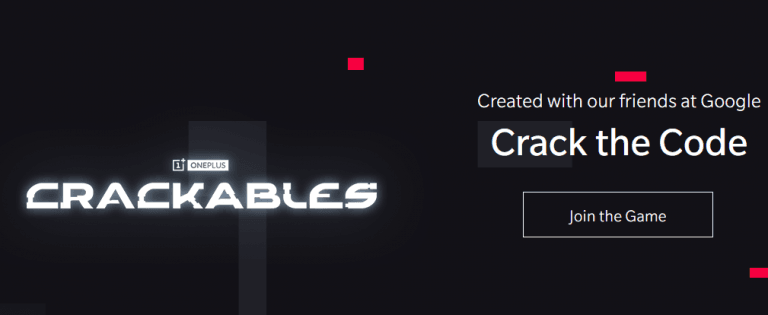 If you love solving puzzles, especially crypto-puzzles, OnePlus has something to offer you. The Chinese smartphone maker has teamed up with Google to launch a new mobile puzzle game called Crackables. The top prize for winning OnePlus Crackables is the "ultimate gaming setup" worth $30,000.
What is OnePlus Crackables?
The first teaser for OnePlus Crackables hit the web last week, but it left many confused as to what the company is aiming for. Now with just a day before the start of the puzzle, the Chinese company has shared more details about it. The game starts tomorrow at 8 a.m. Eastern.
The game was developed by Sleep Deprivation Lab, whose head, Christian Cantamessa, was the lead designer and writer for Red Dead Redemption. However, the game is the brainchild of Davidson Cole, who is known for his contributions to Shadowrun, F.E.A.R. and Eclipse Phase. Google Zoo's APAC team also helped in the development. Google Zoo helps brands and agencies launch creative campaigns
Exclusive: Dan Loeb's Two New Stock Picks [Q1 Letter]
Third Point's Dan Loeb discusses their new positions in a letter to investor reviewed by ValueWalk. Stay tuned for more coverage. Loeb notes some new purchases as follows: Third Point's investment in Grab is an excellent example of our ability to "lifecycle invest" by being a thought and financial partner from growth capital stages to Read More
In the OnePlus Crackables puzzle, you will be competing with others to solve a series of puzzles. The first 1,000 payers to complete the first three challenges will qualify for the next round, where they will be sent a physical micro-controller to play further. The grand prize is the "ultimate gaming setup" valued at $30,000. Players will also get a chance to earn other prizes as well.
About the game
OnePlus Crackables is a limited-time gaming event and can be played at crackables.oneplus.com from any smartphone or tablet. It does not support PCs). Playing the game does not require you to download any app, as the challenges are web-based. As the game's name and description suggest, players will have to crack a code to win the challenges.
The company says its "crypto-puzzles" include both digital and physical challenges, so if you are interested in participating in the game, you can head to the Crackables website for more information. The game is open to all users with a mobile device and a browser, but to win, you will need to be quick and have a good memory.
OnePlus says the game is "comprised of a series of compelling puzzles that need a combination of skill and speed to complete." It is recommended that players use headphones, as Crax will often share information to help players complete the challenges.
Those who got early access to try the game say the challenges are puzzle-based, but players must come up with different ways to solve the puzzle. Similar to other games, the initial challenges will be easy, but the complexity will increase as one progresses through the game. The ultimate objective is to free an animated character called Crax.
What OnePlus aims to do with the game
As of now, it is not entirely clear what OnePlus aims to achieve with this crypto-puzzle game. One goal could be building hype surrounding its next smartphone, the OnePlus 6T. The handset is expected to debut on Oct. 17. It will likely feature an in-display fingerprint scanner and a smaller notch and ditch the 3.5mm headphone jack.
However, when announcing the game, OnePlus didn't forget to promote its current smartphone, saying its "commitment to providing a fast and smooth user experience has helped to create the perfect platform for mobile gamers. As one of the few smartphone companies who offer up to 8 GB of RAM, OnePlus appeals to power users at both hardware and software levels."
Google's involvement in OnePlus Crackables is also unclear, except for the fact that players need to sign in using their Google ID to save their progress.
It must be noted that OnePlus Crackables is not the only contest from the Chinese company this year. OnePlus came up with a racing challenge called the "OnePlus Asphalt Cup" when it launched the OnePlus 6. In the racing challenge, which was developed in collaboration with Gameloft, players competed for various prizes, including cash, OnePlus 6 smartphones and Bullets Wireless Bluetooth earphones. However, the OnePlus Asphalt Cup was exclusive to India.