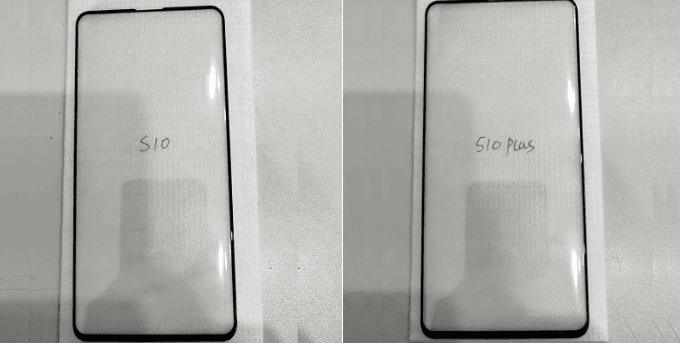 A long time ago, smartphone vendors used to launch their flagship phones only in one size. As the phablet euphoria caught up, they began launching a Plus or Max variant alongside the standard model. Earlier this month, Apple launched three different versions of the iPhone. Size and camera are no longer the only ways to differentiate between different models of a smartphone. A new report suggests Samsung is preparing to launch as many as four different Galaxy S10 models early next year. Wondering how it will differentiate them?
How will the four Galaxy S10 models differ from each other?
Digging into the Android 9.0 Pie firmware for Galaxy S9 Plus, folks at XDA Developers have found references to four Galaxy S10 models. File names for each of the four Galaxy S10 models were present in the firmware. ValueWalk has previously reported that there would be three Galaxy S10 versions code-named Beyond 0, Beyond 1 and Beyond 2. The firmware reveals there would be a fourth model named Beyond 2 5G.
South Korean media as well as supply chain leaks have indicated that the Beyond 0 would be an entry-level model that will compete with devices like OnePlus 6 and Asus 5Z that offer premium specs at mid-range prices. The Beyond 1 and Beyond 2 will be direct successors to the Galaxy S9 and S9 Plus. According to the Android Pie firmware teardown, the Beyond 2 5G will be similar to the Galaxy S10 Plus, except that it would offer 5G  support instead of 4G LTE.
Alkeon expects data growth to surpass 5G's capabilities by 2028 [Q4 Letter]
Alkeon Growth Partners wrote at length on tech stocks and why they are defensive in their recent letter to investors, which was reviewed by ValueWalk. The fund also highlighted 5G and other advanced technologies and the investment opportunities they offer. Q4 2020 hedge fund letters, conferences and more Artificial intelligence and machine learning The Alkeon Read More
In the image below, the numbers "0, 1, 2" are for the size of the smartphone. The "q" in the file name suggests it's the Qualcomm Snapdragon variant of the device. File names that lack the "q" are the Exynos models.

XDA Developers speculates the Beyond 0 model would sport a 5.8-inch Super AMOLED Infinity display with only a single camera and a side-mounted fingerprint sensor. However, recent reports suggest it will get an in-display fingerprint sensor like other models, but it would have slightly inferior optical sensors rather than the superior ultrasonic ones.
The Beyond 1 would be the standard Galaxy S10 with a 5.8-inch display and dual rear cameras. The Beyond 2 would be the larger Galaxy S10 Plus with a giant 6.44-inch display, triple cameras on the back, and dual cameras on the front. The Beyond 2 5G would be nearly identical to the S10 Plus, but with a 5G modem. All three of them would have an advanced ultrasonic fingerprint sensor that works with high accuracy even when your finger is sweaty or dirty. The Korean company was recently granted a patent describing how it would implement the ultrasonic fingerprint technology.
All the four Galaxy S10 models are expected to run the next-gen Snapdragon 8150 or Exynos 9820 chips depending on the region. Both the processors will likely be built using the 7nm process, which would enhance performance and energy efficiency. The Snapdragon variant of 5G Galaxy S10 Plus would use Qualcomm's Snapdragon X50 5G modem. The Exynos version could use Samsung's own Exynos 5100 5G modem.
Wireless carriers in the United States and South Korea will start rolling out 5G services early next year. Samsung along with other Android vendors such as OnePlus and Huawei plans to launch 5G-compatible smartphones next year to take advantage of the buzz. However, whether consumers will be able to enjoy 5G speeds will depend on the carriers.
Rumored Galaxy S10 specs
Samsung's mobile business head DJ Koh has indicated earlier that the Galaxy S10 line could feature dynamically different configurations. The entry-level Beyond 0 could pack only 4GB RAM, though it would run the same processor as the other three models. The Galaxy S10, S10 Plus, and S10 Plus 5G are expected to feature 6GB or 8GB RAM, which has become a norm for high-end Android phones nowadays.
According to AllAboutSamsung, the Galaxy S10 Plus (as well as the 5G variant, hopefully) would sport a 12MP main camera with variable apertures, a 13MP telephoto lens, and a 16MP super-wide-angle lens on the back. The cameras will reportedly be aligned horizontally on the rear panel. It would offer improved optical zoom, better low-light photography and wide-angle functions. The front-camera setup would consist of a 12MP main lens and a 16MP super-wide-angle lens, according to Korean site ETNews.
Samsung is expected to announce all four Galaxy S10 models at the Mobile World Congress (MWC) in Barcelona in February 2019. It's worth mentioning that these are just rumors. The devices are still a long time away, and Samsung could add or drop any features before the official unveiling.