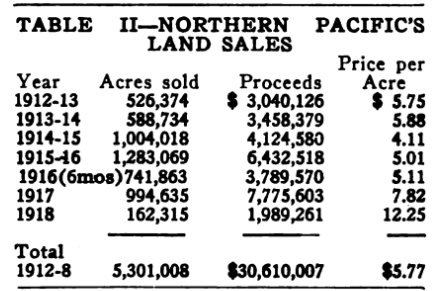 If you're looking for value stocks, and exclusive access to value-focused hedge fund managers, check out ValueWalk's exclusive value newsletter, Hidden Value Stocks.
Benjamin Graham is widely considered to be the Godfather of value investing. His book first, Security Analysis was one of the first publications on to the topic of security analysis, and it remains essential reading for value investors even today.
Macro Hedge Funds Earn Huge Profits In Volatile Macro Environment
With the S&P 500 falling a double-digit percentage in the first half, most equity hedge fund managers struggled to keep their heads above water. The performance of the equity hedge fund sector stands in stark contrast to macro hedge funds, which are enjoying one of the best runs of good performance since the financial crisis. Read More
Q2 hedge fund letters, conference, scoops etc
However, before Graham published this seminal book, he was a prolific author and lecturer. His early work gives us great insight into how this legendary figure worked and the way he analyzed securities.
In 1919, Graham wrote a series of articles for the Magazine of Wall Street comparing different securities at the time. One such article was titled, "Northern Pacific Outstrips Great Northern." Within the piece, Graham compares two railroad concerns, Northern Pacific and Great Northern.
Northern Pacific Outstrips Great Northern
The article starts with the Dean of value investing noting that on April 4th, 1919, "Northern Pacific sold higher than Great Northern -- for the first time probably in ten years." The reason why he opines has something to do with the "great railroad personality" of James J. Hill, whose "genius" greatly helped the company's "erstwhile ascendancy" over its peer.
But despite the company's improving performance, the market has been slow to recognize the company's potential. Specifically, Graham notes:
"Practical interest will center chiefly about the relative movement of stock earnings and stock prices. Here the graph shows plainly that the market has lagged somewhat in reflecting Northern Pacific's recent substantial gains. In 1909 N. P. earned 1.62% more than Great Northern, and sold at practically the same level; in 1917 it earned 2.66% more and its price averaged about 6 points lower."
So, the purpose of the article is to answer the question of whether "Northern Pacific is not now a better investment purchase than Great Northern?"
The answer to this question is made complicated by the fact that both companies were, at the time, under government control and had been since 1917 as part of the war effort. However, Graham notes that "the word has gone forth that the railways are to be returned to their owners -- willing or unwilling -- at the end of 1919."
To start his analysis, Graham first looks at the record of the two companies before their nationalization. His research shows that in the last year of private operation the two railroads recorded virtually the same gross revenues. However, the author notes that in 1915, Northern Pacific's net earnings were "fully $4,117,000 smaller than Great Northern's". The reason behind this substantial difference seems to be due to the way the two companies' report maintenance costs, as Graham describes:
"For years it has been apparent that Northern Pacific has been spending much less on the upkeep of its equipment than either Great Northern or the jointly owned C. B. & Q. In 1918, for example, with the same traffic on both roads, Great Northern expended $745,000 (or nearly 79) more for this purpose than did N. P. In 1916 the difference was $1,704,000—in other words, 12.41% of gross for Great Northern, against 10.47% for N. P. From this incriminating evidence at hand, one would straightway conclude that N.P.'s operating expenses have been held down by neglecting its cars and locomotives. Yet on further investigation, it transpires that Northern Pacific's upkeep costs per unit of equipment are actually higher than Great Northern's; and that the lower expenditure in the aggregate is due to its owning a much smaller number of engines and freight cars. But how one asks—can Northern Pacific handle as much traffic as the parallel line, when it has 20% less freight capacity and 10% less locomotive power? Surely it must hire more equipment from other roads, or lend less to them. Wrong again! In 1917, Northern Pacific's net income from the hire of equipment was $1,237,000 against only $511,000 for Great Northern."
The answer to these questions, as it turns out, is that Northern Pacific has a "40% larger haul for its traffic" meaning that the firm can keep its equipment in use a larger proportion of the time and "thus get along with a smaller quantity of freight cars."
So, the two companies functioned quite efficiently outside of government control. Under government control, their fortunes varied greatly. Northern Pacific hardly prospered, but it managed to turn a profit. Meanwhile, Great Northern turned out to be a "very poor proposition for Uncle Sam returning a deficit of no less than $15,775,000."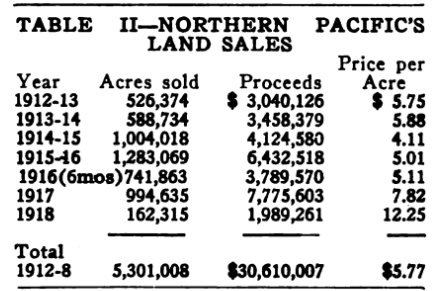 After considering the performance of the two companies under government control, Graham moves on to look at fixed charges relating to debt and other obligations. Here there is an essential difference between the two companies. While both firms have large amounts of debt, Northern Pacific's creditor account is offset by large land holdings, which seem to be a hidden source of value and essential asset for the group:
"This is an element of such importance, however, that it is remarkable that it is hardly ever referred to-if at all-in analyses of the company's status. Table II shows that Northern Pacific has been enjoying a steady income of large proportions through the sale of its farm lands, which are located principally in Montana and Washington. On Dec. 31 last there remained 4,800,000 acres available for sale. Assuming these holdings have an average value of $6 per acre in 1918 the land brought $12.25—there is here a "hidden asset" worth $30,000,000, which is steadily being converted into cash. The funds so realized are applied to the retirement of the prior lien bonds and so increase the net income available for dividends. Great Northern's land holdings, however, are entirely negligible. now aggregating only 101,543 acres."
It is this hidden asset, coupled with the company's historical record of performance as a private company that swayed Graham towards Northern:
"For on the basis of its operating and financial results we have shown that Northern Pacific is entitled to sell on at least as high a level as Great Northern -in fact should command a better price. If to these considerations is added the value of its land holdings-amounting to certainly more than $10 per share-it should then seem only a question of time when Northern Pacific, for ten years the "under dog," shall once more claim the ascendancy."
This originally appeared at ValueWalkPremium.com
Updated on