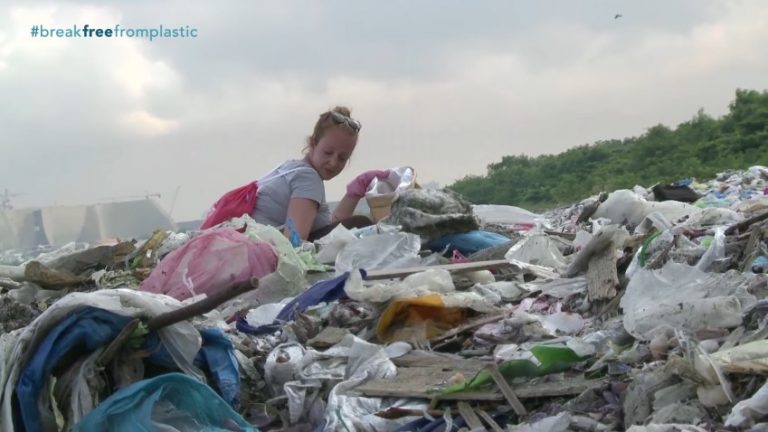 First-Ever Clean-Up Brand Audit Aims to Assess Source of Local Plastic Pollution, Work with Companies to Address Pollution Crisis
NEW YORK — On Sunday, September 16th at 10:00 AM, New York residents will come together with members of the Story of Stuff Project and supporters of the #breakfreefromplastic movement to clean up plastic waste and identify the brands responsible for that pollution on East River Walk.
WHEN: Sunday, September 16th, 2018 — 10:00 AM – 12:00 PM
Retail Investing Trends With TradeZero America's Dan Pipitone
ValueWalk's Raul Panganiban interviews Dan Pipitone, co-founder of TradeZero America, and discusses his recent study on retail investing trends. Q1 2021 hedge fund letters, conferences and more The following is a computer generated transcript and may contain some errors. Interview with TradeZero America's Dan Pipitone ValueWalk's ValueTalks ·
WHERE: East River Walk, York Ave/59th Street New York, NY 10065
LOCAL CONTACT: Ainhoa Perez | 917-365-0697
FIND OUT MORE HERE: http://action.storyofstuff.org/event/brand-audit-signup/241
Q2 hedge fund letters, conference, scoops etc
The first-ever public litter clean-up and brand audit in New York is part of a new international effort to hold companies accountable for ubiquitous plastic pollution.
Earlier this week, the Story of Stuff Project announced the launch of the first-ever brand audit clean-ups to collect plastic waste in coastal and inland communities across the country and identify the companies behind that trash. The Story of Stuff Project hopes that this new approach will end the cycle of regular waste clean-ups and begin to tackle the issue of plastic pollution at its source.
In a week of events happening around the world, Story of Stuff volunteers and members of the #breakfreefromplastic movement in over 75 cities and towns will team up to clean beaches, riverfronts and parks and determine the unique sources of local plastic pollution. Events are happening in communities in Australia, Brazil, Cyprus, Hong Kong, India, Latvia, New Zealand, Portugal, South Africa, South Korea, Tanzania, the United Kingdom, and the United States.
The data that these communities generate will be compiled at both the local and global level, identifying which products and companies are most responsible for plastic pollution. Results of the global survey will be released in early October.
FIND OUT MORE ABOUT THE EFFORT HERE: https://storyofstuff.org/blog/the-new-strategy-to-hold-big-plastic-accountable/
"Every year, thousands of people get together to clean up the waste that washes onto beaches around the world – but more plastic always reappears. To break the cycle of plastic pollution, we need to do things differently," explained Stiv Wilson, Campaigns Director for The Story of Stuff Project. "This year, we're not just cleaning up trash – we're collecting data that will illuminate the most problematic brands in the environment and help us bring accountability to the companies that bear ultimate responsible for the plastic pollution crisis."
"Corporations cannot greenwash their role out of the plastic pollution crisis and put the blame on people, all the time. Our brand audits make it clear which companies are primarily responsible for the proliferation of throwaway plastic waste that's defiling nature and killing our oceans. These events provide undeniable evidence of this truth," added Von Hernandez, global coordinator, #breakfreefromplastic.
The Story of Stuff Project is working with other #breakfreefromplastic movement partners organizing brand audits all over the world including Greenpeace, 5 Gyres, Let's Do It World, Mother Earth Foundation, Global Alliance For Incinerator Alternatives (GAIA), Health Care Without Harm, and Surfrider Foundation on a broader brand audit data set to map brand plastic pollution across the world.
WATCH HERE TO SEE WHAT'S MISSING FROM NORMAL BEACH CLEAN-UPS:
# # # # #
The Story of Stuff Project is a 501(c)3 nonprofit working to transform the way that we make, use, and throw away Stuff so that it is more sustainable, healthy, and just.  www.storyofstuff.org
#breakfreefromplastic is a global movement envisioning a future free from plastic pollution. Since its launch in September 2016, nearly 1,300 groups from across the world have joined the movement to demand massive reductions in single-use plastics and to push for lasting solutions to the plastic pollution crisis. These organizations share the common values of environmental protection and social justice, which guide their work at the community level and represent a global, unified vision.  www.breakfreefromplastic.org.