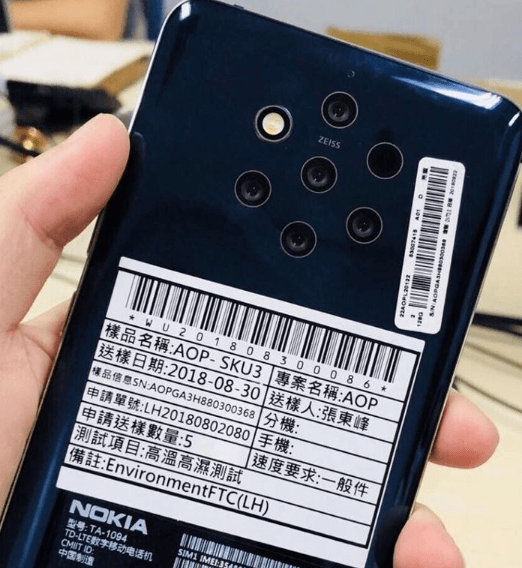 When one would have thought a triple-lens rear camera would be the upper limit that smartphone manufacturers would go up to, here comes Nokia — an old name with a new concept. A recently leaked image first published by Chinese outlet ITHome on Thursday shows a Nokia phone with five cameras.
What to expect from the Nokia phone with five cameras
It seems HMD is working hard to distinguish its phones from the crowd of other Android phones on the market. In that attempt, it is reportedly developing a Nokia phone with a penta-lens camera array, something that looks like it comes straight out of a sci-fi movie.
The smartphone in the leaked image is shown holding five lenses, an LED flash, and an IR-focusing apparatus. The five lenses could serve different purposes, such as telephoto, black and white, color, and multi-lens pixel synthesis. HMD also owns the PureView brand, which once adorned high-end Nokia phones. It might use that brand as well. Further, the leaked image shows a smartphone with a glossy back.
Deprival Super-Reaction Syndrome And Value Investing
Deprival Super-Reaction Syndrome And Investing. Part four of a short series on Charlie Munger's Human Misjudgment Revisited. Charlie Munger On Avoiding Anchoring Bias Charlie Munger On The Power Of Prices The Munger Series - Learning . . . SORRY! This content is exclusively for paying members. SIGN UP HERE If you are subscribed and having an Read More
This is Nokia 9 (2018) with a Penta-Lens camera. (render based on leaks) pic.twitter.com/gOQA8W08Cj

— Ben Geskin (@VenyaGeskin1) September 6, 2018
After the image was leaked, a fresh rendering of a Nokia phone from tipster Benjamin Geskin has also surfaced, and it reveals the front and back of the phone. The concept phone, which is claimed to be the Nokia 9, is shown with a penta-lens camera setup. According to the new rendering, the display has a notch and thin bezel covering the entire front area. The notch has enough space to house a front-facing camera sensor, the earpiece, and a couple of other sensors, like a proximity sensor and ambient light sensor.
Is a Nokia phone with five cameras possible?
HMD Global, which now licenses the Nokia phone brand, has so far focused on affordable Android phones and re-launching old popular models and feature phones. Thus, making a phone with five cameras looks like a distant possibility. However, the fact that this latest leak is not the first evidence of a Nokia phone with five cameras gives some credibility to the idea of such a smartphone.
The concept was spotted earlier in design sketches. Even a patent from Zeiss, which is now an HMD partner, talked about such a camera setup. Such evidence adds support to the latest leak. HMD has also been stressing from the start that it is very serious about rebuilding the Nokia brand, and a smartphone with a penta-lens camera would surely help in that.
Moreover, a penta-lens smartphone camera system must not come as a surprise. Huawei has already added three rear cameras to its P20 Pro, and there are rumors that LG's next flagship will feature five cameras — two in the front and three on the back. Nokia is also not the only brand to work on adding more than three cameras to a smartphone. Light, which has already launched a camera with 16 lenses, is reportedly working on adding something similar to a smartphone.
Will the penta-lens camera be the Nokia 9 or Nokia 10?
If a Nokia phone with five cameras really is in the works, it will be interesting to know which Nokia phone will get the honor. The rumor mill is in favor of both the upcoming Nokia 9 and Nokia 10.
The Nokia 9 is a long-rumored device which is speculated to come with top-tier specs and a high price around $850. The handset is expected to come with a notched display and an in-display fingerprint reader. HMD's Nokia 9 will likely feature a 5.9-inch display with QHD resolution (2K) and OLED technology. Other rumored specifications include Gorilla Glass 5 protection, a 3,900mAh battery and 256GB of built-in storage.
In terms of performance, it is tipped to sport a Qualcomm Snapdragon 845 SoC. The handset will likely be available in several colors. WinFuture claimed in June that the smartphone would come with a "hohen Risiko" (high risk) camera setup, and in April 2017, it was speculated that the Nokia 9 would feature OZO Audio.
HMD's Nokia 9 has been speculated to launch since mid-2018, but a possible delay with the camera setup may have postponed the launch. Fans were then expecting the launch at IFA, but they were disappointed again. Now rumors suggest that it will launch sometime later this year or early next year. Such a launch period would put it in direct competition with the new iPhones and the Google Pixel 3, and if the Nokia 9 indeed comes with five cameras, it will be an interesting battle to watch.