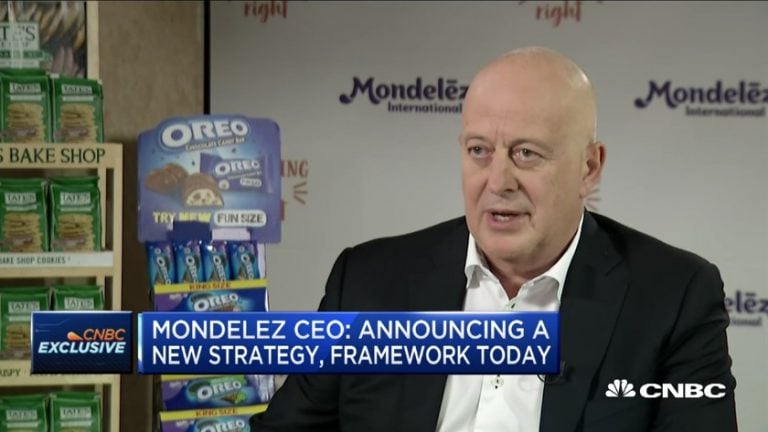 The following is the unofficial transcript of a CNBC EXCLUSIVE interview with Mondelez CEO Dirk Van de Put and CNBC's Sara Eisen on CNBC's "Squawk on the Street" (M-F 9AM – 11AM) today, Friday, September 7, 2018.
Q2 hedge fund letters, conference, scoops etc
Marathon Partners: There Is A "Compelling Opportunity" In US Cannabis
Marathon Partners Equity Management, the equity long/short hedge fund founded in 1997, added 8.03% in the second quarter of 2021. Q2 2021 hedge fund letters, conferences and more According to a copy of the hedge fund's second-quarter investor update, which ValueWalk has been able to review, the firm returned 3.24% net in April, 0.12% in Read More
Mondelez CEO Dirk Van de Put: Earnings Growth Will Slow In 2019
Mondelez CEO on growth, its snacking future and e-commerce
SARA EISEN: So you've been at the helm for nine months and now you're speaking out. What are you hoping to tell investors right now?
DIRK VAN DE PUT: Well, we are announcing that we have a new strategic framework for the company. And-- it's-- a change from the past. The company, as you probably know, has been focused on increasing its margins for the last five years. And-- we think now going forward, we have the right base to-- to start growing from there. And so we are announcing a plan that is more focused on-- on topline growth and increasing our sales around the world.
SARA EISEN: When your announcement was revealed last year, a lot of people know Mondelēz, a lot of people know the brand, a lot of people didn't know who you were, an executive of a private, Canadian company, Belgian, now running one of the biggest American food companies. Give us a sense of your background and how you came to this job.
DIRK VAN DE PUT: Yeah, it's a bit of a strange story. I am-- I am from Belgium. And I graduated as a veterinarian. But I ended up in business quite fast because-- Mars, who makes a lot of pet food, needed a veterinarian to-- to be working in their PR division. So that's who I ended up in food. I ended up marketing. And since then, I've spent the last 30 years I would say in-- in this industry. Worked in a lotta categories, which helps-- yogurt, pet food, water, baby food. So I-- I-- I-- I kinda know the industry quite well. And-- the-- the-- the surprising thing I think about McCain, the-- the Canadian company that I was working for, is that-- we had very good results in-- in our business-- which is largely a French fries and appetizer business. And I think there was an interest to see if I could bring that same topline growth and improvement of the results to-- to Mondelēz. And so that's how it happened.
SARA EISEN: And that's really what you're announcing? So under Irene Rosenfeld it was all about margin expansion, all about controlling cost. How do you make that shift in real terms from the margin focus to topline focus?
DIRK VAN DE PUT: Well, first, I would like to say that the margin improvement under Irene has been quite impressive. And thanks to that, we're now in a position where we think our margins are in the right place to start focusing on topline growth. However, that doesn't mean that-- the focus is going away from-- from making sure our costs keep on declining and that we are always trying to do the best. So don't get us wrong, we're not getting rid of that. But as-- as you-- in a company, you can imagine as y-- as you transition, you're now in the possibility of focusing more on the consumer-- seeing where the consumer is going. You don't have to constantly be obsessed about your margins because they're in the right place. So if you now get volume growth to-- to kick in at these higher margins, that's a huge benefit for us. We've modernized our supply chain under Irene, which is giving us-- the potential of-- of really a benefit from that-- from that volume growth. We-- we are in snacking, which is a very interesting space in food. We see growth around the world in snacking. And-- I think we've lost a little bit of touch with focusing on the consumer and trying to-- to increase our sales. And so it seems like it's the natural-- the right moment after this previous phase to start focusing more on the topline growth.
SARA EISEN: Do you feel like you're gonna have to justify to the investor crowd here why you're gonna see a slowdown in earnings growth? I-- I think you're slowing it down from double digits, right?
DIRK VAN DE PUT: Yeah. We're going to high single digits. I-- I think investors know that the margin focus has a certain runway. And you cannot keep on doing that because your topline is not justifying that sort of-- earnings increase. And so we are-- we are I think still-- coming up with a very interesting financial algorithm. High single digits growth in food these days is not-- not that bad. I think we have a very good financial algorithm to get there. We see 3% plus net revenue growth. Probably mid-single digit OI growth. And then we lift ourselves to a high single digit. I also think we are undervalued, which-- if our-- multiple goes up, y-- you get to-- above 10%-- TSR. And-- and I think that is still a very solid equation.
SARA EISEN: You're doing it at sort of a tricky time because commodity cost inputs are rising. How much pricing power do you have?
DIRK VAN DE PUT: We have been able always to price the right way. In emerging markets, it's quite normal to see the devaluation, inflation. It-- it-- we've always been able to do it. And-- and even in our domestic markets or in Western Europe, it-- it-- it hasn't been that difficult. I think we're in a category that's growing. And so-- it is-- more acceptable that there is pricing. So it's-- it's always a conversation. It needs to be accompanied by a reason why and-- and-- and how we are going to absorb it. And there's many different ways to do pricing through mix or through price pack architecture and so on, so--
SARA EISEN: So you're not talking about any across the board price increases like we've seen from-- from some other consumer--
DIRK VAN DE PUT: Well, we've done some in the-- in the U.S recently. You've all heard about the freight inflation and some of the other commodities. But overall, we are not-- looking at a sort of across the board-- price increase. No. No.
SARA EISEN: So where is the growth gonna come from? Organic growth 2-3%, right, that's the target for next year. Where do you see that happening? With-- under Irene a lot of the focus was on the power brands, Oreos, Ritz Crackers.
DIRK VAN DE PUT: Well, that's one of the-- the changes. We do have these big power brands-- like you said, Oreos, Ritz, Milka, Cadbury. But as we have grown through acquisitions, we have-- also acquired quite a lot of local brands, which are quite unique and quite-- linked to the culture. And I think they've been neglected a little bit. And because of that margin pressure, we-- we were not able to invest in those local brands. So that's a big change we are doing. The other big change that's taking place in-- in our space is that there is a shift in channels. And-- and so-- we've been very focused on supermarkets and-- and-- and grocery. But there's other channels that are growing faster. And so we're going to make a major shift towards--
SARA EISEN: E-commerce?
DIRK VAN DE PUT: E-commerce, of course, is one of those. But also convenience stores, discounters, the green channel. And-- and so we see more growth as we-- we go into those. Emerging markets, of course, very important. We still have big opportunities. We are not always the leader in our different categories that we have around the world. So we see that as a big opportunity. The other one that-- that we are going to-- focus on is our brand can play in other categories. We are at the moment a biscuit, chocolate, gum and candy company. But if you think about Oreos, where you already can see the example, Oreos is in ice cream, Oreo's in yogurt, you can find Oreo brownie. So we have brands that can play across these categories and we're gonna do a bigger driver towards that also. So broader snacking. And then an accelerated rhythm of-- of innovation. Those are some of the-- the key things –
SARA EISEN: What about M&A? Where does that fit in? Are we gonna see more acquisitions, like Tate's?
DIRK VAN DE PUT: Well, yes, as-- as-- as I said-- we-- we have these opportunities in channels, in geographies, in-- in certain segments of the markets where we're not. And so we're going to pursue that. So we've done a few. As an example, as we wanna reinforce ourself in geographies around the world, we bought-- Kinh Do in Vietnam, which we are growing. But that helps us to bring in our power brands. We've done Tate's, which is a super- premium cookie here in the U.S. And-- and we were not in that segment. We've also done Enjoy Life, which is an allergen-free range of snacks. And so we-- we're bringing in these capabilities or these segments where we're not or these geographies where we're not. And-- and yes, we will see more of that.
SARA EISEN: Are we gonna see more in the health and wellness section? And how do you think about that with the portfolio that you have, which doesn't necessarily skew toward healthy?
DIRK VAN DE PUT: Well-- I would say snacking is complex. We've-- we've just-- done a study of -- 170,000 consumers around the world. And-- and the findings are that, depending on the moment of the day, demanding on th-- on the state of mind, they-- they have different needs in snacking. So imagine in the morning-- you're ready to go, you want probably a high fiber, high protein, energy type of snack. Late at night, you're tired, you're stressed, you probably want a nice piece of chocolate. And so w-- we wanna offer the wide range. Is our range at the moment sufficiently developed in the health and wellness part? No, we need to do more. I think m-- also important, it's not just about the sort of health benefits. It's the—the naturalness, the-- the sustainability of the ingredients. That's where the consumer these days is very important. So we will also do more of that.
SARA EISEN: So you're gonna do more? You're not positioning yourself as the sort of indulgent alternative--
DIRK VAN DE PUT: No, no, we--
SARA EISEN: -- some of the PepsiCo snacks, for instance?
DIRK VAN DE PUT: No, we-- we-- we have a new purpose for the company, which we call "Snacking Made Right." And-- and by that, we mean we wanna offer the right snack for the right moment, made the right way. And that goes fra-- all the way from indulgent, to wholesomeness and health and wellness.
SARA EISEN: Wanted to talk about some of the industry problems. Campbell's Soup is in the news again now. Reports that there's an activist, Dan Loeb, who's gonna go after the entire board. The problems at Campbell's, do you see that as an industry phenomenon or a company specific issue?
DIRK VAN DE PUT: Well, it-- it's-- it's obviously difficult for me to-- to comment on another-- other company. I-- I do think that the CPG world is changing in a big way. And it's changing because the consumer is changing. And-- and you need to adapt to that. And there's different ways to adapt to that. The way that we've chosen is to say, "Well, we're a snacking company. 85% of our business is snacking. We're gonna become a 100% snacking company." It's the right space to be in and we will play in that space. And anything we do will be to reinforce that. I think that's a good way to think about it. And we're not gonna do things that we don't feel comfortable with or that we don't know too much about.
SARA EISEN: They're-- I mean, after some of the changes, they're gonna become more of a snacking company with Snyder's-Lance. Is-- is it a company that you would look at? Sounds like it's sort of for sale.
DIRK VAN DE PUT: Well, difficult to say. We think we have the right strategy at the moment. There's these tag-on acquisitions that I was talking about. That's our focus. We don't wanna end up in categories that we don't want to be in. So-- I-- I would say at this moment, we're gonna stick to our strategy.
SARA EISEN: Do you see this trend of more activists coming into the space and targeting these companies? Nelson Peltz no longer on your board, still a big shareholder, and I can tell you, after speaking to him, a big fan of yours.
DIRK VAN DE PUT: Thank you and -- well, I find-- the relationship that I have had with-- with Nelson and Peter May, who's now on our board, from his company, has been-- has been very good. The-- the points of view they bring to the table are very reasonable points of view. And-- and-- he challenges me. And-- and I think that's the right thing. I do-- I don't really mind, to be honest. I-- I think the margin agenda, and every consumer goods company has gone through the margin agenda, it was justified. In our case, it was justified. But you can't keep on running a company like that. At a certain state, you need to grow 'cause otherwise, it becomes more and more difficult to grow your bottom line. And I think-- Nelson agrees with that viewpoint to the point where we are, as Mondelēz at the moment.
SARA EISEN: You mentioned the changes going on within the CPG category. I mean, you've-- you've spent time at so many of these companies, Coca Cola, for instance. What happens to the big American brands? Are they going to shrink? Are they going to disappear? How do you think about the future of some of these companies and some of these storied brands?
DIRK VAN DE PUT: I-- I do think there is still a place for these power brands, these big, American brands. But yes, they probably will shrink. And-- and what we need to learn as the big CPG companies, is how do you still keep on growing your big power brands? But a company that with smaller, more niche, local brand? And how do you run a model that does both? And I think that's the big challenge we are all facing.
SARA EISEN: Do you-- do you think that there'll be excitement that comes back to this category and this brand? There's so much pessimism. Even Warren Buffett, longtime fan of Kraft and Coca Cola, recently said on our air, "It's not a sensational place you wanna be in the next five to ten years," in response to a question about doing another deal.
DIRK VAN DE PUT: Well, yeah. I-- I think that's a translation of-- of-- of the food space into what it means for companies and for investors. The food space itself, I would say, is more exciting than ever. If you look at what's going on with the smaller brands challenging the-- the obsession that consumers have with cooking and eating well, I think the space itself is very dynamic. We see trends that-- that young graduates really wanna go back to food. They wanna go to startups, but I think there's a way of us, the bigger companies, to embrace that, to bring it in-house, and to be as attractive as some of these other companies.
SARA EISEN: And really take the acquisitions and learn from them. It feels like it's been many cases of bolt on acquisitions and then the top talent leaves in the next few years. And it's hard to really incorporate the culture.
DIRK VAN DE PUT: Yeah, and that's-- a big move we are doing. We're saying we wanna-- give more autonomy to our local teams. They're close to the consumer. Just let them go on with it and create a little bit of an environment that you're an entrepreneur. And we need to do that. And-- and I'm sure that we can be a good home for these startup companies or these newer companies. And we need to let them be themselves. And-- and I have no problem with that. I like that. And-- and I can learn from them. We all can learn from them. And it makes it exciting for them. They have a big brother helping them out. So I can see that that is a model that works really well.
SARA EISEN: So you're aiming for growth at a time where emerging markets are facing some turmoil. You're pretty exposed to the emerging world. How painful are some of these currency crashes going to be?
DIRK VAN DE PUT: Well, they-- it's kind of normal. I've spent-- a lot of time myself in Latin America, actually, in 100%, 200% devaluations. It's very tough when you're in the middle of that. And-- and you need to know which steps to take. But two, three years later, it comes back usually. And so it-- it is riding out the storm, I would say. And not to overreact and pull back and say, "I'm not staying in this market." And-- and since we have a very diverse business at the moment, the ones we've seen the Argentine peso or the Brazilian real or the Turkish lira, they're gonna have-- an effect on the business. But it's-- it's not gonna be substantial and it's not gonna affect our outlook for the-- for the coming months.
SARA EISEN: Do you see any shifts in consumer behavior-- in some of these countries? Where do you see the biggest changes?
DIRK VAN DE PUT: Well, Brazil is a big market for us. And the whole turmoil with the trucker strike and-- I think a little bit dissatisfaction with the government and where we are all going, that's reflected in how the consumer feels about buying their day-to-day products. So we do see some effects from that. Again, luckily, within snacking and within indulgent products and in healthy products, so we're less affected by that than some of the more-- expensive goods. But yeah, you feel it. And I would say at this moment for us, Brazil is the one that is most to watch.
SARA EISEN: What about China? What are you seeing in consumer behavior and economic patterns there?
DIRK VAN DE PUT: Well, China is-- is big in e-commerce. It's booming. They buy more than anybody else online. China is-- is-- is also-- a very unique market that we need to adapt to and we need to learn. The big trend there is that the Chinese companies are winning. And it's-- it's the big food companies that are not doing so well. And so we need to learn to adapt to the Chinese consumer. They're proud of what we do. And-- and one of the examples that we did, which is—it got a lot of press, is that we launched an Oreo wasabi and an Oreo spicy chicken. For us, that looks strange. But to the--
SARA EISEN: No, I'm excited to try that--
DIRK VAN DE PUT: --Chinese consumer, yeah, you're excited to to try it. But that's the thing. We need to learn what the local consumer is about. But China itself in snacking is gonna be the biggest-- growth in the coming years of any market around the world.
SARA EISEN: Do you worry about boycotts of American products or other repercussions of the current trade war that only appears to be escalating between the U.S. and China?
DIRK VAN DE PUT: Well, depends on how you look at it. For us, we produce largely in the local markets. We have a network of plants. Most big markets are supplied from within the country. So I hope that it will be appreciated that we are producing there and using local ingredients. So we don't see too much of an effect at the moment. We don't feel a consumer negativity towards it. I think the risk is a bit more that because of tariffs or barriers, that commodities will start to rise, which will lead to inflation, has an effect on the economy, and as a consequence, you sell less. That could be one of the effects.
SARA EISEN: Do you -- I mean, do you support the president's efforts to level the playing field as a business trying to grow in China that is being beaten by local companies?
DIRK VAN DE PUT: Well, I-- I think-- I appreciate any country that is trying to do what's best-- for the country. So I also believe in free trade. So I would prefer that there is a solution that does both. But overall, I think we want to be as local as we can be. We wanna be connected to the local consumers. We want to produce in the countries. And so we will support any-- any country that is trying to make sure that we have local employment and local production.
SARA EISEN: What about the American consumer? What-- what are you seeing right now in terms of willingness to spend? We just came off of a great quarter, 4% consumer spending growth. Is that-- is that gonna continue?
DIRK VAN DE PUT: I think it is. I think there is a very positive sentiment with the consumer at the moment. We-- we clearly see it in our categories. They're accelerating. Biscuits is-- is growing quite nicely. Gum, which was an underdeveloped or not so well performing category is up. So yeah, I-- think there is gonna be another good quarter ahead of us. I see a lot of positive sentiment, a lot of confidence. And we feel it in ourself.
SARA EISEN: Do you think Amazon's acquisition of Whole Foods is going to change the entire landscape, for selling foods?
DIRK VAN DE PUT: Yeah. Yeah, I do. It will. I think the other retailers will react. And they will try to adapt--
SARA EISEN: Already seeing it.
DIRK VAN DE PUT: -- And you're seeing it. I think the main thing is the consumer is changing it. And online is gonna become bigger and bigger every day. And any retailer needs to take that very seriously at the moment. And--
SARA EISEN: And you--
DIRK VAN DE PUT: --and we need to take it very seriously.
SARA EISEN: I was just gonna say, you've shifted your strategy--
DIRK VAN DE PUT: Yes, we now spend—
SARA EISEN: Digital?
DIRK VAN DE PUT: --40% of our marketing investments to digital. We're-- training our whole marketing department to be more digitally oriented. And that's one of the big transformations we're doing in this new strategic plan also. We need to adapt to this new world.
SARA EISEN: I asked Irene what her favorite snack was, so I'll ask you.
DIRK VAN DE PUT: Well, I'm from Belgium. And and there's a chocolate that I grew up with. It's called Cote D'or. And-- that's-- that's my favorite brand.
SARA EISEN: And favorite Oreo flavor?
DIRK VAN DE PUT: Favorite Oreo flavor, just the normal one. Oreo for me is-- I just like Oreo in its original form. I think that--
SARA EISEN: Old school?
DIRK VAN DE PUT: Old school, yeah.
SARA EISEN: All right. Thank you so much, Dirk.
DIRK VAN DE PUT: Thank you. Thank you for having me.