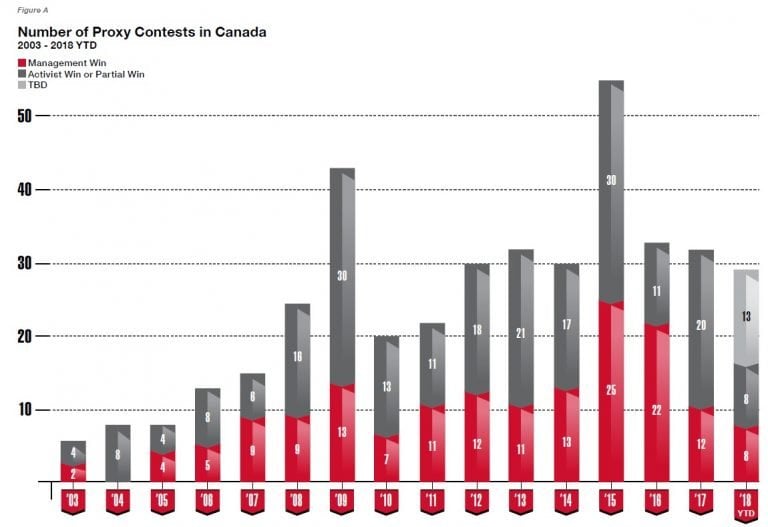 "2018 is on pace to be another eventful year for shareholder activism in Canada but what's changed is the fact management has struck back, driving activist success rates down." Wes Hall, Executive Chairman and Founder.
Shareholder advisory experts Kingsdale Advisors has launched its 2018 Proxy Season Review, focusing on the trends affecting activism and shareholder engagement in Canada. Activist situations have increased in number in Canada, the report notes, but not necessarily in quality given a falling success rate for dissidents. The report also highlights the impact of changes in proxy advisory policies on gender diversity at the board level and signal that the issue will become even more pressing in 2019.
Kingsdale, which contributed to a Canada special of Activist Insight Monthly magazine in September, is celebrating its 15th years in business in 2018.
Blue Eagle Capital Partners: Long Thesis For This Lending Stock
Blue Eagle Capital Partners was up 17.7% net for the third quarter of 2020, bringing its return to 49.1% for the first nine months of the year. During the third quarter, longs contributed 28.15% to the fund's performance, while shorts subtracted 7.36%. The S&P 500 was up 8.93% for the third quarter. Q4 2020 hedge Read More
"The 2018 Proxy Season Review is a culmination of what our team – the most experienced in Canada –has learned this year, and indeed over the past fifteen years." Amy Freedman, CEO.
Q2 hedge fund letters, conference, scoops etc
Proxy Season Review
Proxy Contest Overview - Activism remains at elevated levels
Throughout the years, we've seen a large increase in the number of public proxy contests in Canada, from six in 2003 to a peak of 55 in 2015. While we likely won't reach 2015 numbers, 2018 is on pace to be another eventful year.
Year-to-date activity has exceeded last year's figures: this time last year, there were 21 public proxy contests, increasing to 32 by year-end. Comparatively, there have already been 29 proxy fights in 2018, and new battles continue to surface daily. Clearly, activism continues to be a popular investment style and an important tool for investors looking to extract value or halt what they see as value erosion. Consequently, Canadian companies need to remain vigilant and maintain plans for addressing activist shareholder attacks.
Of particular note this year, we have observed more proxy fights being initiated after the so-called conclusion of proxy season, reinforcing a point we have made in previous reviews: there is no longer a proxy season, so heightened vigilance is required year-round.
We continue to reiterate that while the number of fights may have decreased from the 2015 peak, that is largely a function of the behind-closed-doors engagement that is taking place between activists and companies. Public activism is not always the goal nor the result of an interaction with a concerned shareholder.
Companies and activists are finding new ways to work more constructively behind the scenes to realize what both hope to be value-enhancing solutions, while saving public reputations and corporate funds. Based on our deep industry experience, we estimate that only one-third of proxy fights ever become public.
Activist Success Rates Falling in Canada but Rising in the U.S.
Years ago, we branded Canada as the land of milk and honey for activists, and for years, this has been the case. Not just because of the structural regulatory advantages that exist, but also because of a sustained period of victories for activists. But now it looks like things might finally be starting to change, even accounting for the small sample size to date this year.
So far in 2018, activists in Canada have won 50% of the proxy contests compared to a 63% success rate for all of 2017. Interestingly, the activist win/loss ratio differs greatly from what's happening in the U.S. where, this year, the activist win rate stands at 72% according to Shark Repellent.
This inverse trend between Canada and the U.S. may be due, in part, to the difference in marketplace dynamics. Delaware law allows a company to not give an activist the right to call a special meeting, raising the bar of what is required when launching a proxy fight and helping to ensure that campaigns are very well thought out and planned prior to launch. The U.S. also houses larger and more experienced activist players who have the deep pockets, know-how, and teams needed to force a victory in even the most challenging fights.
Conversely, in Canada, public companies have become increasingly well-defended as the market has been educated about how activist-friendly of a jurisdiction Canada is seen as. Even smaller companies are cognizant of the activist playbook and have taken steps to protect themselves.
Given the smaller pool of Canadian directors (a topic we cover in greater detail on page 50, Hot or Not? Being a Director), we have seen a lot of directors with repeated experience in dealing with activists – an experience that brings not only the know-how but also the chops needed to stare down an activist.
In addition, given that Canada has fewer structural defences available to companies, boards are more willing to take proactive actions on board composition, management team changes, and business strategy. This means the incumbent may enjoy the benefit of the doubt from shareholders, making it harder for the activist to make the case for change.
Most Active Sector Analysis
Proxy Fights by Sector
The materials sector is, once again, the most active for proxy battles in Canada, likely representative of the high number of extractive companies amongst the TSX.
One of the most publicized materials sector contests this year is the ongoing battle between U.S.-based hedge fund Paulson & Co. and Detour Gold Corporation. In the summer, Paulson & Co. initiated a public campaign against Detour Gold pushing for a sale of the company and requisitioned a meeting to replace the entire board.
The second most active sector in 2018 is the energy sector, regaining its position following a dip in 2017. Clearly, depressed oil prices in 2017 discouraged activists from deploying capital in a sector significantly levered to the commodity cycle. Now, in 2018, oil companies whose stock value fails to keep pace with rising oil prices are seen as weak performers, opening themselves up to activist attacks.
This was the case in the energy sector's most high-profile activist fight of the year. In April, Cation Capital (a newly founded, one-man-show activist) launched a last-minute proxy battle in an attempt to replace four directors at Crescent Point Energy's annual general meeting. Despite proxy advisor Institutional Shareholder Services' (ISS) support for two activist nominees, all incumbent Crescent Point Energy directors were elected at the meeting.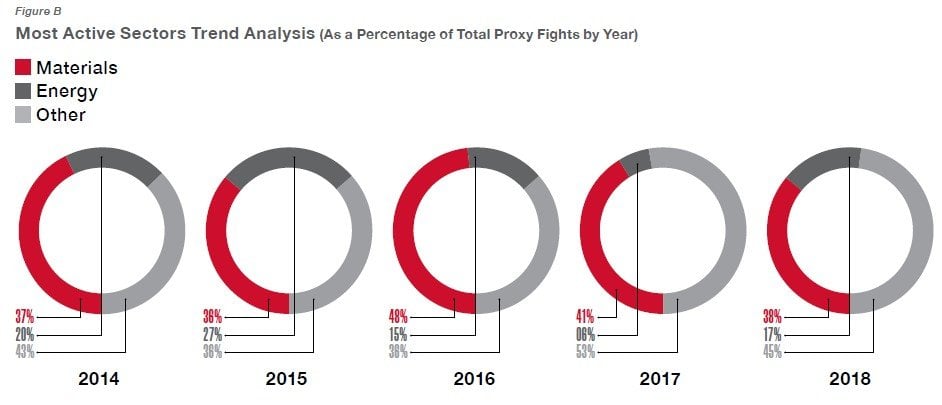 Download the full version of Kingsdale's 2018 Proxy Season Review here.