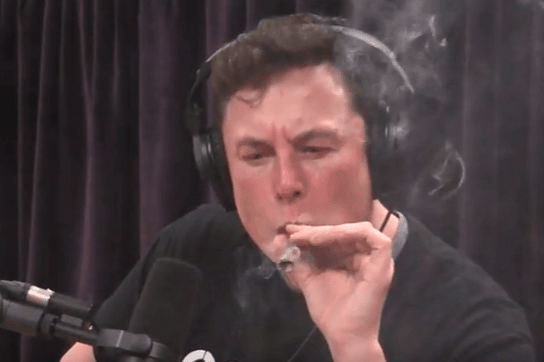 Elon Musk on the Joe Rogan Experience podcast discusses his not a flame thrower, smokes weed and much more.
Joe Rogan Experience #1169 – Elon Musk
Q2 hedge fund letters, conference, scoops etc
Corsair Capital Profits From Goldman Sachs' SPACs [Exclusive]
Corsair Capital, the event-driven long-short equity hedge fund, gained 6.6% net during the second quarter, bringing its year-to-date performance to 17.5%. Q2 2021 hedge fund letters, conferences and more According to a copy of the hedge fund's second-quarter letter to investors, a copy of which of ValueWalk has been able to review, the largest contributor Read More
Transcript
Thank you. Thanks for doing this man. Really appreciate it. You're welcome. Very good to meet you. Nice to meet you too. Thanks for not lighten this place on fire.
You're welcome. And later how does one just in the middle of doing all the things you do create cars rockets all the stuff you're doing constantly innovating decide to make flame thrower or you have time for that well the flame wouldn't wouldn't put a lot of time into the flame thrower.
This was an off the cuff thing. And so it's sort of like. It's sort of a sort of a hobby company called the boring company which started out as a joke. And we decided to make a real. And dig a tunnel underL.A. and then dig them people other people asked us to dig tunnels and so we said yes in a few cases. And then we have a merchandise section that only has one piece of merchandise at a time and we start off with a cab. And there was only one thing. It was just boring company dot com slash cap wahat. That's it. And then we sold the hats limited limited edition. It just said the boring company. And then I'm back kind of Spaceballs The Movie. And in Spaceballs yogurt goes through the Merchandising section and they have a flame thrower and the Merchandising section of Spaceballs and like the kids love that one. That's the line when he pulls up. Maybe there was like you do a flame thrower. So we.
Does anybody tell you. No. Does anybody go line. Maybe for yourself. But selling a flame thrower. The liabilities all the people you're selling this device to what kind of unhinged people are going to be buying a flame thrower in the first place to really want to connect ourselves to all these potential arsonists.
Yes terrible idea.
I will buy one. I don't. I said don't buy this flame thrower to buy it don't buy it. That's what I said. But still people bought it. Yeah there's nothing I can do to stop them. It's you on it. I said don't buy it. That's a bad idea. How many do you make. It's dangerous. It's got it's wrong. Don't buy it. And still people bought it I guess could stop them. How long did you make twenty thousand. And they're all gone in three I think four days. It sold out in four days. Are you going to do another run.
No. No is it. Yes. Oh yes. I said go do 20. We did 50000 40000 hats at that was a million dollars. OK well we'll sell something for 10 million. That was 20000 flame throwers at 500 dollars each. They went fast.
How did you have the time to do that though. I mean I understand that it's not a big deal in terms of all the other things you do but how do you have time to do anything. I just don't understand your time management skills.
I mean I didn't spend much time on this flame thrower. I mean to be totally frank it's actually just a roofing torch with an air rifle cover. It's not a real flame thrower which is why it says not a flame thrower. That's why we were very clear this is not actually a flame thrower. And also we are told that various countries would ban shipping of it but they would not they would ban flame throwers. So we have to solve this problem for all of the customs agencies. Labeled it not auto. There are IT work. Is it effective. I don't know.