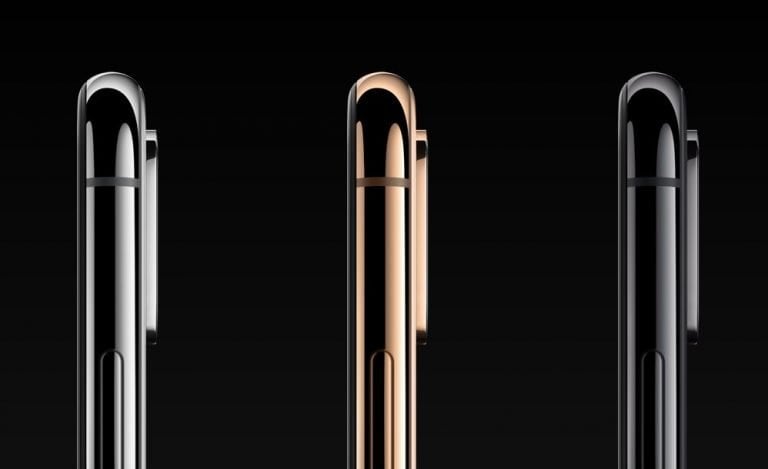 The launch of the iPhone XR, iPhone XS, and XS Max has garnered a lot of interest from Apple fans around the world. While the cheaper iPhone XR will start shipping in late October, the iPhone XS and XS Max are open for pre-order beginning today (Sept.14). These two models will hit the store shelves on Sept.21. The iPhone XS is a direct successor to last year's radically redesigned iPhone X. If you own an iPhone X or older models, you might be wondering whether the XS is worth upgrading. Here is an iPhone XS vs iPhone X comparison to show you what has changed in the new model.
Apple has discontinued the iPhone X following the launch of three new iPhones. It's no longer available on Apple's online store, but you should still be able to pick it up at a discount at major retailers and wireless carrier stores.
iPhone XS vs iPhone X: Any difference in design and display?
The iPhone XS looks and feels nearly identical to its predecessor. It has the same size and shape as the iPhone X. Your existing iPhone X case will easily fit the new iPhone XS, if you choose to upgrade. The display is the same 5.8-inch Super Retina OLED with the same 2,436 × 1,125 resolution and 458ppi pixel density.
Dan Sundheim Founder Of D1 At Sohn 2021 On His Favorite Stock
At this year's Sohn Investment Conference, Dan Sundheim, the founder and CIO of D1 Capital Partners, spoke with John Collison, the co-founder of Stripe. Q1 2021 hedge fund letters, conferences and more D1 manages $20 billion. Of this, $10 billion is invested in fast-growing private businesses such as Stripe. Stripe is currently valued at around Read More
However, the iPhone XS has an upgraded glass to protect the screen, which means it will have a better chance of surviving a hard fall. Also, the iPhone XS at 177g weighs 3 grams heavier than its predecessor. The XS will also be available in a new Gold color besides the Space Gray and Silver, which alone could persuade a lot of people to upgrade.
iPhone XS vs iPhone X: Better battery and waterproofing
Apple doesn't reveal the battery capacity of its flagship iPhones. But a teardown of the iPhone X revealed last year that it packed a decent 2716mAh Lithium-ion battery. The size of the iPhone XS battery is not known yet. Apple claims it will last 30 minutes longer than iPhone X. Both the models support fast charging and wireless charging.
The iPhone XS also boasts an improved IP68 rating for water- and dust-resistance compared to IP67 for the last year's model. The iPhone XS can survive for 30 minutes in up to two meters deep water. Apple claims to have tested it in chlorinated water, orange juice, salt water, wine, tea, beer, and more. The iPhone X is certified to a depth of one meter for up to 30 minutes.
iPhone XS vs iPhone X: Storage and RAM
The iPhone X was available in 64GB and 256GB storage options. It offered 3GB RAM, which was more than sufficient to handle any task you throw at it. The iPhone XS also gets a higher 512GB storage besides the 64GB and 256GB options. Apple hasn't mentioned its RAM but unconfirmed reports suggest it packs a bigger 4GB RAM. We will have to wait for a teardown to confirm the RAM and reveal other internal specs.
iPhone XS vs iPhone X: Processing power gets a big boost
The iPhone XS runs Apple's latest A12 Bionic chipset, which is based on the 7nm manufacturing process. The A12 is both powerful and smart as it gets an upgraded neural engine. Apple claims the new processor is 15% faster and 40% more energy-efficient than the A11 Bionic chip inside the iPhone X. The A12 also offers augmented reality and graphical enhancements to improve your gaming experience.
During the keynote event, Apple said the A12 chipset can process five trillion operations per second, much higher than 600 billion operations processed by the A11 per second. Thanks to an insanely fast processor, apps on the iPhone XS will load up to 30% faster.
However, it's difficult to say whether users will notice any difference in real-life performance between the two devices. The iPhone X may be a year old but it's still more powerful than most premium Android phones, which speaks volumes about its processing power.
iPhone XS vs iPhone X: Camera
Little has changed on the hardware front when it comes to the camera. Both the iPhone XS and iPhone X have the same 12MP wide-angle lens with an f/1.8 aperture, and a 12MP telephoto lens with 2x optical zoom and an f/2.4 apertures. Both the rear camera lenses on both handsets support optical image stabilization (OIS).
The iPhone XS gets some software smarts that you won't find on the iPhone X, though. For instance, it allows you to adjust the blur after taking a portrait image. A new Smart HDR mode significantly improves the dynamic range. Apple also claims the image sensors used in the iPhone XS are twice as fast. The iPhone XS rear camera can also detect faces and bodies, and reduce the red-eye effect. The front-facing camera is 7MP on both the handsets.
iPhone XS vs iPhone X: Face ID and dual-SIM
Both the devices have a TrueDepth camera system on the front that enables features like Face ID, Animoji, and Memoji. Face ID has proved a reliable security measure. The iPhone XS has an improved Face ID with a faster Secure Enclave and smarter algorithms.
The iPhone XS is the first iPhone to launch with dual-SIM support. It includes both a physical nano-SIM and an eSIM. It will make things easier for people who travel internationally or juggle between work and personal life.
Pricing
The iPhone XS is a direct successor to the iPhone X. The iPhone X was priced at $999 for the 64GB model and $1,149 for the 256GB variant. Now that it has just been discontinued, you can still get it at a discount at retail stores. The iPhone XS costs $999 for 64GB, $1,149 for 256GB, and $1,349 for the 512GB variant.
The iPhone XS is merely an incremental upgrade over its predecessor. If you own the 2016 iPhones or older and want to buy a new one, you can go for the iPhone XS. But if you own the iPhone X, the new device isn't worth spending $1,000 less than a year after you spent $1,000 on the X. Barring a few things, the iPhone X can do everything the iPhone XS does.