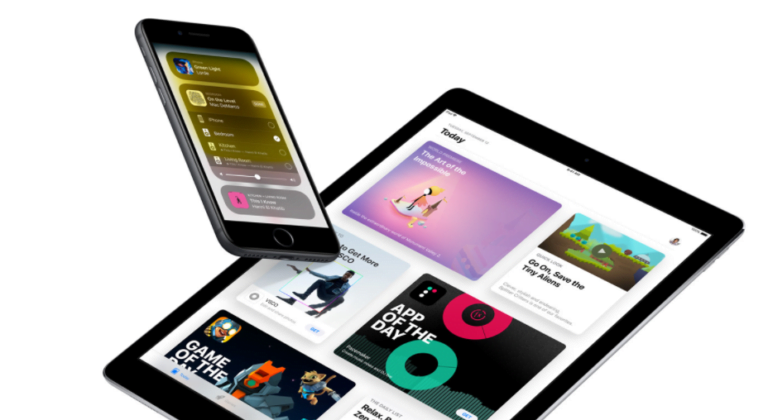 Apple has been beta testing iOS 12 software for months. It will roll out the new mobile operating system to the public later this month following the release of three new iPhones. Ahead of the iOS 12 rollout, Apple has released statistics on the iOS 11 adoption rate. According to the App Store usage data, the iOS 11 adoption has reached 85% of compatible devices. That's more than the combined adoption of last four Android versions.
iOS 11 adoption rate hits 85%
Fresh data shows that most of the compatible iPhones and iPads are running the latest iOS version available. And they will soon jump to the iOS 12. Last time Apple updated the iOS 11 adoption rate was on May 31st when the software was installed on 81% of compatible devices. The adoption rate has since slowed considerably, marking only a 4% increase, as iOS 11 became older and we moved closer to the iOS 12.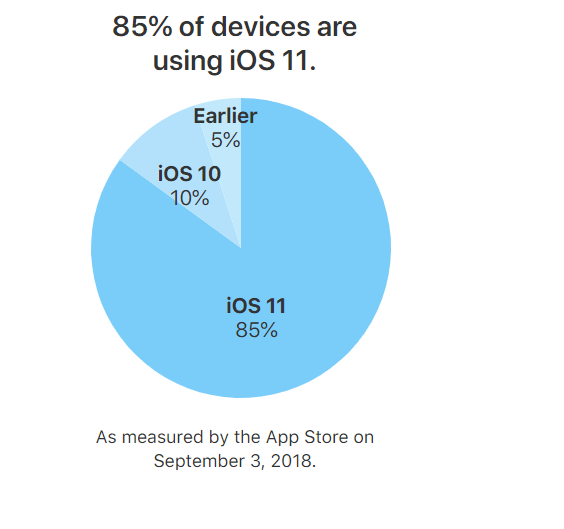 As per the App Store data, the iOS 10 is still running 10% of active devices while 5% devices are running the older versions. The iOS 11 adoption rate is impressive considering the software suffered some serious bugs and other issues at the time of launch last year. It took iOS 11 nearly two months to hit the 50% milestone, more than four months to reach 66% devices, and more than seven months to hit 75%.
This Hedge Fund Believes The New Real Estate Cycle Is "Well Underway"
Chilton Capital's REIT Composite was up 6.1% last month, compared to the MSCI U.S. REIT Index, which gained 4.4%. Year to date, Chilton is up 6.3% net and 6.5% gross, compared to the index's 8.8% return. The firm met virtually with almost 40 real estate investment trusts last month and released the highlights of those Read More
Apple did not mention what percentage of users are running the iOS 12 beta versions, though Tim Cook has told investors more than four million people were testing the iOS 12 beta, which has been around since June. The Cupertino company monitors the adoption rate by tracking the devices that visit the App Store.
The iOS 11 adoption is growing not just because people with older devices are upgrading to the latest version, but also because people are buying new iPhones and iPads that come with iOS 11 pre-installed.
The combined adoption of last four Android versions is 68%
The iOS 11 adoption is far higher than Android Oreo, which was released around the same time last year. In fact, the iOS 11 installation rate is higher than the last four Android versions combined. According to Google's Distribution dashboard, the Android Oreo is running just 14.6% of active Android devices. The search engine giant does not mention the latest Android Pie's installation rate, probably because it powers less than 0.1% of devices. Google's Distribution dashboard doesn't show Android versions running less than 0.1% devices.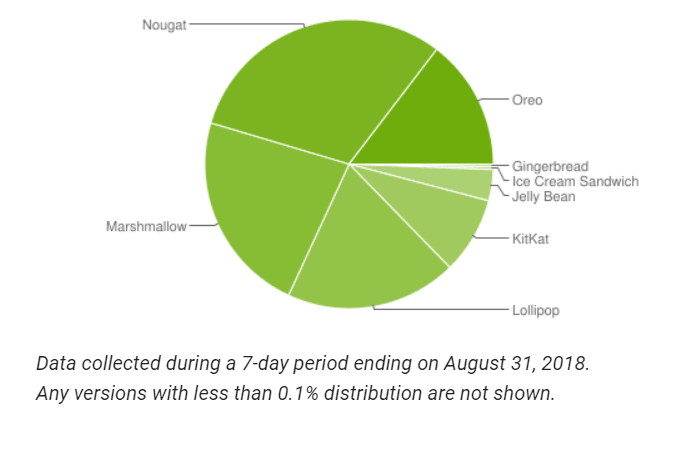 Android Nougat still runs more than 30.8% devices, followed by Marshmallow at 22.7%, and Lollipop at 19.2%. The combined share of Marshmallow, Nougat, Oreo, and Pie is roughly 68%, far below the 85% for iOS 11. The differences between the two operating systems are largely because Android devices are made by multiple OEMs. And not all Android vendors push out the software updates in a timely manner on all devices. Some mid-range and low-end Android phones never receive software updates and security patches.
Will you update to iOS 12 later this month?
The iOS 12 will become available to the public after Apple's Gather Round event on September 12. It will be compatible with a long list of iPhones and iPads including the iPhone 5S and iPad Mini 2, which were released five years ago. The iOS 12 will be free to download and install on compatible devices.
People who still own older iPhones and iPads should definitely upgrade to iOS 12 when it rolls out because it will dramatically speed up the performance on older models. Beta testing has shown that it offers much better performance than iOS 11. The iOS 12 will also bring an improved Control Center, better notifications, a revamped Stocks app, Memoji, Siri shortcuts, and Digital Health. The Digital Health feature will allow you to monitor and control the amount of time you spend on your iOS device and within individual apps.
Recently, both the developer and public beta testers were complaining that they were bombarded with notifications asking them to update to a new iOS version even when there was no update available. The notification was popping up every time beta testers unlocked their devices or pulled down the notification tray. Fortunately, Apple has rolled out another update to fix the issue.
If you haven't updated already, go to Settings > General > Software Update and you'll see the iOS 12 public beta 10 or developer beta 12 available for download. Install the update and the annoying notifications about an update that doesn't even exist will disappear.