We have come across multiple reports in the last few months suggesting that the next year's Galaxy S10 (or whatever is officially named) would sport a triple camera setup on the back and dual cameras on the front. The Galaxy S10 is still several months away, but Samsung has taken the first step towards three rear cameras with its mid-range Galaxy A7 offering. Yes, the Galaxy A7 – not a device in the S or Note series – is Samsung's first phone with a triple camera system.
Galaxy A7: Samsung's first triple camera smartphone
Samsung's mobile business chief DJ Koh indicated at the IFA trade show recently that premium specs would trickle down to the company's mid-range offerings. The move is aimed at competing against the likes of OnePlus 6 and Asus ZenFone 5Z, both of which are known for offering premium specs at mid-range prices. OnePlus, Xiaomi, Huawei, and Asus are rapidly eating into Samsung's market share, especially in the Asian markets.
The Galaxy A7 is a mid-range smartphone, though Samsung hasn't shared its pricing details yet. It boasts an impressive 24-megapixel selfie camera with an f/2.0 aperture. The front camera gets its own LED flash for low-light selfies.
On the back panel, it has three cameras in the top left corner. One of them is an 8MP ultra-wide angle lens with an f/2.4 aperture and a 120-degree field of view. The second one is a 24MP standard lens with an f/1.7 aperture, which will prove useful in low-light conditions. The third one is a 5MP depth sensor with an f/2.2 aperture. It allows you to take portrait images with blurred backgrounds
It's impressive to have a mid-range smartphone with triple cameras. Currently, Huawei's P20 Pro is the only major smartphone with three rear lenses. The Galaxy A7 will appeal to consumers in Asia who don't have a huge budget but want a phone with excellent camera capabilities.
The Galaxy A7 sports a 6-inch Full HD Super AMOLED Infinity display with 2220 x 1080p resolution. It doesn't have a physical home button or a rear-mounted fingerprint sensor. The fingerprint sensor is located on the side of the phone, another first for Samsung. It gets an unspecified 2.2GHz octa-core processor, a huge 3,300mAh battery, 4GB and 6GB RAM options, 64GB/128GB storage options, and Android Oreo software.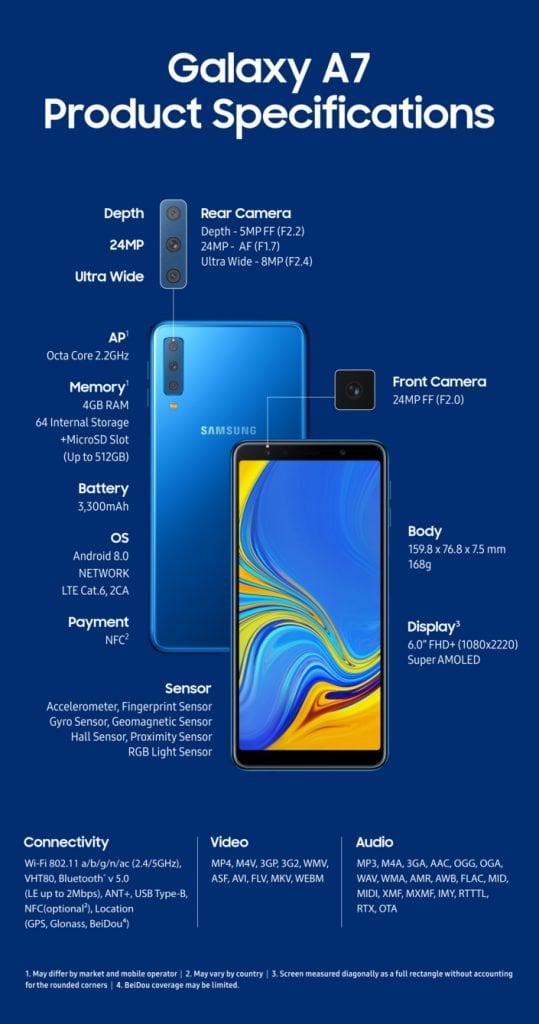 The handset will be available in four colors – pink, gold, black, and blue. It will also have a microSD card slot for up to 512GB of external memory. Other features include Dolby Atmos immersive sound, AR emojis, Bixby AI assistant, and Samsung Pay. It will go on sale later this fall in Asia and Europe. Samsung didn't mention if or when it plans to launch it in the United States.
Samsung could be testing the triple camera system with the Galaxy A7 before bringing it to the Galaxy S10 next year. According to AllAboutSamsung, the Galaxy S10 rear camera system would consist of a 12MP main lens with variable apertures, a 13MP telephoto lens, and a 16MP ultra-wide-angle lens. The cameras will reportedly be arranged horizontally on the back panel. On the front, there would be a 12MP main lens and a 16MP ultra-wide-angle lens.
There will be four different Galaxy S10 models
Earlier this week, XDA Developers discovered references to the Galaxy S10 in the Android 9.0 Pie firmware for the Galaxy S9 Plus. According to the firmware, Samsung will launch four models of Galaxy S10 with slight differentiation. The cheapest model would have a 5.8-inch Super AMOLED Infinity display, a side-mounted fingerprint reader similar to Galaxy A7, and a single camera on the back.
The second model would be a direct successor to the Galaxy S9 with a 5.8-inch display, dual rear cameras, and an ultrasonic fingerprint sensor. The third one would be the Galaxy S9 Plus successor with triple cameras, a 6.44-inch display, an ultrasonic fingerprint sensor, and dual selfie cameras. The fourth variant would be identical to the Galaxy S10 Plus, but it will offer 5G support instead of 4G LTE.
All the four models are expected to run the same Snapdragon 8150 or Exynos 9820 processors depending on the market. The US will likely get the Snapdragon variant. According to the rumor mill, both the chips will be based on the 7nm manufacturing, which should boost their performance and energy efficiency. It's worth pointing out that these are just rumors, and they should be taken with a bit of skepticism.
Samsung is expected to unveil the Galaxy S10 at the Mobile World Congress (MWC) in late February 2019.