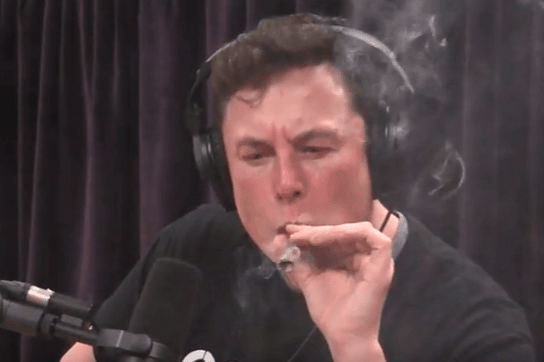 The US Securities and Exchange Commission (SEC) has filed a lawsuit against billionaire CEO of Tesla. The regulator said at a press conference Thursday that Elon Musk had made "a series of false and misleading statements" on August 7th regarding taking Tesla private at $420 per share (which has a weed link). The regulator is not only seeking unspecified monetary penalties but also has requested that a judge bar Elon Musk from serving as a director or officer of any public company. In short,  Musk's "funding secured" tweet has come back to haunt him in a big way.
SEC accuses Elon Musk of securities fraud
Following the regulator's explosive press conference and lawsuit, Tesla shares plunged more than 13% in after-hours trading to $267. Tesla investors were already worried about the EV maker's ability to ramp up production of its mass-market cars. Now the SEC has accused Tesla CEO of securities fraud. The regulator said in its complaint that Musk's statements "created the misleading impression that taking Tesla private was subject only to Mr Musk choosing to do so and a shareholder vote."
The US financial regulator alleged that Musk "had not even discussed, much less confirmed, key deal terms, including price, with any potential funding source." It caused a "significantly confusion" in the market and harmed investors. Stephanie Avakian, co-director of the SEC's enforcement division, said, "Taking care to provide truthful and accurate information is among a CEO's most critical obligations. That standard applies with equal force when the communications are made via social media or another non-traditional form."
This Tiger grand-cub was flat during Q2 but is ready for the return of volatility
Tiger Legatus Master Fund was up 0.1% net for the second quarter, compared to the MSCI World Index's 7.9% return and the S&P 500's 8.5% gain. For the first half of the year, Tiger Legatus is up 9%, while the MSCI World Index has gained 13.3%, and the S&P has returned 15.3%. Q2 2021 hedge Read More
On August 7th, Elon Musk shocked the Wall Street and the automobile industry when he announced on Twitter that he was considering taking Tesla private at $420 per share. "Funding secured," said Musk. Tesla stock skyrocketed after the tweet before falling back slightly as doubts and questions arose. Just a few days later, Musk ditched that plan, listing his reasons in a blog post.
Am considering taking Tesla private at $420. Funding secured.

— Elon Musk (@elonmusk) August 7, 2018
Apparently, Musk had a meeting with three members of Saudi Arabia's sovereign wealth fund at Tesla's Fremont facility. During the meeting, one of the members of the sovereign wealth fund expressed interest in taking the EV maker private. Musk took it to mean the wealth fund had laid out the proposal for a "standard" going-private transaction.
Just minutes after Musk posted the "funding secured" tweet to his 22 million followers, Tesla's head of investor relations sent a text to the company's chief of staff asking, "Was this text legit?" The regulator has alleged that Musk didn't discuss the content of the statements with anyone prior to tweeting them. "He did not inform Nasdaq that he intended to make this public announcement, as Nasdaq rules required."
Musk picked the $420 price with weed reference to amuse his girlfriend
Wondering how Elon Musk reached the $420 per share price when he hadn't even discussed the terms of the deal with the Saudi wealth fund? Steven Peikin of the SEC alleges that Musk arrived at that price by assuming a 20% premium over the company's then share price and then rounding it up to $420 because of that number's significance in "marijuana culture and his belief that his girlfriend would be amused by it."
The 20% premium is considered pretty standard when taking companies private. After accounting for the 20% premium, the share price came in at $419, which Musk rounded up to $420. The Tesla CEO thought his girlfriend – Canadian rapper Grimes – would "find it funny, which admittedly is not a great reason to pick a price." Earlier, rapper Azealia Banks had released texts between Grimes and herself, where Grimes wrote, "he rounded up to 420 for a laugh and now the sec is investigating him for fraud."
Elon Musk responds
In a statement to Bloomberg, Elon Musk said the SEC's action was "unjustified" as he acted in the "best interests of truth, transparency and investors." He didn't dispute the reference to weed, though. A "deeply saddened and disappointed" Musk added, "Integrity is the most important value in my life and the facts will show I never compromised this in any way." Tesla's board also issued a statement saying they were "fully confident in Elon, his integrity and his leadership of the company."
However, the regulator left no stone unturned in highlighting Musk's erratic behavior, and his reference to the marijuana culture in the 'funding secured' tweet to amuse his girlfriend was not the only one incident. He has threatened to "burn" short-sellers targeting the Tesla stock. A few weeks ago, he smoked weed on a live podcast with comedian Joe Rogan.
The SEC's accusations are pretty serious considering they have charged Elon Musk under Rule 10b-5 of the Exchange Act. The regulator uses the same charge to target market manipulators and inside traders. They could also get a judge to permanently prevent Musk from serving as a director or officer. The charges could force Musk to reach a settlement at the earliest.
Even before filing the lawsuit over the 'funding secured' tweet, the regulator was investigating Tesla over its car sales projections. The company has failed to meet its own projections quarter after quarter. The Justice Department is also probing whether Musk misled Tesla investors.