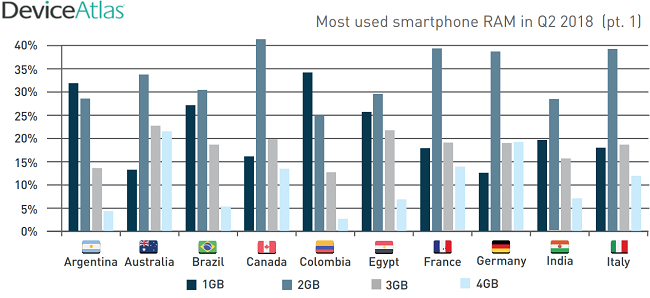 The latest DeviceAtlas shows how feature phones are making comeback, and how they've impacted the OS landscape in India and the US. It also reveals the popularity of Dual SIM devices across the globe, hot on the heels of iOS 12 supporting the feature.
There's also statistics for Android developers on SDK versions and device capabilities, and a look at the most commonly found smartphone hardware specifications, including CPU, GPU and RAM.
Q1 2021 13F Round-Up: Notable Hedge Fund Changes
Below is our 13F roundup for some high profile hedge funds for the three months to the end of March 2021 (Q1). Q1 2021 hedge fund letters, conferences and more The statements only include equity positions as 13Fs do not include cash and debt holdings. They also only include US equity holdings. Funds may hold Read More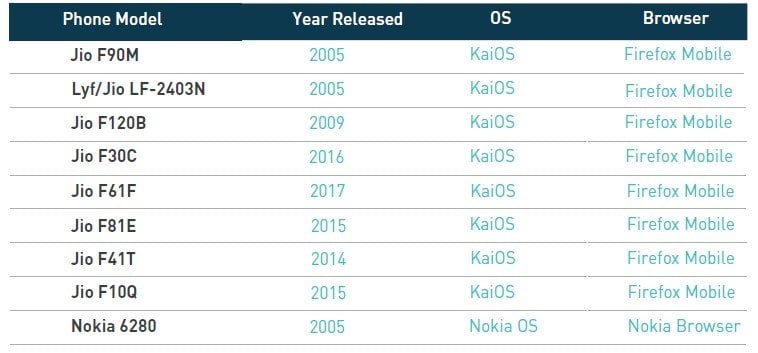 Q2 hedge fund letters, conference, scoops etc
Older feature phones are still in use
Android GO is Google's attempt to elbow into the lower-spec, lower-price smartphone markets. Alongside their $22 million investment in KaiOS, it highlights the importance of catering to a wider market for smartphone manufacturers.
The report shows that in the US, phones released in 2005 and 2009 are the most used in the "feature phone" category, with Nokia's particularly popular. In a market where 99.8% of smartphones are either Android or iOS powered, the numbers remain small, but may increase sharply as more up-to-date, "smarter" devices hit the market.
Feature phone use continues to rise in India, where KaiOS now commands 16% OS share, and has eaten in to smartphone market share, relegating iOS to third place in the list of the most used mobile OS.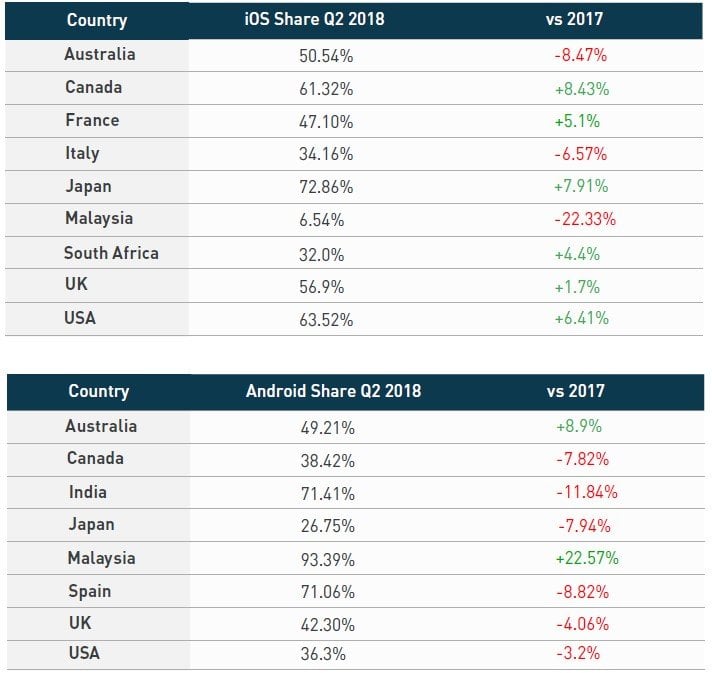 The OS landscape
KaiOS continues to grow in India, where both Android and iOS lose ground.
iOS increased its market share in Canada, France, Japan, South Africa, the UK and the USA. It lost out in Malaysia and Australia, however.
Android saw some positive movement in Australia and Malaysia, but lost market share in India, Japan, Canada, Spain, and the UK and US during Q2 2018.
The report details smartphone OS share across 21 countries.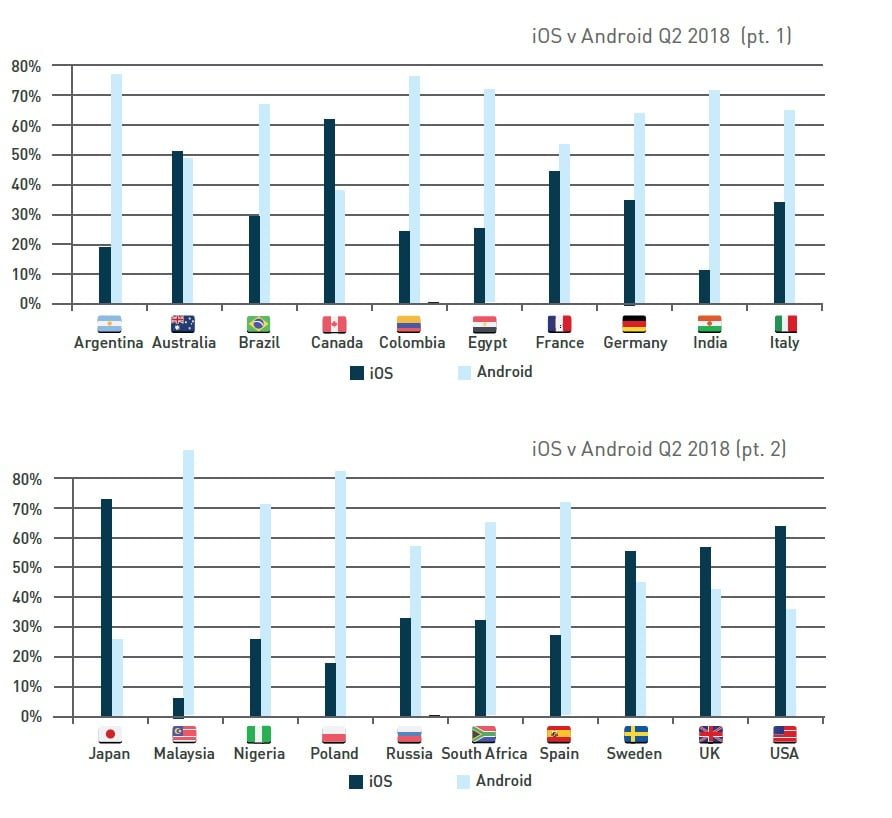 Where are Dual SIM phones most popular?
With iOS 12 adding Dual SIM support, the report highlights where such devices are popular, and where users don't seem too interested in the feature.
Dual SIM smartphones are least used in the USA, with only 2.9% of mobile web traffic in our data being driven by Dual SIM devices. Canada (3.3%), and the UK (9%) were also near the bottom of the list.
In Malaysia, 84.9% of all devices in our data offered Dual SIM support. In India, it was 61.58%. Other notable countries are Poland with 43.4%, Nigeria at 46.17% and Brazil on 43.23%.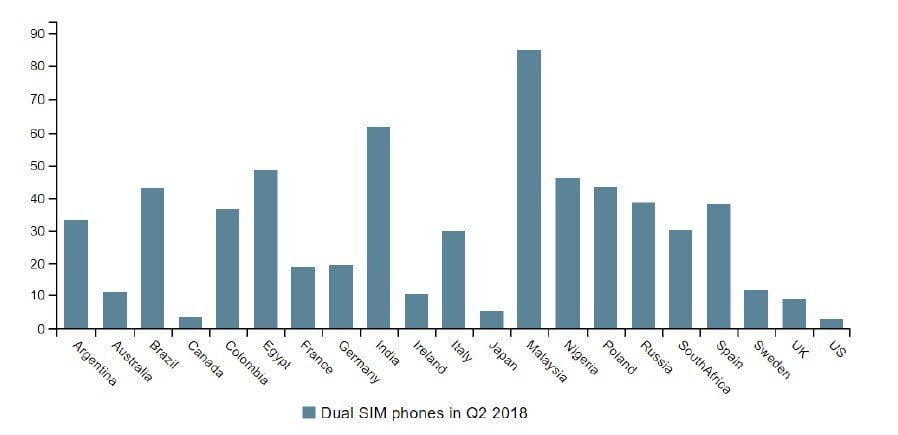 Device hardware - why it's good to know
The report lists the most common CPU, GPU and RAM specs for smartphones across the globe, as well as providing examples of how hardware performance can affect the success of your app, game, content, website, or whatever it is your users want to see.
Whether you provide resource-heavy HD video interactive games and apps, knowing when a device may not handle the full experience allows you to scale back and avoid a poor user experience. At the other end of the scale, a high-powered device can enjoy the full fruits of your labour with minimal risk of crashing or sluggish performance, better for both the user and the creator, publisher or provider.
The world's most used CPU is the Cortex-A53, used in a range of Qualcomm Snapdragon SOCs (System on Chip).
The most used CPU is the PowerVR GT7600, seen in the iPhone 6 range and many iPads.
2GB of RAM is still the most common, despite the rise of 4GB and higher in the previous year.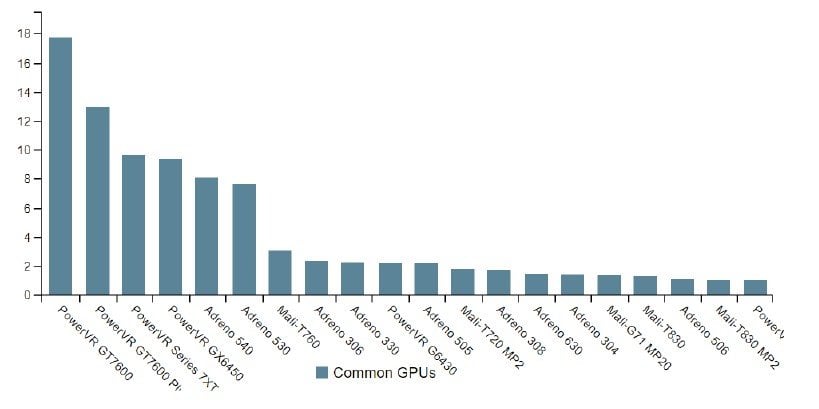 Helpful statistics for Android app developers
For Android developers, the report also features statistics around hardware and performance across all continents.
For example, supporting API 14 (Ice Cream Sandwich) as the minimum will allow your application to be accessed by 99.5% of the European Android market. Setting the minimum to API 24 (Nougat) will reduce this reach to 57.1%.
These statistics are replicated for older Android devices, the year of release (device age), available CPU cores and screen size – all important factors to consider when planning an app, from development to promotion.
According to Martin Clancy, Head of Marketing for DeviceAtlas, "The report underlines the fact that web publishers and service providers ignore users on less powerful devices at their peril. The growth in feature phone traffic in India, Google's KaiOS investment, and Apple's moves to support Dual-SIM devices shows they are keen to support demand for cheaper devices, not just in emerging but also home markets."