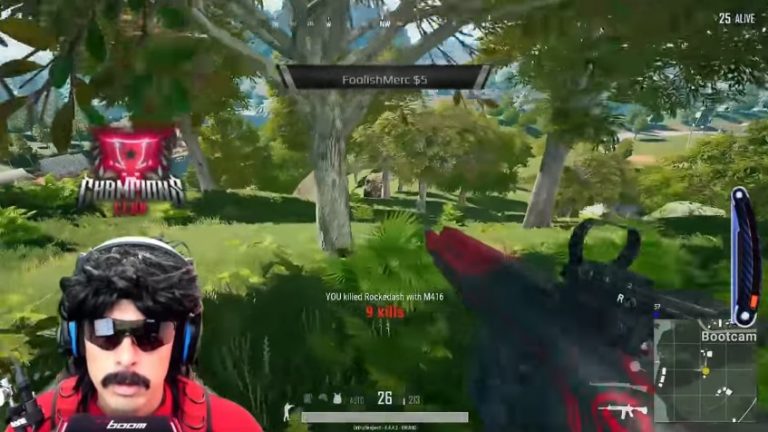 Someone apparently shot at Dr. Disrespect's house while he was streaming his gameplay on Twitch. According to multiple media outlets, local authorities are investigating a shooting at a residence that reportedly belongs to him.

Dr. Disrespect's house shot at twice already
Guy "Dr. DisRespect" Beahm is a gamer and a streamer on Twitch who gained popularity playing battle royale games like Fortnite. A gunman shot at Dr. Disrespect's house during a live-stream on Tuesday. Polygon reported that after the noise from the gunshots, Beahm stepped away from his computer, only to return a few seconds later to announce that he was ending the stream early due to the incident so he could be with his family.
"I've got to end the broadcast right now, someone shot at our house," Beahm said in the clip shared by Polygon. "Broke the f**ing upstairs window. This is the second shot, someone shot yesterday, at our f***ing house and someone shot again right now, connected with the house, upstairs."
London Value Investor Conference: Joel Greenblatt On Value Investing In 2022
The first London Value Investor Conference was held in April 2012 and it has since grown to become the largest gathering of Value Investors in Europe, bringing together some of the best investors every year. At this year's conference, held on May 19th, Simon Brewer, the former CIO of Morgan Stanley and Senior Adviser to Read More
Polygon reported that a spokesperson for a local sheriff's department in southern California said the identity of the person who called in the report of shots fired at his residence can't be officially revealed at this time. However, the person reportedly matched Guy Beahm's description. Authorities also confirmed this was the second report of a shot fired at the person's house.
While a deputy was dispatched to investigate the shooting, no medical assistance was requested on the call, according to Polygon. The call reporting the gunfire was placed around 1:30 p.m. Eastern.
The initial clip of the live-stream was shared and quickly spread around Twitter and Reddit. Some find it interesting that Dr. Disrespect's house was shot at less than a month after the mass shooting at the Madden NFL gaming tournament in Jacksonville, Fla.
Beahm hasn't said anything else about the incident other than a tweet posted late Tuesday night:
The Doc and family appreciate everyone's concerns and well wishes.

Thankfully no one was hurt. The situation is being handled appropriately.

In the meantime, stream will resume tomorrow according to schedule.#FirmHandshakes

— Dr DisRespect (@DrDisRespect) September 12, 2018
Updated on