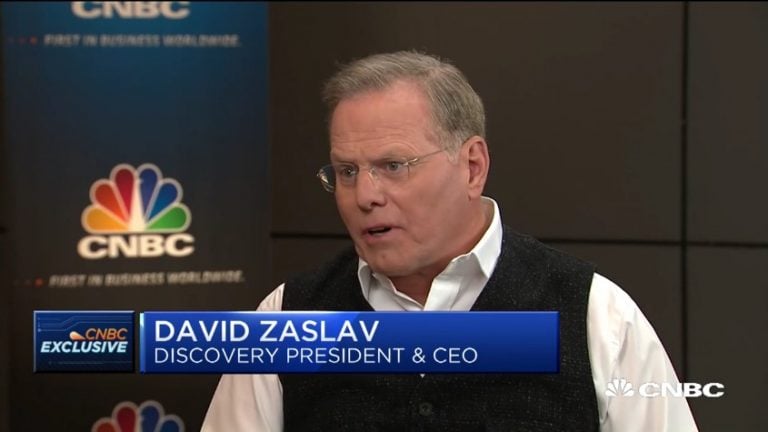 The following is the unofficial transcript of a CNBC EXCLUSIVE interview with Discovery President and CEO David Zaslav, and CNBC's David Faber on CNBC's "Squawk on the Street," today, Wednesday, September 12th, live from Goldman Sachs Communacopia Conference.

Q2 hedge fund letters, conference, scoops etc
The following is a link to video from the interview on CNBC.com:
How Value Investors Can Win With Tech And "Fallen" Growth Stocks
Many value investors have given up on their strategy over the last 15 years amid concerns that value investing no longer worked. However, some made small adjustments to their strategy but remained value investors to the core. Now all of the value investors who held fast to their investment philosophy are being rewarded as value Read More
Discovery CEO David Zaslav on Hulu, Sling TV deals
Discovery CEO on Hulu, Sling TV deals from CNBC.
All references must be sourced to CNBC.
David Faber: welcome back to "squawk on the street." I am David Faber at Goldman Sachs' annual Communacopia conference. Starting off our guests this morning with David Zaslav, the CEO of Discovery, who is joining us here. And has some news as well, we should share. It's been out for about an hour or so, David.
David Zaslav: right.
Faber: Hulu and discovery announced what you're call comprehensive partnership for live and for on demand programming. You're joining their virtual MVPD.
Zaslav: right.
Faber: you've been under some pressure from investors. I was looking at the calls: "hey, when are you going to be on more of these bundles?" – you're doing it today. Why, and how long did it take to get here?
Zaslav: first, Randy Freer who has taken over at hulu – great guy – really focused on providing quality content that people love on their MVPD service. So we structured a deal where we now have eight channels on Hulu, which is a big deal for us because we want to be on every bundle. Outside the u.S., we're on every bundle. And I've been saying for a long time, you know, we have great content. We're the second largest TV company in America. We reach more women than any media company. And so if you're going to offer a package of services, you have to have HG, and food, and id, and. And so we have been knocking on the Hulu door. And it is a big deal for us because not only do we have eight channels on Hulu but we also offer a lot of our contents so people will be able to catch up on a lot of favorite series there. They're embracing the idea of non-fiction being compelling. And so it's a very big moment for us.
Faber: now they had three of the scripps networks, but they're adding five of your – well, it's all discovery now, of course.
Zaslav: together now we'll have eight channels.
Faber: what do the economics of a deal like this look like? Should I – should we consider them to be similar to what they would look like with your typical distributor?
Zaslav: they are favorable. They have to be because in our industry we have these structured – deals, and also our bread and butter is our existing distributors that are providing 20, 25 million subscribers. And so by definition we need to make sure that we got a favorable deal. And so we were able to do that with hulu. We think that we're going provide a lot of values to them. People wanted to see our channels. Now they'll be able to.
Faber: are people watching hulu? Are they watching this thing? I just wonder because obviously subscriber fees are great but you want advertising. Are there any ratings available? I mean, are they actually aggregating audience on these things?
Zaslav: well, look you should have randy on. He's a great guy.
Faber: yeah, I'd love to.
Zaslav: but they have almost a million subscribers. They're very big in SVOD. And for us at least -- we are now, it is just another platform that we are on. We are platform agnostic. There's a hipness to them. They have a younger demo. And our content we think now will do really well for them. People really wanted it and now they get to see it.
Faber: well, you know, I keep on hearing it -- again, I was reading a lot of your calls, obviously I know what's going on. Generally investors have been pushing this. So are there other potential deals, have you done a deal perhaps with sling – which is another big one out there? I know you're on a number of them already, at&t watch, you were already eight of the thirty networks available. But what about something like a sling?
Zaslav: well, there has been some real question about sling and dish. And just by things coming together, this is you know, a big moment for us as a company. We have a very big carriage deal which you saw roll out with DirecTV where we're eight of their 30 channels. And we have a very strong relationship with Stankey and with Randall. And with all of our existing distributors, whether it be Comcast or Charter, they've been real supporters of us. We did have a deal coming up with charlie, and effective before the end of the year --
Faber: Charlie Ergen with dish.
Zaslav: Charlie Ergen with dish. And effective before the end of this year, that deal will be extended. It is extended but it happens – it will be effective before the end of the year where our existing dish deal will go forward with favorable economics, favorable we think for charlie because our channels have gotten better and are growing big audiences. As part of our traditional deal, not only will all of our channels be carried but we'll get more carriage for some of our channels that are doing particularly well with our dish audience. Separate from that, we have a commitment that we'll be carried on sling before the end of the year. And we'll be carried on sling orange as well as sling blue. And so as a company now, as a content company, we look at ourselves and say "how are we doing on in terms of skinny bundles? How are we doing in terms of getting carried on all platforms?" with the hulu deal and now with the sling deal effective before the end of the year, is we hit the end of the year in '19.
Faber: you will be virtually all of – almost all of them. Right?
Zaslav: we will be on virtually every one.
Faber: not YouTube. I don't think you're on that --
Zaslav: we're not on YouTube yet. But we're on virtually every – we're on everybody else.
Faber: and you try again, I mean – you, spend a lot of time, though, talking about direct to consumer. I remember when the Scripps deal happened and you talked about the power of these networks and the fact that you could take direct to consumer. Given you are doing all of this, it would seem to direct to consumer is kind of put on the back burner. Is that true?
Zaslav: well, before direct to consumer, one of the advantages that we think is when you look at like a DirecTV where we have eight channels of 30, or we get eight channels on hulu.
Faber: you're on "DirecTV now." we should point that out.
Zaslav: "DirecTV now." yeah. As these skinny bundles roll out, which we have been calling for aggressively, because this is the only country that's kind of overserved with broadcast, retrans, sports --
Faber: you've always said, sports comes in and ruins it because it makes it so expensive.
Zaslav: skinny bundles are great for consumers. But they're also great for us. We're the second largest tv company. We get about 20% of viewership on cable on any night.
Faber: yep. Second to nbc, we should point out.
Zaslav: and on many nights, we have -- a third of all the women watching TV are watching one of our channels. Now go to a skinny bundle, where instead of 150 channels or 200 or 300, there's 30 or 40 channels. In those environments outside of the u.S., in many cases where you are getting 40% or 50% of viewership. So the skinny bundles are great for consumers, because it gives them a lower entry point, or for those who don't sports don't have to pay for it. But for us, it gives us a chance not just to be viewed in an aggressive way, but to have broad carriage. And so, we sit here today we're almost on every platform in America, we're basically set. So now our mission is to continue to grow HG and food and id and discovery. And if we do that, I think that we're going to have a much healthier outlook here in the u.S. Now that we are carried on the skinny bundles.
Faber: so I'm not going to hear too much from you on direct to consumer is what I hear you saying.
Zaslav: well the thing about us is that we're a different kind of media company. You know, we own all of our content. We have 18 channels here in the u.S. We're the largest international media company. But we own all of our content everywhere in the world. And that allows us, if we wanted to, to take all of our content and go direct to consumer here in the u.S. It allows us to go with some of our individual brands, you know, like we're doing with motor trend and velocity. We announced earlier this year that we're going to do a global deal with the PGA, we're going to have some more announcements with that, but we are taking golf on globally. So we have the ability, David, whether it's broadly with all of our content, or in a narrow, niche basis, to offer our content direct to consumer, either ourselves or with the big fang companies or with regional distributors.
Faber: I want to get to the bigger picture here which you referenced, in the few minutes left now David. I remember discovery, as many do, as a very fast growing company. That's not the case anymore. You are not growing nearly at the rates you did a number of years ago. You are still growing, I don't mean to say you are not. Not subscribers but everything else. But you are talking about free cash flow at some point of $3 billion.
Zaslav: right.
Faber: not in fiscal year '19, but I mean you're going to put your CFO in the attic right now in the Brady Bunch House if he doesn't deliver the $3 billion at some point. Right? So what happens –
Zaslav: it's gonna come soon. Right?
Faber: so what happens: you are paying down debt, you are going to get down to three and a half times leverage at somepoint in the not too distant future I guess.
Zaslav: we'll be below – we'll be at four times or lower of net leverage before the end of this year or by the end of this year.
Faber: right.
Zaslav: so our strategy is get to 3.5 by paying our debt down. And then we see a path not too far away to get to $3 billion. And that's not our end goal. It's just a near term target. Let's get to $3 billion in free cash flow. That makes us a free cash flow machine. And --
Faber: so what do you do with those free cash flow once you're longer paying down debt? I guess that's what I wonder. If you're not a growth company, what do you do? What do you do? You're not buying back stock.
Zaslav: I wouldn't say we are not a growth company. Number one, we've already said our advertising is going to accelerate several hundred basis points next quarter versus where it was. So we're going to go from seeing very low advertisement growth to seeing some meaningful advertisement growth. We expect that will continue for third and fourth quarter. We -- I can reiterate today all of our second quarter guidance which was meaningful in terms of the kind of growth that we'll see through the end of this year and next year. The trends we are seeing are favorable. The advertising market is very strong. We were strong in the upfront. We own all of our content. And our cost of content is —
Faber: unlike sports –
Zaslav: -- under control. And we're now --
Faber: meeting your target of 3 billion in free cash flow. My question is what do you end up doing with it? You know media companies over the last few years as you well know – you bought back an enormous amount of stock - that's been beneficial but nobody would say that necessarily aided their growth.
Zaslav: so what the $3 billion gives us is probably something that no other media companies has. It gives us full flexibility. We can invest that 3 billion or 3 billion plus in initiatives that we have like a global PGA initiative or owning golf around the world or owning sports in Europe, we are the leader in sports, launching more channels around the world, going directive consumer more aggressively. So we have the flexibility of seeing what's working, we can invest more. Two -- we have the ability to do m&a, because we'll be below three and a half times leverage. I mean, think about the idea we bought the $15 billion company. We integrated it. We're now showing better growth than any other media company. We're on every skinny bundle. We're the largest international media company. We're the largest sports company in Europe. And we're going to be less than 3.5 times leverage, you know, pretty quickly. We will have digested that company and we're off and running. And so – and then we can buy back our stock, which we are looking at right now, and we're thinking based on what we look like here in the u.S. And how we are growing. For instance, in the last quarter, we were down 1%. The rest of the industry was down between 8% and 9%. We are already the second largest TV company in America. When our peers are declining at 7%, 8%, 9% - which is where the broadcasters are – and if we're essentially holding our own because we have brands that people love and we are doing a good job. There are a lot of our channels are actually growing our ability to grow our share in the u.S. Is going to continue to accelerate and our ability to deliver advertisers, which we saw in the upfront, a broad reach of women and men across America. People think discovery is an advertisement cable company. We are much broader than that.
Faber: alright, we've got to end it there.
Zaslav: do we have to?
Faber: yeah we do. I mean, we could go on all day.
Zaslav: it is great to see you.
Faber: and you. Congrats on the Hulu deal and the sling deal.
Zaslav: and the sling deal!
Faber: David Zaslav, CEO of discovery. Guys, back to you.
Updated on