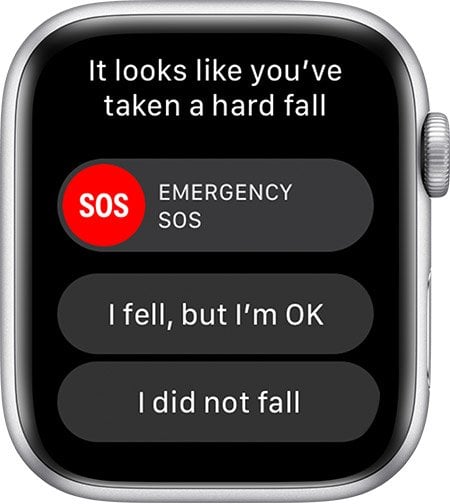 The Apple Watch Series 4 comes with several new health features, but one feature that stands out from the rest is the ability to detect falls and call 911. Though the Apple Watch Series 4 fall detection appears very useful, it may get you in trouble.
What is the Apple Watch Series 4 fall detection
The Apple Watch Series 4 fall detection feature is programmed to call emergency services if it detects that you have had a bad fall. Before calling 911, the watch will send several alerts, like ringing a loud alarm, showing a visual alert and tapping the wearer on the wrist.
These alerts will also give users the option to immediately call an "Emergency SOS" or click notifications like "I did not fall" or "I fell, but I'm OK" to keep it from calling 911. However, if the watch detects that the wearer is "immobile for about a minute," it will start a 15-second countdown. If the user is moving, the watch will wait for a response, but if not, then after the 15-second countdown, the Apple Watch will contact emergency services, which will use mobile phone data to track the wearer.
Option Trading and the Future of Option Alpha with Option Alpha's Kirk Du Plessis
ValueWalk's Raul Panganiban interviews Kirk Du Plessis, Founder and CEO of Option Alpha, and discuss Option Alpha and his general approach to investing. Q1 2021 hedge fund letters, conferences and more The following is a computer generated transcript and may contain some errors. Interview with Option Alpha's Kirk Du Plessis
How the Apple Watch Series 4 fall detection may get you in trouble
So far, the feature sounds extremely helpful, but one law expert brought up the other side of this feature: by inviting police into your home, a user may expose themselves to criminal liability.
"Consider: your watch (accidentally) alerts the police to check on you: 4th Amend. community caretaking exception means they can enter your home w/o a warrant. Plain view means they may seize contraband/evidence of a crime," tweeted Elizabeth Joh, a law professor at the University of California.
In other words, it implies that if police are alerted as a result of the Apple Watch Series 4 fall detection, they won't need a warrant to enter your home due to the "community caretaking" exception to the Fourth Amendment. It means police can enter your private space if alerted by the Apple Watch because they will believe you need emergency assistance.
Consider this scenario: if police enter a home and find a few joints on the table after the resident's Apple Watch sent a signal to call for help, they might then be charged with felony drug possession.
Many are now asking Apple to change the Apple Watch Series 4 fall detection to make it only call the user's emergency contact and leave it up to them whether or not to call 911. So far, Apple has not commented on this, but considering how serious the company is about user privacy, it may make the change.
Does the feature work as intended?
The Apple Watch Series 4 fall detection feature uses the device's gyroscope and accelerometer to detect falls. The fall detection is enabled by default for users who have set their age on the Apple Watch or in the Health app and are over 65. Others who want to use the feature will have to enable it from the Emergency SOS section of the Apple Watch app.
Meanwhile, many YouTube users tested the fall detection feature over the weekend to see if it actually works and how hard a fall must be be to trigger an alert. Based on the YouTube videos, when the wearer falls onto softer surfaces like foam or carpet, the fall detection feature triggers no alarm. However, a fall onto a harder surface often triggers the feature.
It must be noted that the testers were not able to trigger the feature with every fall, suggesting there might be a margin of error. In its support documents, Apple admits that the Apple Watch may not detect all falls and warns that false positives are possible.
"The more physically active you are, the more likely you are to trigger fall detection due to high impact activity that can appear to be a fall," the Apple document states.
To develop the algorithms for the Apple Watch Series 4 fall detection, the company says it collected data from thousands of people. Apple claims its algorithms are able to detect both backward falls with wrists up and also forward-facing falls with wrists out.