What the activism world is talking about
Mario Cibelli's Marathon Partners Equity Management sent a letter to the board of cosmetics company e.l.f. Beauty last week, urging the firm to refocus on core operations or sell the company. In the letter, the activist claimed the board lacked urgency and that investment firm TPG Growth's interests are overrepresented in the boardroom.
The activist explained that TPG's influence is shaping the board's agenda to benefit the investment firm at the expense of the company's broader shareholder base. Marathon wants e.l.f. to add new board members who aren't affiliated with TPG. The firm believes this will bring a new perspective to the boardroom on discussions regarding shareholder value.
Seth Klarman Tells His Investors: Central Banks Are Treating Investors Like "Foolish Children"
"Surreal doesn't even begin to describe this moment," Seth Klarman noted in his second-quarter letter to the Baupost Group investors.  Commenting on the market developments over the past six months, the value investor stated that events, which would typically occur over an extended time frame, had been compressed into just a few months. He noted Read More
Q2 hedge fund letters, conference, scoops etc
The activist investor also said executive compensation is excessive in the context of the current results and poor share price performance. Marathon demanded the board cut back on executive compensation to further reduce overheads.
What we'll be watching for this week
Will Tartisan Nickel shareholders vote in favor of Belgravia Capital's majority slate so that the activist investor can delist the company's shares?
The second round of offers for Athenahealth started yesterday. Will the firm receive any bids that top Elliott Management's $160 per share takeover proposal advanced earlier this year?
Will shareholders vote to change Macquarie Korea's manager, as proposed by activist investor Platform Partners?
Activist shorts update
A Greek court extended an injunction to protect short seller target Folli Follie's assets from creditors, as the jewelry company continues to face regulatory scrutiny over the accuracy of its finances. A group of creditors has been trying to get the injunction lifted to settle loans, but the company is seeking to instead reach an arrangement with them and produce a restructuring plan once the financial audit is over.
The injunction was put in place after activist short seller Quintessential Capital Management accused the company of vastly overstating the size of its Chinese business. The short seller said that the company's business in China may be worth $50 million instead of $1 billion as it had claimed, kick-starting an independent review into the company's finances by the Greek market watchdog.
To arrange an online demonstration of Activist Insight Shorts, email us or view our product brochure to find out more.
Chart of the week
The number of Canada-headquartered companies publicly subjected to activist demands (between January 1 and September 14 of each year).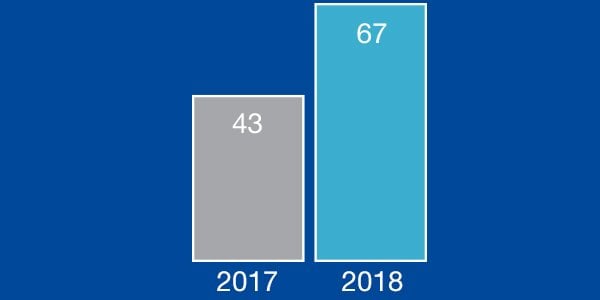 Article by Activist Insight