Livermore Partners commentary for the second quarter ended June 30, 2018.
Q2 hedge fund letters, conference, scoops etc
Coho Capital 2Q20 Commentary: Podcasts, The New Talk Radio
Coho Capital commentary for the second quarter ended June 30, 2020. Q2 2020 hedge fund letters, conferences and more Dear Partners, Coho Capital returned 46.6% during the first half of the year compared to a loss of 3.1% in the S&P 500. Many of our holdings, such as Netflix, Amazon, and Spotify, were perceived beneficiaries Read More
Summer of 2018: It's all about China, Tariffs…Brent crude (along with Tesla) potentially heading to $150 by 2020.
To Partners:
2018 performance continues to be strong for Livermore Partners. Even in the face of a turbulent global backdrop, we continue to benefit from a strong US market and Brent crude pricing. Which given lack of re-investment, is finally in position to hold a strong price band($70-80/bbl) with spike potential to $150/bbl, especially given geopolitics and sanctions globally taking center stage.
The interesting dynamic today is that even with all the political discord, US equities outperformed, and remained strong in the face of a powerful US Dollar and weak emerging markets. This bifurcation allowed unique opportunities to flourish if one was positioned well. Thankfully, we were.
Therefore, I am pleased to share that as of June 30st, Livermore Strategic Opportunities LP ended with a gain of 15.44% through Q2 2018.
Much strength came from core holdings in both long and short positions. Notably, our core long positions in APAC Brent oil-producer Jadestone Energy, British-luxury brand, Burberry and the newly restructured Bank of California.
Additionally in the quarter, we began to fish for real value in the resource pond as gold entered a new bear market. Especially today as the US Dollar seems "peaky" and a possible inflation threat finally coming to light, we now have secured growing stakes in beaten down Mexican producer, Torex Gold, Exciting London-listed resource play, Solgold as well as Toronto's Detour Gold, where Billionaire and legendary investor John Paulson is now an activist.
see link:
https://www.bloomberg.com/news/articles/2018-07-26/paulson-seeks-to-replace-entire-detour-gold-board-with-own-slate
We are supportive of Paulson and feel Detour is a mis-managed organization with an extremely weak Board. We will be helpful to the process where possible. Given our new and low basis on the shares, we see a chance to profit in the short to medium term.
Jadestone
With Jadestone (JSE), our thesis continues to manifest along with very strong returns for this exciting and growing oil producer. Jadestone successfully IPO'd in London in August under the symbol, JSE LN.
see link:
https://www.alpha-week.com/news/jadestone-raises-110mn-ahead-listing-hedge-funds-rejoice
JSE executed a $200mm transformational Australian asset acquisition from Thailand giant, PTTEP. We hold a seat on the Board of Directors of JSE, added to the equity position on the raise, and continue to focus hard on its growth trajectory.
Jadestone has a chance to be a true small cap champion and the potential to be a $1B company in the face of Brent oil's uplift near $75 a barrel. Adding to this are the strong free cash flows from the new Montara acquisition, which on a proforma basis, will allow $100mm of annual FCF for a company today trading at a large discount (1.5X EV/EBITDA for 2019) to any peers. We continue to feel Jadestone is in a great position to prosper in the years ahead thru both acquisition and organic growth and reflects the strength of an excellent management team. My hats off to CEO Paul Blakeley and his team!
Burberry
Our Burberry had another strong quarter. Livermore's initial investment was justified at 1400 Pence just after Brexit in summer of 2016. Given we begun as an activist in pressing for structural and operational changes. Today, we believe the company is well-positioned for operating margin expansion and a greater focus on profitability and sales per square foot, reflecting what Livermore sees as a business that can again become a champion and generate strong returns for shareholders. We embrace new CEO Marco Gobbetti and see the turnaround having a strong chance at success. The shares are now up 20% YTD and we remain steadfast holders.
On the short side, we began to see some profits in Q2. We are an opportunistic short player and use it as a tool to hedge our long book at times, though we are event driven, so exposure can fluctuate.
Given China weakness, we have profited from select bets, such as the "much loved" Alibaba, where we see continued high cash spend on new ventures as well as a slowing consumer and weak Yuan untimely causing issue. Along with the black box of BABA as an ADR, which is very opaque on its finances... Yet, investors feel it's multiple should be on peer with other US tech titans. We don't.
Tesla
Another notable and much talked about short is Tesla, which Livermore is on the side with the bears. All I see today are many "cult like" investors hoping that Tesla is the next Apple, which I do not see occurring. It is this cult that holds the stock up (as well as the large short position of nearly 20%). This important, seeing that it is this equity that must be used as a currency to fund the massive outspend. Once that dies off, so does the vision and finances of Tesla. It is the ultimate downfall and cause of many such "bubble stocks" contingent on its equity and capital markets to fund large future capital outspend.
We are short TSLA given their large cash burn (see Bloomberg graph), negative free cash flows (nearly $4B in past four Quarters), and ever-growing debt burden. We see structural difficulties in its future. From true competition such as Jaguar and Porsche: from lack of operational execution, to its poor corporate governance, I don't understand the need to own the stock (or bonds) at today's valuation. The shares are massively overpriced given the risk/reward of what lies ahead.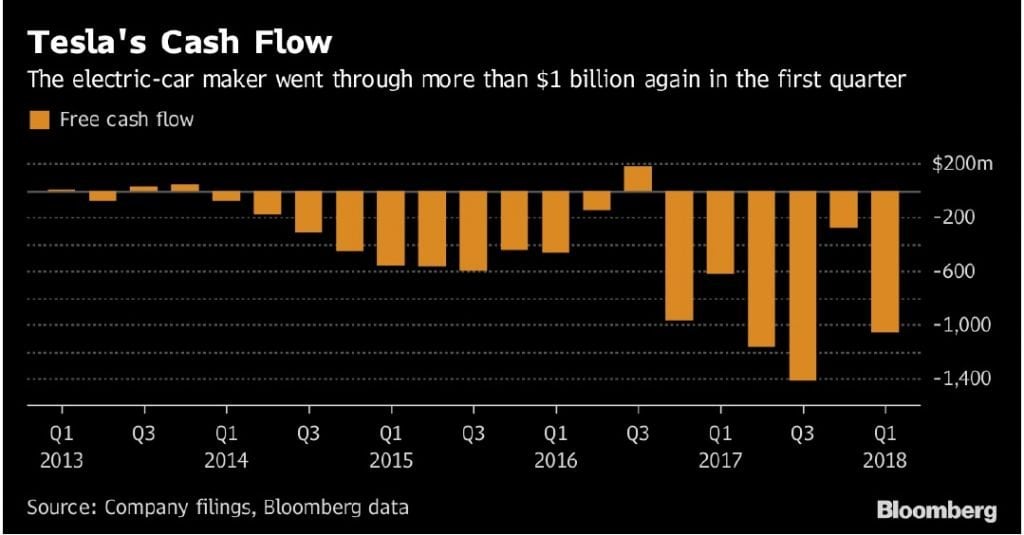 Overall, our special situation theme has been successful. So we must continue to focus on uncovering hidden value. The fundamentals of the US economy remain vibrant, although one must begin to gauge the length of the current (and ever extending) economic cycle. All the while asking the question: Just how long can this market push higher without a true correction; or potential recession?
Livermore will remain focused on specific undervalued opportunities, especially where activism is possible. To explore new paths and structures current management teams and boards are struggling with. Given the low valuation in the emerging markets and UK, we are now looking hard at select situations where we can add value and hopefully unlock upside. It is never easy, but today more than ever, it becomes a required tool. One in which Livermore looks to implement and reflect value for all stakeholders, in a mindful and methodical manner.
I thank you for all your support and will continue to work tirelessly in our pursuit.
Sincerely Yours,
David Neuhauser
Founder/Managing Director
Livermore Partners