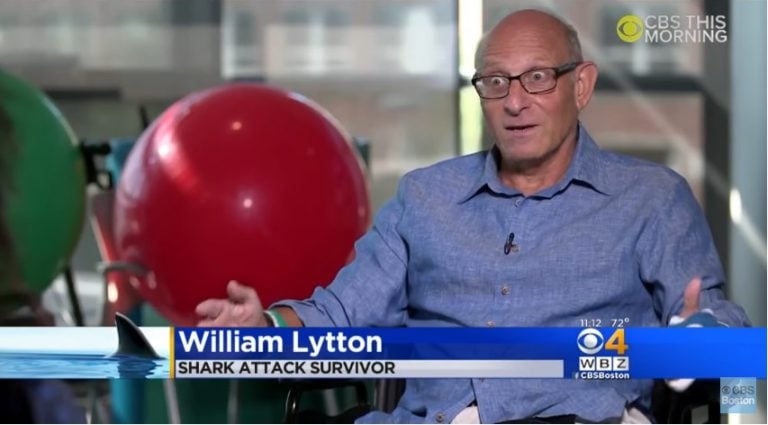 A man was attacked by what is suspected to have been a great white shark earlier this month at a Cape Cod beach. As The Associated Press reported, the shark attack victim was lucky to survive the attack and in a first interview on Tuesday, explained how he was only able to escape thanks to punching the shark in the gills.
The shark attack victim is William Lytton, 61 from Scarsdale, N.Y. In an interview with the AP he said that he was swimming a few yards away from the beach located at Long Nook Beach in Truro, Massachusetts. Suddenly the shark bit onto his leg. Scared is not a sufficient word to explain how he felt when the predator swam beneath him and bit him.
"I was terrified, but, really, there was no time to think," he told the AP in an interview after he attended a physical therapy session at Spaulding Rehabilitation Hospital in Boston.
Odey Falls -2.5% In Q2, Bets On Economic Recovery
The LF Brook Absolute Return Fund lost -2.52% in the second quarter of 2021, compared to a positive performance of 7.59% for its benchmark, the MSCI Daily TR Net World Index. Year-to-date the fund has returned 4.6% compared to 11.9% for its benchmark. Q2 2021 hedge fund letters, conferences and more According to a copy Read More
It seems that all the documentaries from the Animal Planet and other TV channels educated the 61-year-old that it is important to hit or punch the predator in the gills or nose to weaken it, because this is exactly what he did. He said that he punched the shark's gills using his left hand, resulting in three torn tendons.
"It doesn't feel like I did anything heroic," he said. "A lot of this was luck."
This move is likely what saved his life. After the animal released its grip from his leg, Lytton quickly swam back to shore, shouting for help. As police said, Lytton was around 30 yards from the shore, swimming in around 8 to 10 feet of water. Now he wears an arm cast, brace around a great part of his left leg and a lot of bandages.
Fortunately, the shark missed some important nerves and veins, resulting in no damage done to Lytton's bones, according to the trauma surgeon who took Lytton. Nevertheless, Lytton underwent eight surgeries, being given almost 12 pints of blood in the process, and hundreds of stitches were needed.
"These were extensive, very severe injuries," trauma surgeon Eric Mahoney told the AP. "He had multiple lacerations from his hip down to just above his knee that went 75 percent around his leg. In two areas they went all the way down to the bone."
Officials are still not sure whether the shark attack victim was bitten by a great white shark. However, they are studying the teeth pulled out from his leg to determine which shark it was. People reported numerous sightings of the great white shark around the same area this summer.
The last shark attack that occurred in this area was in 2012. At that time a Colorado man at Ballston Beach was bitten. He survived and during his treatment he had to receive 47 stitches.
This area is a great feeding ground for seals, so it isn't a surprise that a person was bitten by a shark, given that seals are one of the main meals for sharks. Also, several witnesses said that they saw seals shortly before the attack occurred.