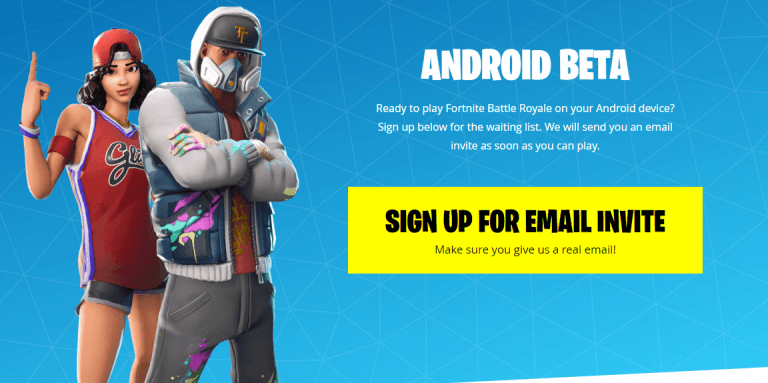 Fortnite was supposed to be exclusive to Samsung's flagship Galaxy devices for "a few days." Epic Games' blockbuster title was announced for Android alongside Samsung's Galaxy Note 9 a few days ago. People – especially those who had no interest in buying the Note 9 – are desperate to play Fortnite on their non-Samsung Android devices. Well, Epic Games has given them just the opportunity.

Sign up to get an invite for Fortnite
Epic Games has opened Fortnite beta for non-Samsung users as well, allowing interested users to install the APK files on their handsets. Of course, you have to be part of the beta program to play Fortnite. You can sign up on Epic Games website to get an invite.
You won't get the invite email immediately after signing up because there seems to be a growing waitlist, and you have to wait for your turn. Fortunately, it shouldn't take more than a couple of days after signing up to get the invite email in your inbox.
London Quality Growth Investor Conference: Buy Dassault Systemes
At this year's inaugural London Quality Growth Investor conference, Denis Callioni, analyst and portfolio manager at European investment group Comgest, highlighted one of the top ideas of the Comgest Europe Growth Fund. According to the speaker, the team managing this fund focus on finding companies that have stainable growth trajectories with a proven track record Read More
Fortnite for Android is still in beta phase, so the developer is allowing only a small number of players to play Fortnite on their Android devices. The invite method helps Epic Games control how many users are playing it while they work behind the scenes to fix the bugs.
Some smart gamers tried to sideload the Fortnite installer app on their non-Samsung Android device from a trusted source such as APKMirror. But they were still presented with the "waiting list" message when they tried to play. Remember that you'll get to play only when Epic Games lets you in.
You have to download the Fortnite Launcher from Epic Games' website. Once you have installed the Launcher app, you should be able to download the game on your device. But you won't be able to play Fortnite until you get the invite and then sign into an Epic Games account or create a new one.
Why is Epic Games bypassing the Google Play Store?
Why isn't Epic Games making the app available on Google Play Store, which would be far simpler for users? Because the developer doesn't want to give Google the 30% cut it takes from revenues generated via Play Store apps. Fortnite is currently generating more than $250 million per month on average for Epic Games, mostly through in-app purchases. The developer is going to great lengths to avoid paying a huge chunk of it to Google. Also, Epic Games CEO Tim Sweeney says the developer wants to have a "direct relationship with our customers on all platforms where that's possible."
In its attempt to bypass Google Play Store, Epic Games could expose potential users to malware and hacking attempts. The unsuspecting gamers could fall victim to fake and malicious APKs in their desperate attempts to play Fortnite on their device. In fact, there are already dozens of fake APKs circulating on the Internet. Make sure you download the game only from Epic Games' official website.
Fortunately, the company has taken a few concrete steps to protect users. As soon as you install Fortnite on your Android device, you'll get a notification asking you to disable the permissions you granted while downloading the Fortnite game. Tapping on the notification will take you directly to the app permissions section on the Settings app.
Is your device powerful enough to play Fortnite?
You won't be able to play Fortnite on just any Android device. It's a demanding game that requires powerful hardware. Also, given the variety of Android devices in the market, Epic Games can't optimize the game for all of them. Here's the list of devices compatible with Fortnite:
Essential PH-1

Google: Pixel / Pixel XL, Pixel 2 / Pixel 2 XL

Samsung: Galaxy S7 / S7 Edge, S8 / S8 Plus, S9 / S9 Plus, Note 8, Note 9, Tab S3, Tab S4

Asus: Zenfone 4 Pro, 5Z, V, ROG Phone

Nokia 8

OnePlus 5 / 5T, OnePlus 6

Razer Phone

LG: G5, G6, G7 ThinQ, V20, V30 / V30+

Huawei: Mate 10 / Pro, Honor 10, Honor Play, Mate RS, Nova 3, P20 / P20 Pro, V10

ZTE: Axon 7 / 7S, Axon M, Nubia / Z17 / Z17S, Nubia Z11

Xiaomi: Mi 5/ 5S / 5S Plus, 6 / 6 Plus, Blackshark, Mi 8 / 8 Explorer / 8SE. Mi Mix, Mi Mix 2, Mi Mix 2S, Mi Note 2
Updated on