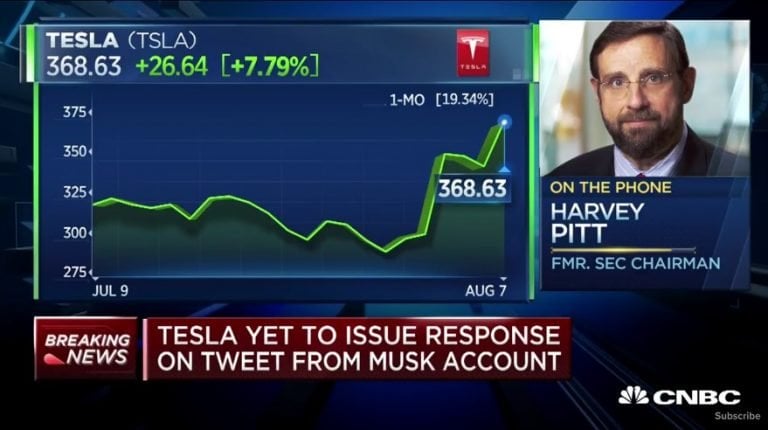 Harvey Pitt, former SEC chairman, discusses the circumstances under which Elon Musk's tweet about potentially taking Tesla private would qualify as market manipulation and securities fraud.
Q2 hedge fund letters, conference, scoops etc
Would Musk's Tweet About Taking Tesla Private Qualify As Manipulation?
Greenlight Capital Full Q2 2021 Letter: Einhorn Thinks Inflation Is Here To Stay
David Einhorn's Greenlight Capital returned -2.9% in the second quarter of 2021 compared to 8.5% for the S&P 500. According to a copy of the fund's letter, which ValueWalk has reviewed, longs contributed 5.2% in the quarter while short positions detracted 4.6%. Q2 2021 hedge fund letters, conferences and more Macro positions detracted 3.3% from Read More
Transcript
Right off the top. Do you see anything potentially problematic inMr. Musk tweeting that he he's considering taking Tesla private at four and twenty dollars a share.
Well I I do see a few things that are problematic.
But to just respond first going back in 2013 the FCC made it clear that people could use social media to disclose significant information about their companies but they have a tally out which is people have to know where the look. So that's point number one that his mere statement about something on social media is not per se a violation of the CC rules. What could be a violation of decency rules just as was suggested is if it is designed to boost the market price of the stock. Musk has complained about the market price he's complained about. Sure. And he got a quick bump up about five to eight percent on the price of the stock. If his comments were issued for the purpose of moving the price of a stock that could be manipulation it could also be securities fraud.
The use of the specific price for a potential going private transaction is highly unprecedented and therefore raises significant questions about what his intent was. So that would have to be.
So it's not the medium it's the motive that is important here. How would you ever if you were at the FCC or at the Justice Department and you wanted to investigate this. How would you go about doing that. And I don't I use the the term prosecute advisedly here. How would you try and prove that that price manipulation was the motive.
Well the first thing of course you would do is get all of the internal communications communications that he had with other directors and senior officers with lenders with a source of funding.
He has claimed there's a specific source of funding so that had better be true. He's also claiming that there's a specific amount available for funding and so that has to be true otherwise even if it's not manipulation it would be fraud. So he's got two potential areas of difficulty right there and one would look at all of the communications that led up to this tweet. Is there any basis for what he said. Are there any indications of a difficulty. It should also be noted that I believe in 2017. He had previously suggested he was thinking of going private as we're going to rent it out.
You're exactly right. Morgan Brennan pointed this out earlier today it was an honor Rolling Stone article. Go ahead finish your thought Harvey.
So that that would cut against in some respects the needed intent in order to prove manipulation. The government has to show specific intent to influence the price of the stock manipulation cases have traditionally been very very hard. But fraud cases are subject to a lesser standard and this might cause them to grow out of any of the facts disclosed were not true or if there's an indication that he was just floating was allowed to have an influence on the market price.
Harvey Stay with us. We want to get over Andranik to now for some more breaking news. You are creating a again.
All right so he's been responding to other people via tweets after that initial tweet about a possible take private transaction at 420.