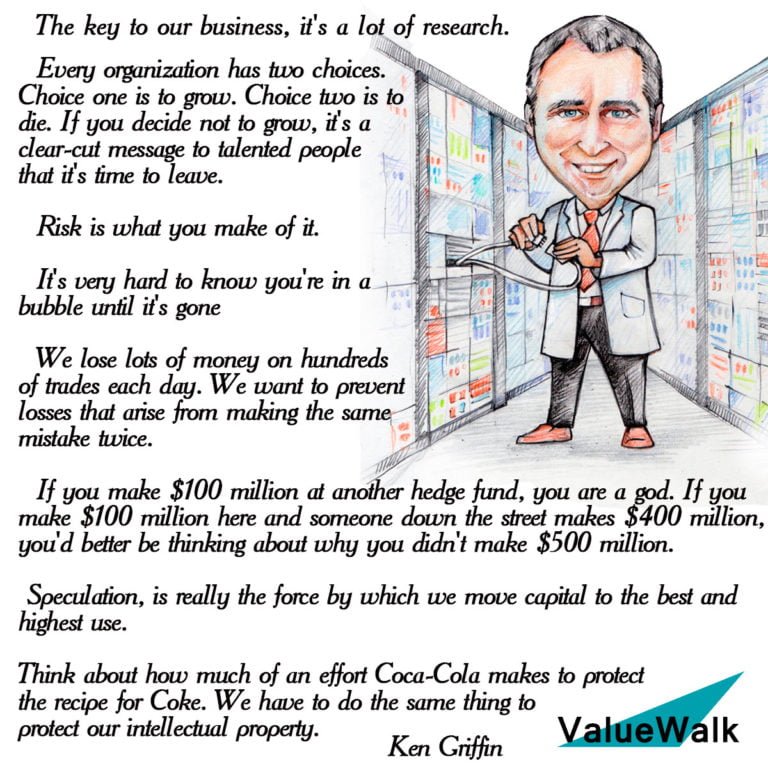 An interview with billionaire CEO of Citadel, Kenneth Griffin. In this interview, Kenneth discuses the two driving forces for getting ahead of the competition in investing and finance, talent and technology. Kenneth also talks about his background and the tools Citadel uses when investing.
Q2 hedge fund letters, conference, scoops etc
David Einhorn At The 2021 Sohn Investment Conference: Buy These Copper Plays
There's a gold rush coming as electric vehicle manufacturers fight for market share, proclaimed David Einhorn at this year's 2021 Sohn Investment Conference. Check out our coverage of the 2021 Sohn Investment Conference here. Q1 2021 hedge fund letters, conferences and more SORRY! This content is exclusively for paying members. SIGN UP HERE If you Read More
Kenneth Griffin: Driving Forces For Getting Ahead Of The Competition In Investing
Transcript
The three areas you spoke about the the fundamental strategies the quantitative strategies the market making businesses Citadel are all very different from each other. But in the differences between the businesses there's actually an incredible amount of learning and transference of insights across those activities insights in terms of risk management in terms of how does one manage their transaction costs in trying to get into out of portfolios. And of particular note are fundamental research effort is just a just and never ending set of opportunities for us to really think deeply about the alphas that we use in our quantitative strategies. So the judgment of humans and you can think about this when you're a quant strategist and you're looking at very good visualization tools. The ability for the human mind to wrap itself around a problem is still the ultimate solution in the world. It's far better than AI machine learning. It's far better than our best mathematical techniques and we have that large fundamental business. We have just enormous number of insights in terms of how the world works. So at the core of our business is our fundamental business but supporting that. The deep quantitative know how we have is really powerful in terms of constructing better managed portfolios superior risk management great return attribution and trying to understand some of the behavioral biases that humans have where we humans tend to make mistakes because of of our own innate risk aversion and other dynamics that come into play.
It's really innate there's really I can't think of another firm that is in the microstructure with market making. Humans are Bonham's at work and systematics really your perspective as we dig into the conversation is going to be is going to be fascinating first of all to start with something a little softer as you've gone from 4 million of assets under management to 29 30 billion. Taking a step back as an investor and as a leader what's what's been one of the more sort of lessons learned and kind of humbling aspects of of building a franchise that is best in class.
We don't have enough time today to cover all the humbling moments over that 30 year journey. I can start 2008 and with without one word. Have Renault's the word Convers gone.
Yes yes.
This is actually a funny technology failure. We had a conference call the height of the financial crisis to talk about the financial conditions at Citadel and we arranged the call to handle roughly 2000 incoming callers. Now we probably had 50 bondholders in total but we knew this number will get passed around. People do want to hear how things are going and it's sort of the there's always an interest in the highway. You see a car crash and everyone slows down to look at that car crash and this is our car crash moment. The conference call failed. There were so many people calling in that they overwhelmed the 2000 car allocation. Within minutes the whole Colchis comes like crashing now. So that was one of our better operational Rossmo was trying to give the market confidence that we're going to navigate through 0 8. As the conference call comes to a grinding halt.
So with that as a backdrop nothing has been more important to the success of Siddall over 30 years than the incredibly talented partners that we've been able to recruit over the years. And not just recruit from America but to recruit globally.