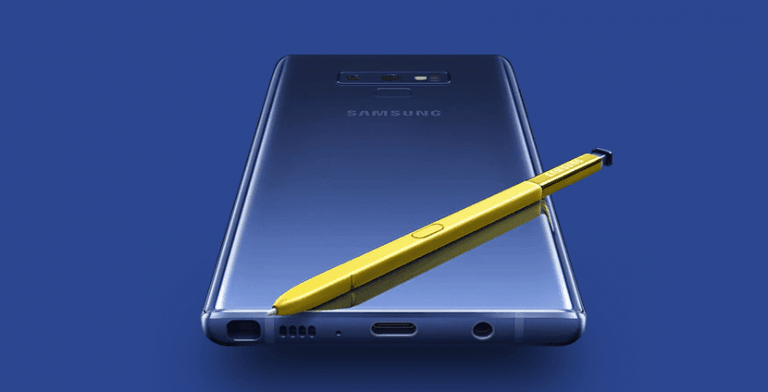 Samsung's brand new Galaxy Note 9 phablet is here and it looks great in every aspect. It is nearly identical to the Galaxy S9 Plus in appearance, which launched only a few months ago. If you are planning to upgrade your phone, you might be wondering whether to go for the latest and greatest Galaxy Note 9 or pick the Galaxy S9 Plus, which is much more affordable than the Note 9. Here's our detailed Galaxy Note 9 vs Galaxy S9 Plus comparison to help you decide which phone to buy. Of course, some differences between the two are obvious such as the S Pen stylus. But there is a lot more to it than just the stylus.
Galaxy Note 9 vs Galaxy S9 Plus: Similar design and display
Both the Note 9 and S9 Plus look nearly identical at first glance. Both of them have a nearly bezel-less Super AMOLED Infinity screen with no display notch or physical home button. Both handsets have a glass back supported by a metal chassis. The biggest noticeable difference between the two devices is on the back panel. The Note 9 has a horizontally-aligned dual camera setup while cameras on the S9 Plus are arranged vertically.
The rear-mounted fingerprint sensor on both the handsets is located below the camera module. In terms of dimensions, the Note 9 is slightly larger and heavier than the S9 Plus. It measures 161.9 x 76.4 x 8.8mm and weighs 201g. By comparison, the S9 Plus measures 158.1 x 73.8 x 8.5mm and weighs 189g.
David Abrams Explains How To Value Stocks
Continued from part one... Q1 hedge fund letters, conference, scoops etc Abrams and his team want to understand the fundamental economics of every opportunity because, "It is easy to tell what has been, and it is easy to tell what is today, but the biggest deal for the investor is to . . . SORRY! Read More
Both the handsets come with an IP68 rating for water- and dust-resistance, meaning they can survive being submerged into five feet deep water for up to 30 minutes. Also, both the handsets retain the USB-C port and the 3.5mm headphone jack.
The Note 9 packs a huge 6.4-inch Super AMOLED Infinity display while the S9 Plus comes with a slightly smaller 6.2-inch screen. Both have the same display resolution of 2960 x 1440. The S9 Plus has a pixel density of 529ppi compared to the Note 9's 516ppi. The differences are so small that you are unlikely to notice them.
Galaxy Note 9 vs Galaxy S9 Plus: Same processor but greater RAM and storage
Samsung's latest phablet will be available in two variants. One model will have 6GB RAM and 128GB storage while another one will pack a higher 8GB RAM and 512GB of built-in storage. You are never going to run out of storage because the Note 9 also supports up to 512GB of external storage via a microSD card slot. Theoretically, you get up to 1TB of storage on your phablet. That's more than most laptops.
In contrast, the Galaxy S9 Plus packs 6GB of RAM. It is available in 64GB, 128GB, and 256GB internal storage options. The S9 Plus supports 400GB of external storage, which should be sufficient for most people. Even though the Galaxy Note 9 has a clear edge in RAM and storage, it is powered by the same processor that runs the Galaxy S9 Plus.
Both the handsets are powered by Samsung's Exynos 9810 (international markets) or Qualcomm's Snapdragon 845 (US market). They won't be able to beat Apple's iPhone X in processing power, but you'll not experience any lag on either device.
Galaxy Note 9 vs Galaxy S9 Plus camera: New phone gets AI smarts
On paper, Samsung has done a copy-paste job with the Note 9's camera. The new phablet has the same camera specs as the Galaxy S9 Plus. Both of them have the same 8MP front-facing camera with an f/1.7 aperture. On the back panel, both handsets feature a 12MP wide-angle lens with OIS and variable apertures of f/1.5 and f/2.4; and a 12MP telephoto lens with 2x optical zoom, 10x digital zoom, OIS, and an f/2.4 aperture.
That's where the similarities end. The Galaxy Note 9 camera gets a couple of cool AI features such as Scene Optimizer and Flaw Detection. The Scene Optimizer automatically detects the objects in the scene and optimizes the white balance, saturation, color contrast, and brightness to capture the best possible shot. The Flaw Detection feature notifies you if something is wrong with the picture you just took. It helps you take another photo before you lose the moment.
Galaxy Note 9 vs Galaxy S9 Plus: Software
The S9 Plus runs Android 8.0 Oreo with Samsung's custom Samsung Experience skin. The Note 9 gets Android 8.1 Oreo with Samsung Experience skin. Both the handsets are expected to receive the Android 9 Pie update later this year. The Note 9 and S9 Plus have a dedicated hardware button on the side to activate Samsung's Bixby AI assistant. In real life, you are unlikely to use Bixby because you have a far more advanced Google Assistant.
Galaxy Note 9 vs Galaxy S9 Plus: Battery power
Every user wants a great battery life on their device. Neither Galaxy S9 Plus nor the Note 9 disappoint in this department. The S9 Plus packs an impressive 3,500mAh battery, which easily lasts through a full day of normal usage. The Note 9 goes even bigger with a 4,000mAh battery that should last more than a day of normal usage. It will be interesting to see whether the Note 9's bigger battery translates into better life because it will have a bigger screen to power.
Fortunately, both the handsets support wireless charging and fast charging capabilities.
The Galaxy Note 9 gets an upgraded S Pen
The Note series has always focused on productivity and business. That's where the S Pen stylus comes handy. The stylus remains exclusive the Note line, meaning the Galaxy S9 Plus doesn't get the stylus. Samsung has added some cool new features to the S Pen to make it more useful than ever before. It gets Bluetooth support, allowing you to control Gallery, YouTube, Spotify, and other apps; use it as a camera shutter button, make it a presentation remote control, and play or advance songs in a music player. You'll still be able to create notes, sketch and do all other stuff that the previous generation S Pen allowed you to do.
DeX gets much better on the Note 9
Samsung's DeX desktop experience takes productivity to a whole new level. It lets you connect your phone to a monitor, keyboard, and mouse to get a full-fledged desktop experience. The Galaxy S9 Plus requires you to use a DeX Pad or DeX station. The Note 9 doesn't require anything like that to run DeX. All you need is an HDMI connector to connect the phablet to monitor to get a desktop-like experience. The Note 9 itself will serve as the trackpad. Cool, isn't it?
Gamers will love the Galaxy Note 9
Samsung is trying to market the Note 9 as a gaming phone as well. The Korean company has secured a deal with Epic Games to keep the popular game Fortnite exclusive to its phones for a limited time. That's not the only thing Samsung has done to enhance the gaming experience on the Note 9. Samsung claims the phablet also has the loudest speakers of any smartphone it has ever made. The speakers are tuned by AKG, so they should offer an excellent audio experience.
What's more, the Galaxy Note 9 uses a new system called Water Carbon Cooling for superior cooling. It will prevent the processor from overheating and the phone from slowing down.
Galaxy Note 9 vs Galaxy S9 Plus: Price
The Galaxy Note 9 has a shockingly high price tag of $999.99 for the base model with 6GB RAM and 128GB storage. If you choose to buy the 8GB/512GB model, you will have to shell out $1,249.99. The phablet is available for pre-order starting today, and will go on sale on August 24th.
The Galaxy S9 Plus started at $839.99 for the 64GB storage model at the time of launch, but you can find it at around $750 in some stores now. The 128GB model costs $889.99 while the 256GB variant was priced at $959.99 at the time of launch.
Galaxy Note 9 vs Galaxy S9 Plus: Which one should you buy?
If you have deep pockets, go for the Galaxy Note 9. It's hands down the best Android phone available right now. If you are price-conscious but still want the right phone for you, look at your usage. If you are a gamer or a power user who needs the best phone for productivity and business, go for the Note 9.
If you are neither a power user nor a gamer, the Galaxy S9 Plus could be the right phone for you. It has one of the best smartphone cameras, offers all-day battery life, has the same processor as Note 9, and sports a great display. More importantly, you can get it for around $250 less than the Note 9.