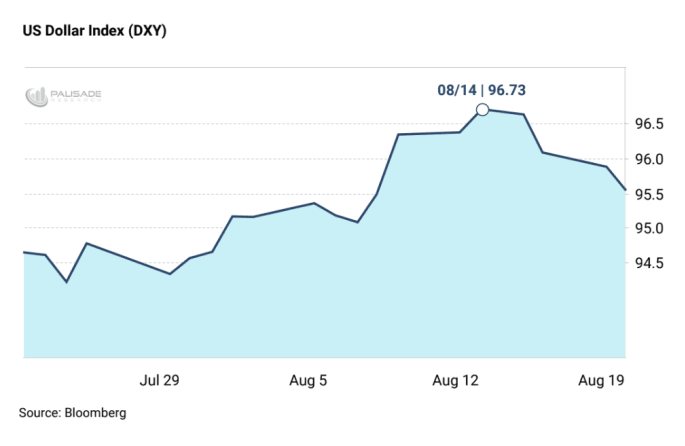 One month ago, President Trump publicly criticized the Federal Reserve's rate hikes. I wrote about it that morning – highlighting his tweet.
Q2 hedge fund letters, conference, scoops etc
This marks the moment he broke from a more than two-decade old norm of Presidents not commenting about Fed policy.
Crypto Hedge Fund Three Arrows Blows Up, Others Could Follow
A few years ago, crypto hedge funds were all the rage. As cryptocurrencies rose in value, hundreds of hedge funds specializing in digital assets launched to try and capitalize on investor demand. Some of these funds recorded double-digit gains in 2020 and 2021 as cryptocurrencies surged in value. However, this year, cryptocurrencies have been under Read More
Why? Because the Federal Reserve is 'supposedly' an independent central bank. Meaning it isn't politicized and acts on what they believe is the best interest for the U.S. economy and dollar.
Even with Trump's remarks being seriously taboo – the mainstream downplayed it. And many since have forgot.
That is – until now. . .
Bloomberg reports that last Friday, Trump complained about the Fed to "wealthy republicans" during a Hamptons fundraiser.
And according to three people there – what he really said was that he expected Jerome Powell – current Fed Chairman that Trump appointed – to be a"cheap-money" guy.
Yet – instead – Powell has kept raising interest rates and aggressively tightening monetary policy.
These comments from Trump have sent the dollar tumbling. . .
Now, all this is on top of last month's comments by Trump that he's "not thrilled" with the continued rate hikes.
Trump has showed his frustration with the current Fed tightening – which is threatening his above-average economic growth. And causing the dollar to rally – hurting American exports.
He even went as far as to say that he would "continue to criticize" the Fed as long as they keep raising rates.
Trump also vented about China and the EU. Upset that their central banks are helping manipulate both their currencies – the yuan and euro – weaker.
So what does this mean going forward?
There's a macro-saying: "don't get the dollar wrong."
Traditionally, If the Fed's easing monetary policy – via rate cuts and Quantitative Easing (money printing) – then the dollar should weaken against commodities and foreign currencies.
But if the Fed's tightening monetary policy – via rate hikes and Quantitative Tightening (sucking money out of economy) – then the dollar shouldstrengthen against commodities and foreign currencies.
It's no surprise then that things like Bitcoin and commodities and foreign currencies did very well throughout 2017 and early 2018. The US Dollar Index dropped roughly 15%.
Why did the dollar weaken? Because even though the Fed was raising rates – they were slowly doing it. And inflation kept coming in far below the Fed's 2% target. This gave the market the impression that the Fed would potentially pause their tightening all together.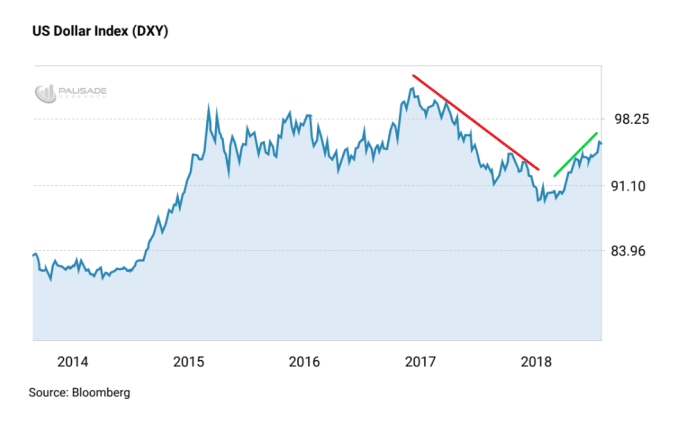 But since March 2018, inflation has spiked above the Fed's target. Causing the dollar to rebound – as the Fed's expected to tighten even more aggressively – and it's now in a 'reflexive' upswing (the Theory of Reflexivity was created by billionaire trader George Soros – I've written about that here).
And since then, foreign currencies – especially the Turkish Lira and Argentinean Peso – and commodities like gold have plummeted.
It's not hard to see why then betting against the Fed and the dollar can be fatal to a portfolio.
But back to Trump's comments. . .
This puts investors in-between a rock and a hard space.
On one end: the Fed's continuing to tighten – which is bullish for the dollar.
'Real' interest rates (inflation minus nominal rates equals the real rate of interest) are still near zero – maybe slightly negative.
And because of this, the Fed's rate hikes haven't caused the 'tightening' in the economy many expected.
Thus, until the Fed achieves their 3% rate target by the end of 2019 – or until U.S. growth plummets – expect them to continue hiking.
But on the other end: Trump's worried about the strong dollar and continues criticizing The Fed's tightening – both which are bearish for the dollar.
If the Fed continues raising rates – or if the dollar continues being, as Trump calls it, "overvalued" compared to U.S. trading partners – Trump may personally step in.
Could he fire Powell and bring in a "cheap money" person?
Would he politicize the Fed?
Could he use executive orders to artificially cheapen the U.S. dollar?
Any of these would shake confidence in the dollar – causing its value to drop like a stone.
Many would call this a 'black swan' event – a one-in-a-billion. But we've seen Trump take drastic actions to push his 'America First' agenda before. . .
Before you leave – just remember one important thing.
Fiat currencies – money that isn't backed by anything – is built on trust and confidence.
And it doesn't take much to break that trust as history shows us.
But once it's gone – it's nearly impossible to get back. . .
Article by Adem Tumerkan, Editor-in-Chief, Palisade-Research
Updated on