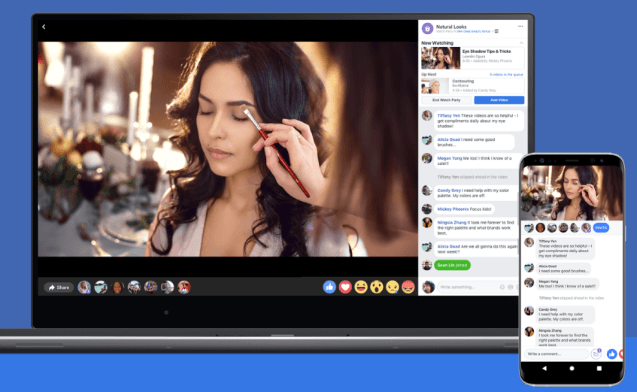 Facebook Watch video service, which has been already available in the U.S. for more than a year now, is now being rolled out globally. On Wednesday, the social networking giant said its video service would be "available everywhere," giving content creators a new option besides than YouTube.
Facebook Watch video service – relatively unknown
Facebook Watch video service is launched at a time when viewers are shifting away from traditional television to online platforms. Also, users online are not only interested in watching professionally-created content, but also the user-generated content.
"Contents that we fund are a very small part of the contents available on Watch," said Facebook's Vice President of Product for video, Fidji Simo.
David Einhorn At The 2021 Sohn Investment Conference: Buy These Copper Plays
There's a gold rush coming as electric vehicle manufacturers fight for market share, proclaimed David Einhorn at this year's 2021 Sohn Investment Conference. Check out our coverage of the 2021 Sohn Investment Conference here. Q1 2021 hedge fund letters, conferences and more SORRY! This content is exclusively for paying members. SIGN UP HERE If you Read More
Talking of the Facebook Watch video service, Simo said the service had been well received in the U.S. as it is based on the notion that watching videos is a social activity.
"With Watch … you can have a two-way conversation about the content with friends, other fans or even the creatives themselves," Simo said.
Backing the claims with numbers, Simo noted that over 50 million people in the U.S. watch videos for at least a minute per month on the Watch. And, the time spent in viewing the videos on the Watch has increased by 14 times since the start of this year.
However, a recent study somewhat contradicts the claims by Simo. A study by the Diffusion Group found that Facebook Watch video service commanded only niche appeal in its first year. The study involving 1,632 adult Facebook users found that 50% never heard of the Watch. About 24% said that they are aware of this video service, but have never used it. Around 14% of the users said they use the Watch service at least once a week.
Helping creators with monetization
Talking about the monetization, the company said that it had created several tools to help video creators integrate ads themselves.
"We remain confident that monetization will help creation," the executive said.
According to the social networking giant, eligible video content creators would be able to earn from Facebook's Ad Breaks service in several countries, including Ireland, Australia, New Zealand, Britain and the U.S. as well, starting Thursday. More countries will be added soon, Facebook assured. On September 21, the Ad Breaks service will be launched in 21 new countries, including Germany, France, Spain and across Latin America and Asia.
Simo also revealed the ad revenue split, saying it is 55 percent for the creators and 45 percent for Facebook. The same ratio will be followed in all the countries, including the U.S.
"We know it's been a long road but we've worked hard to ensure that the Ad Breaks experience is a good one for both our partners and our community," Simo said.
To participate in the Ad Breaks, publishers will need to create three-minute videos that get over 30,000 one-minute views over two months and have 10,000 followers.
Also, Facebook's automated video advertising system is helping publishers earn "meaningful revenues," Simo said. Further, the executive informed that the social networking giant is also exploring more ways to help creators make money. These ways include branded content and allowing fans to directly support the creator they want through subscriptions.
More content, more viewers
Lately, Facebook has been increasing its video offerings with new features and original shows. To boost the engagement and push users to spend more time on the platform, the social networking giant recently announced new interactive formats, such as game shows, quizzes and polls. Further, Facebook has also made it easier for users to see the shows their friends have liked or shared.
"We designed the product not just in a mindless consumption but in order to get people engaged," said Simo.
About two weeks back, the company announced that it would stream for free Champions League matches in Latin America and Spanish division football matches in the Asian region. The platform had streamed shows like beauty mogul Huda Kattan's "Huda Boss" and live "Major League Baseball" games.
Facebook Watch Service is usually pitched as a competitor to YouTube. But, in reality, it competes against traditional TV channels, as well as online sources, including Netflix, Hulu, Amazon Video and more. Facebook says that it will invest up to $2 billion to get new content for the Watch. Though the amount is minute when compared to Netflix or YouTube, it still is significant.