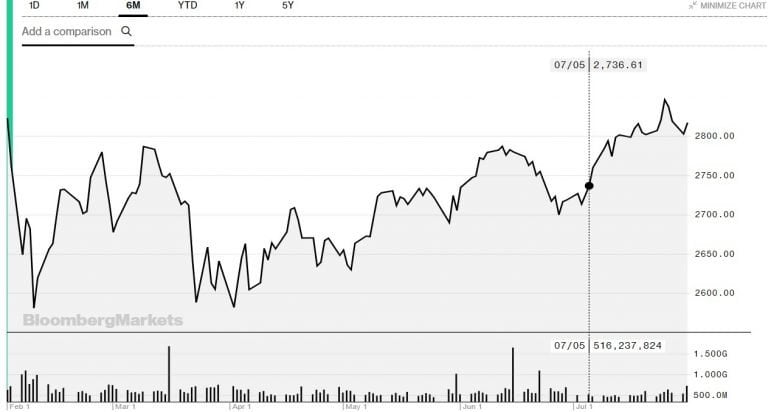 Once upon a time, there was a land of great promise.

Q2 hedge fund letters, conference, scoops etc
This promised land rewards hard work and enterprise with gold while penalizes the weak with taxes and cost of living.
Morningstar Investment Conference: Gabelli Funds On Where To Invest Amid Inflation
Numerous news headlines have trumpeted major concerns about inflation, which has been at 40-year highs. But how should investors handle inflation as it pertains to their portfolios? At the Morningstar Investment Conference on Monday, Kevin Dreyer, co-CIO of Gabelli Funds, outlined some guidelines for investing in the age of inflation. Historic inflation Dreyer started by Read More
This promised land is the United State of America.
And true to its founding principles, it has bestowed the highest office of the land to the shrewdest business man of its time, President Donald J Trump.
When President DJT decided to run for office in the summer of 2016, it was almost inconceivable that he would have gone all the way. Many thought this was a distraction from the Republicans or they simply lacked quality candidates.
He was not made from the same mold as the previous Presidents. He was too brash, too mouthy, uncontrollable and unexpected. Hence, the Americans used their democratic rights to choose their next unexpected leader.
Unexpected!
Is the mildest way to describe the whirlwind the world has been thrown into since January 2017. Just as how Sun Tzu succinctly says, In conflict, direct confrontation will lead to engagement and surprise will lead to victory. Those who are skilled in producing surprises will win.
Speaking of Sun Tzu, let's have a look at the latest tariffs wars between the US and China.
In 2015 : China overtakes Canada as largest trading partner of the USA.
22nd Jan 2018 : Trump introduced tariffs on solar panels and washing machines. For solar panels, the tax will start at 30 percent for the first year before falling to half of that over four years. The decision was not received well by China, which produces 65 percent of the world's solar modules.
1st March 2018 : Trump raises import taxes on steel and aluminum by 25 percent and 10 percent, respectively. Although the impact is on 6%, China gives a stern warning that Beijing "will take proper measures to safeguard its legitimate rights and interests."
2nd April 2018 : China issues tariffs on $2.4 billion in U.S. exports. This list of 128 goods rivals the $2.7 billion worth of Chinese steel and aluminum imports that the Trump administration decided to tax in March. The list also targets agricultural products such as pork, which would disproportionately affect American farmers.
3rd April 2018 : President DJT sets a list of 1,300 Chinese goods that could be hit with 25% tariffs, which has a value of about $50 billion. The list targets nearly all examples of the kind of sophisticated technology that China is targeting through its "Made in China 2025" plan.
4th April 2018 : China responds to U.S. tariffs by producing its own list of 106 American goods, that could be subject to tariffs of 25 percent.
5th April 2018 : President DJT orders his chief trade negotiator, Robert E. Lighthizer, to consider expanding tariffs to an additional $100 billion in Chinese. China's Commerce Ministry says the next morning that China will fight Trump's proposed tariffs "at any cost."
16th April 2018 : The United States implements a seven-year ban on exports to the Chinese telecom company ZTE after learning it did not abide by the rules of a previous settlement agreement.
13th May 2018 : Early in May, ZTE announces it plans to "cease major operating activities" because of financial losses caused by the U.S. ban.
On the same day, Trump tweets "Too many jobs in China lost. Commerce Department has been instructed to get it done!" he said. He starts working with President Xi Jinping to save ZTE.
June 7 — Trump administration eases ban on ZTE. The seven-year ban on selling U.S. goods to ZTE comes to an end (under a month!)
15th June 2018 — Trump announces 25 percent tariff on $50 billion of Chinese goods. China responds with a targeted retaliation. However, more than 90 percent of the items in this list are intermediate inputs or capital equipment, meaning they are items U.S. firms import to assemble end products. In other words, the tariffs slated to go into effect will adversely affect American businesses and raise prices for American consumers, experts at the Peterson Institute warned.
16th June 2018 : China will by issue a revised list of $50 billion in U.S. products that will be subject to tariffs.
18th June 2018 : Trump says in a statement that the United States is compiling a list of Chinese goods that will face tariffs of 10 percent unless China agrees to the trade concessions laid out by his administration. If implemented, this would add a further $200 billion in import taxes for the country, meaning nearly all the $505 billion in Chinese products coming into the United States would be placed under tariffs.
2th June 2018 : Reports emerged that the Trump administration was planning to bar Chinese firms from investing in U.S. technology. The government stopped short of doing exactly that, announcing instead that it would work with Congress to tighten the regulations around foreign investment.
6th July 2018 : The U.S. starts implementing duties of 25 percent on $34 billion in Chinese goods at 12:01 a.m. on Friday, prompting a swift reaction from China, which introduces an equivalent 25 percent tariff on $34 billion in American goods. U.S. markets seem relatively unfazed in the lead up to the tariffs.
And finally, let's see how both the S&P and Shangai Index have been behaving the last 6 months.
S&P performance the last 6 months
Shanghai Index performance the last 6 months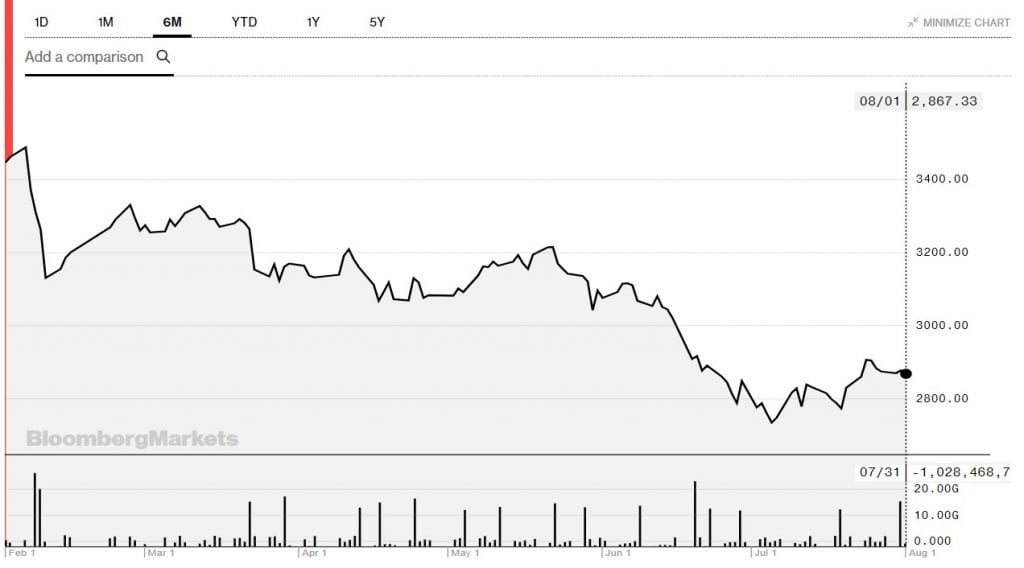 Maybe the old Chinese sage was right?
There is merit in SURPRISE, volatility and chaos.
Trump's tariff wars with the Chinese are showing more signs of profit for the Americans than the Chinese.
The old response was to invest in gold when there is chaos. But 2018 seems to be the year of the Dollar.
Let's hope this playground feud doesn't spillover to the rest of the world as we watch with bated breath.
---
Thank you for reading my post. I regularly write about private market opportunities and trends. If you would like to read my regular posts feel free to also connect on LinkedIn, Twitter or via Atlanta Capital Group Investment Management.
Greg Silberman is the Chief Investment Officer of ACG Investment Management LLC ("ACGIM"). ACGIM specializes in creating custom private market solutions for RIA/Family Office clients.
This material is not intended to be relied upon as a forecast, research or investment advice, and is not a recommendation, offer or solicitation to buy or sell any securities or to adopt any investment strategy. The views and strategies described may not be suitable for all investors. It is not possible to directly invest in an index. An index fund is a type of mutual fund with a portfolio constructed to match or track the components of an index. Past performance is no guarantee of future results. Investments will fluctuate and when redeemed may be worth more or less than when originally invested. Advisory Services offered through ACG Investment Management, LLC.  ACG Investment Management is an affiliate of ACG Wealth Inc.
References:
https://www.bloomberg.com/quote/SHCOMP:IND, Shanghai Chart
https://www.bloomberg.com/quote/SPX:IND, S&P Chart
https://www.washingtonpost.com/news/worldviews/wp/2018/07/05/a-timeline-of-how-the-u-s-china-trade-war-led-us-to-this-code-red-situation/?noredirect=on&utm_term=.092ccb879791, Washington Post Article.
Updated on