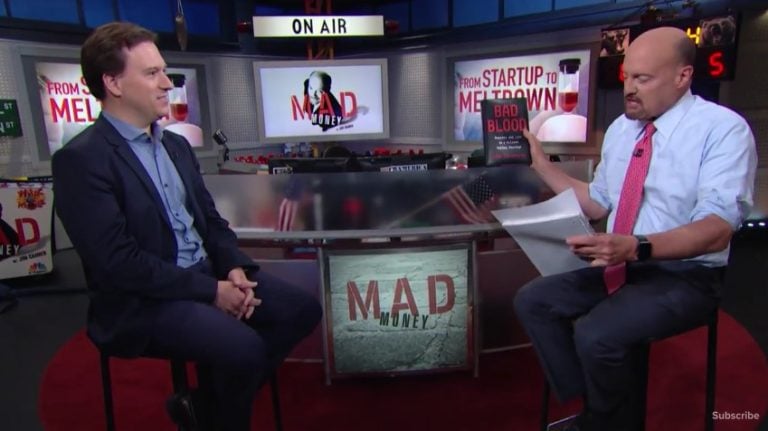 Jim Cramer sits down with the man who broke the story about Theranos, Bad Blood author John Carreyrou.

Q2 hedge fund letters, conference, scoops etc
Bad Blood Author John Carreyrou On Elizabeth Holmes And Theranos
Voss Value Sees Plenty Of Opportunities In Cheap Small Caps [Exclusive]
For the first quarter of 2022, the Voss Value Fund returned -5.5% net of fees and expenses compared to a -7.5% total return for the Russell 2000 and a -4.6% total return for the S&P 500. According to a copy of the firm's first-quarter letter to investors, a copy of which ValueWalk has been able Read More
Transcript
This is what happens when you work to change things. And first they think you're crazy then they fight you. And then all of a sudden you change the world. I just finished the best business books and shoe dog fueled nights incredible autobiography. This one's called Bad Blood by John Cariou and it's about the sordid tale of thoroughness the alleged blood diagnostic company and its charismatic and culpable founder Elizabeth Holmes. This book reads like a novel about greed about chicanery and only about tragic tragic what it did to people use that fights. I promise you that you will hate almost everyone connected with this company and think they should belong in jail. When you're reading this remarkable book written by the man who first exposed the giant con John Kerry Pulitzer Prize winning reporter from The Wall Street Journal. That's why I was thrilled that he dropped by the set to talk about his riveting exposé. You should read between now and Labor Day. Take a look. John. Anyone who read Bad Blood Secrets and Lies in a Silicon Valley startup. Could they still believe that she is anything but crazy.
Well I think people are not right to ask and question what's going on in her mind and what has been going on in her mind for 15 years. I like to say that this is different from a Bernie Madoff type of fraud in that she dropped out of Stanford really wanting to be an entrepreneur and right or Steve Jobs and she idolized Apple she really wanted to replicate that success story. And I don't believe that she dropped out with this notion that she was going to pull long con and defraud investors. But unfortunately over the years she ran into setbacks with this vision of a blood testing device she was trying to pursue. And instead of admitting those setbacks and admitting to her investors where she was with the progress she. She lied and the lies got bigger and bigger and eventually the lies got so big relative to reality that it became a pretty massive fraud. Well there's two skeins of this book and I just love it. One is how all these people were fooled. But the other one to put first and you have a quote of someone screaming in the wings one point you are people saying well I mean one of the most outrageous things about this.
There are no scandal is the fact that the company went live with its finger stick tests in Walgreens stores in Northern California and Arizona five years ago in the fall of 2013 and knew that two people at the top Elizabeth Holmes and her boyfriend Sonny Bhawani knew very well that the tests were unreliable. For one thing the fairness machine only handled several of the tests a handful of the tests and most of the tests were being done on third party commercial analyzers that they'd modified and hacked to adapt them to small samples and one of the things they did was they diluted the small droplets of blood to make the volume bigger to accommodate these commercial machines and that of course introduced all sorts of room for error. And in the end this company had to avoid nearly a million blood test results.
Who knows what could have happened on June 15th. She's indicted by the federal government. When I read the book I felt that you could make a very compelling case right from the book that she did commit fraud and if you think fraud should lead to jail time that she should be in jail. Is that a reasonable presumption.
I mean I think this did metastasize into a fraud especially once she suddenly Bhawani her boyfriend and number two at the company made the fateful decision to go live with these fingerstache tests in the fall of 2013. Aside from endangering the public health which they did by doing that. The thing the key thing to remember about that decision is the company was running out of money then. And so by going live with the technology.
John Carreyrou, Bad Blood - Book Review
Bad Blood: Secrets and Lies in a Silicon Valley Startup by John Carreyrou
The full inside story of the breathtaking rise and shocking collapse of Theranos, the multibillion-dollar biotech startup, by the prize-winning journalist who first broke the story and pursued it to the end, despite pressure from its charismatic CEO and threats by her lawyers.
In 2014, Theranos founder and CEO Elizabeth Holmes was widely seen as the female Steve Jobs: a brilliant Stanford dropout whose startup "unicorn" promised to revolutionize the medical industry with a machine that would make blood testing significantly faster and easier. Backed by investors such as Larry Ellison and Tim Draper, Theranos sold shares in a fundraising round that valued the company at more than $9 billion, putting Holmes's worth at an estimated $4.7 billion. There was just one problem: The technology didn't work.
A riveting story of the biggest corporate fraud since Enron, a tale of ambition and hubris set amid the bold promises of Silicon Valley.
Review
"You will not want to put this riveting, masterfully reported book down. No matter how bad you think the Theranos story was, you'll learn that the reality was actually far worse." — Bethany McLean, bestselling coauthor of The Smartest Guys in the Room and All the Devils Are Here
"[A] chilling, third-person narrative of how Holmes came up with a fantastic idea that made her, for a while, the most successful woman entrepreneur in Silicon valley… Prizewinning Wall Street Journal reporter John Carreyrou tells [this story] virtually to perfection… [His] description of Holmes as a manic leader who turned coolly hostile when challenged is ripe material for a psychologist… His recounting of his efforts to track down sources—many of whom were being intimidated by Theranos's bullying lawyer, David Boies—reads like a West Coast version of 'All the President's Men.'" — Roger Lowenstein, The New York Times Book Review
"John Carreyrou blends lucid descriptions of Theranos's technology and its failures with a vivid portrait of its toxic culture and its supporters' delusional boosterism. The result is a bracing cautionary tale about visionary entrepreneurship gone very wrong." — Publishers Weekly (Starred)
"Eye-opening... A vivid, cinematic portrayal of serpentine Silicon Valley corruption... A deep investigative report on the sensationalistic downfall of multibillion-dollar Silicon Valley biotech startup Theranos. Basing his findings on hundreds of interviews with people inside and outside the company, two-time Pulitzer Prize-winning Wall Street Journal reporter John Carreyrou  rigorously examines the seamy details behind the demise of Theranos and its creator, Elizabeth Holmes… [Carreyrou] brilliantly captures the interpersonal melodrama, hidden agendas, gross misrepresentations, nepotism, and a host of delusions and lies that further fractured the company's reputation and halted its rise." — Kirkus
"A great and at times almost unbelievable story of scandalous fraud, surveillance, and legal intimidation at the highest levels of American corporate power. . . . The story of Theranos may be the biggest case of corporate fraud since Enron. But it's also the story of how a lot of powerful men were fooled by a remarkably brazen liar." —Yashar Ali, New York Magazine
"In Bad Blood, acclaimed investigative journalist John Carreyrou, who broke the story in 2015, presents comprehensive evidence of the fraud perpetrated by Theranos chief executive Elizabeth Holmes... He unveils many dark secrets of Theranos that have not previously been laid bare… The combination of these brave whistle-blowers, and a tenacious journalist who interviewed 150 people (including 60 former employees) makes for a veritable page-turner." —Eric Topol, Nature
"Engrossing… Bad Blood boasts movie-scene detail… Theranos, Carreyrou writes, was a revolving door, as Holmes and Balwani fired anyone who voiced even tentative doubts… What's frightening is how easy it is to imagine a different outcome, one in which the company's blood-testing devices continued to proliferate. That the story played out as it did is a testament to the many individuals who spoke up, at great personal risk." — Jennifer Couzin-Frankel, Science
"Crime thriller authors have nothing on John Carreyrou's exquisite sense of suspenseful pacing and multifaceted character development in this riveting, read-in-one-sitting tour de force.... John Carreyrou's commitment to unraveling Holmes' crimes was literally of life-saving value." — Booklist (Starred Review)
Updated on