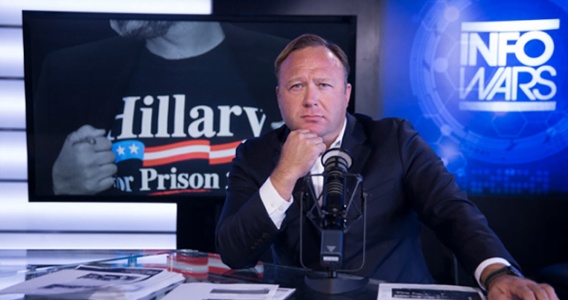 Until this week, Alex Jones was a fringe figure most famous for claiming the government is "turning the freaking frogs gay." Now, thanks to being banned by Facebook, Apple, YouTube, and others, Alex Jones has been launched into superstardom as the central figure in a growing debate on free speech and internet rights.
According to Wikipedia Jones is an "American radio show host and conspiracy theorist." Politico has called him a "poisonous toad." To his thousands of followers, he's the voice of truth and reason in an era of fake news. But to most of the Americans who even knew who he was, Jones was just a nutjob best left ignored. After being banned from the largest social media platforms in the past week, Jones has been transformed from a kook who argued the government was turning people gay with chemicals, into a champion for free speech.
Why is He Being Banned?
Alex Jones has been banned from Facebook, YouTube, Google, Pinterest, and other platforms as part of a larger crackdown against "hate speech" and harassment.
The 3rd Annual 360 Degree Credit Chronometer Report with Joseph Cioffi
ValueWalk's Raul Panganiban interviews Joseph Cioffi, Author of Credit Chronometer and Partner at Davis + Gilbert where he is Chair of the Insolvency, Creditor's Rights & Financial Products Practice Group. In the interview, we discuss the findings of the 3rd Annual report. Q2 2021 hedge fund letters, conferences and more The following is a computer Read More
Jones has been creating controversy online for years, but the current issue surrounds the Sandy Hook shooting. He has publicly claimed again and again that the Sandy Hook elementary school shooting never happened and is part of a government conspiracy to disarm Americans. He has even called the grieving parents of Sandy Hook school children "crisis actors."
Jones is currently being sued by the parents of one of the children who died in the shooting. They claim to have faced years of harassment from Jones' followers and have had to move five times in the past seven years thanks to Infowars, Jones' online platform.
Social media companies moved to ban Jones in the past week in response to the unfolding case, claiming he violates harassment, hate speech, and child endangerment policies. But his followers, free speech advocates, and even many of his critics don't see it that way.
What Does He Actually Believe?
Jones protests against what he calls the global elites. Conspiracy theorists have been accusing an unseen global elite of conspiring to enslave the entire planet at least since the 1970s when the book None Dare Call It Conspiracy was written by conservative journalist Gary Allen. None Dare Call It Conspiracy sold more than four million copies when it was released during the Nixon vs. McGovern presidential election and has since become the seminal text for American conspiracy theorists.
Jones claims this book changed his life and set him on this professional and personal path as a conspiracy theorist. You can find it for sale on the Infowars store amid books on doomsday prepping, the Illuminati, and holistic health.
Allen, a historian by training, argues that there is a clandestine cabal of the world's wealthiest families vying for control of the governing structures of society by any means necessary. Famously wealthy and powerful families like the Rothschilds, Rockefellers, and Carnegies all figure into the plot. He traces the history of World War I, the Russian Revolution, and Nixon's bid for power back to these families. This argument forms the bedrock of Jones' worldview and his nationalist politics.
Was the Ban a Good Idea?
Jones, his followers, and even many of his critics have been quick to call his ban across social media platforms censorship and a violation of the First Amendment. Whatever these tech giants intended to accomplish by banning Jones, it has hardly been detrimental for Jones or his empire built on conspiracy theories and holistic supplements.
The thing about conspiracy theories is that they're rarely proven to be true. Evidence is usually circumstantial at best. Jones has been claiming for years that social media companies are a part of the cabal; they were created to distract, brainwash, and censor.
For Jones and his followers, being banned from social media just proves what he has been saying all along. The conspiracy theory mindset thrives on the perception of persecution. By banning Jones, Facebook, Apple, and Co. haven't silence him, they've just given him the fuel to spread his message further and make loads more money while doing so.
But it isn't just Jones' followers who are seeing the ban as vindication for Jones.
These tech giants should have been able to figure out a basic tenet of human nature. Anyone with kids knows, if you tell someone not to do something, they're going to want to do it all the more.
Google banned Alex Jones. By Wednesday, the Infowars app was the #1 trending app on the Google Play store. The app, which was introduced last month was getting a few hundred downloads a day on average, at most a few thousand. It is now estimated to be getting between 30,000 to 40,000 downloads a day thanks to the controversy. Jones could not have asked for a better marketing campaign to coincide with the launch of his new app.
Does This Violate the First Amendment?
For the past few years there have been controversies popping up over censorship on social media. Conservative journalists and public figures have had their videos on YouTube demonetized, they've been shadowbanned on Twitter, and flagged as fake news on Facebook.
As the laws stand, social media companies are completely within their rights to decide who can use their platform. However, since companies like Facebook and YouTube could be argued to enjoy monopolies and are so prolific they might as well be considered the public square, many have argued that they should be regulated to ensure they are not censoring certain people or viewpoints.
This debate has been steadily growing for years. Facebook, YouTube, and Twitter have all faced a number of lawsuits from notable conservative figures like Steven Crowder, who claim their content has been blocked or demonetized unjustly.
With a media firestorm providing wind to his sails, Jones is likely to take his case to court. First Amendment experts have been arguing that such a case to determine the parameters of freedom of speech on the Internet has been long needed. Some insist it's finally time for an internet bill of rights. Jones is also still facing his lawsuit related to the Sandy Hook shooting, another big case related to the First Amendment. Whatever your personal opinion may be on him, experts agree, he could end up setting the precedent for what all of us can do or say on internet platforms.