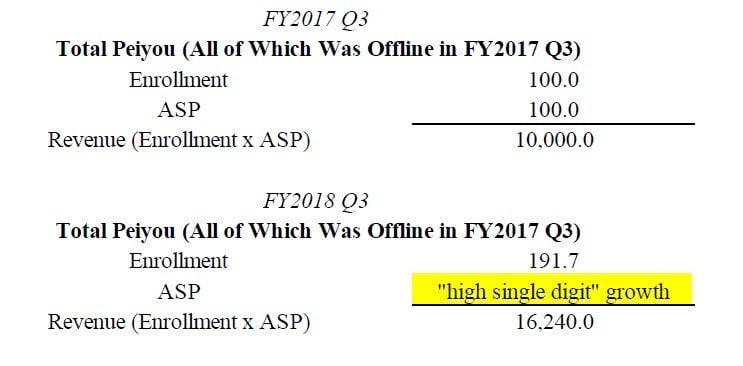 Muddy Waters remain short on TAL Education, below are the slides on Peiyou offline enrollments which appear to be declining.
Q2 hedge fund letters, conference, scoops etc
Peiyou offline enrollments appear to be declining YoY
Peiyou Q3 2018 Disclosures
Northern Pipe Line Wasn't Graham's Only Activist Situation
We wrote about Ben Graham's activism at northern pipe line, but there are other interesting stories involving the father of value investing Value investing and activism go hand-in-hand. Benjamin Graham, the godfather of value investing, discovered how important it is to incorporate activism into a value strategy relatively early in his career, a strategy that Read More
Total enrollment YoY +91.7%
Total revenue YoY +62.4%
Online ASPs ~40% lower than offline in quarter
Offline ASPs experienced YoY "high single digit" growth
We use a common-size model to show how this data implies YoY offline enrollment decreases
1. Common Size the Data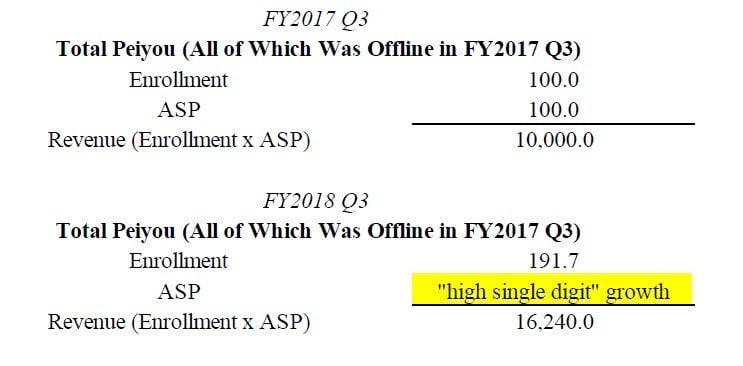 2. This Gives Us Two Equations
3. Insert a "High Single Digit" Offline ASP Growth Rate and Solve for e_off
If g_offASP = 6.0%, then offline enrollment declined 4.5%
If g_offASP = 7.5%, then offline enrollment declined 9.9%
If g_offASP = 9.0%, then offline enrollment declined 15.1%
Why Didn't TAL Disclose Online / Offline ASP Ratio on the Q4 Call?
We think it's because our analyst sent a similar version of this model to TAL IR for comment prior to the Q4 call
We never received a response
Until that time, our and analyst and IR had been actively dialoguing
Our next report will detail why we believe TAL has fabricated Peiyou results
Article by Muddy Waters