It's impossible to see into the future, but as people's financial gazes are fixed on retirement, many forget about expenses that come after that. Namely, long-term care.
Q2 hedge fund letters, conference, scoops etc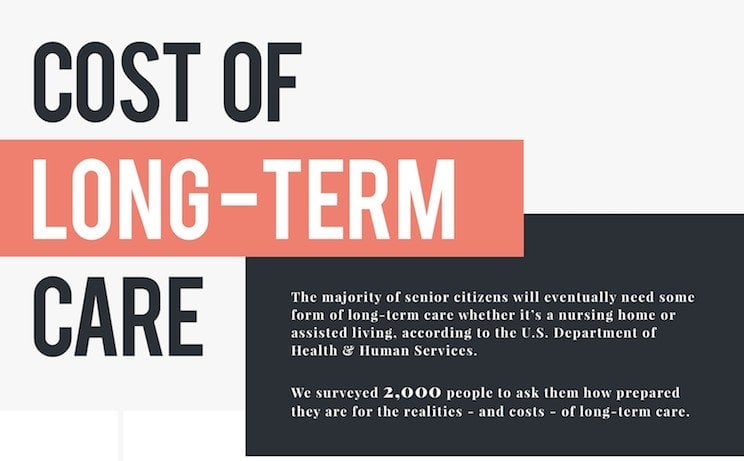 Michael Mauboussin: Here's what active managers can do
The debate over active versus passive management continues as trends show the ongoing shift from active into passive funds. Q2 2020 hedge fund letters, conferences and more At the Morningstar Investment Conference, Michael Mauboussin of Counterpoint Global argued that the rise of index funds has made it more difficult to be an active manager. Drawing Read More
In a survey of 2,000 Americans, Moll Law Group found that only 46-percent thought they would ever need long-term care like a nursing home or assisted living facility. The reality is much different: 70-percent of Americans will require some type of long-term facility as they age.
Beyond that, the Moll Law Group survey found that Americans are wildly unprepared for the out-of-pocket expenses this type of care requires. When asked how much they thought they would have to pay for nursing home treatment or an assisted living facility, respondents answered, on average, $25,350. The average costs often exceed $47,000 for long stays at nursing homes and assisted living facilities. The rates increase the greater the care required and the nicer the facility.
When it comes to saving for long-term care, 64-percent of Americans have nothing saved for their own futures. An even higher rate, 67-percent, of those surveyed said they are not able to contribute to their parents' long-term care needs.
These are startling figures considering the average age of respondents' parents currently in nursing homes was 72 years old. Nearly three out of four people said they were concerned about their parents experiencing any type of abuse in long-term care, and 41-percent said they overall expense was higher than they anticipated.
Medicare will help pay for long-term care if it's prescribed by a doctor for rehabilitation or other skilled services. However, Medicaid only offers financial assistance if the individual meets income requirements for long-term care.