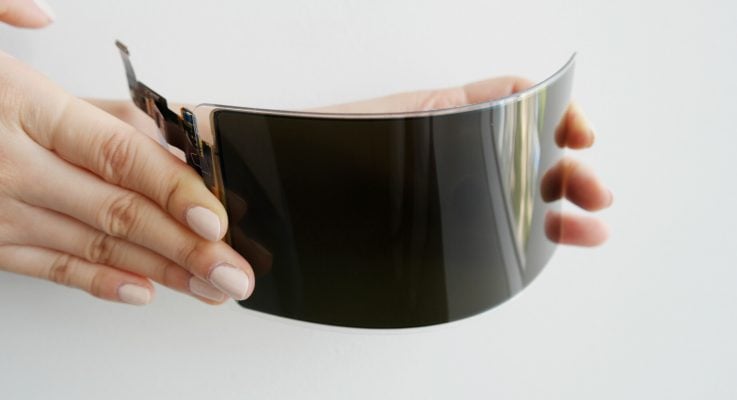 Smartphone screen panels are one of the most sensitive parts of every smartphone, especially when featuring the bezel-less designs. Repairing it after it has broken can be nearly as expensive as buying a new phone, although additions like Corning Gorilla glass can help reduce our concerns of the screen breaking. However, the South Korean tech giant is moving forwards when it comes to screen panels. It is known that the company produces its own panels, and according to its announcement from July 25, Samsung's unbreakable screen could be the new thing soon.
By default, "unbreakable" means that the screen won't break, no matter the circumstances, so you won't have to worry when you drop your phone on tile or concrete. According to Samsung, it is working on a flexible OLED screen panel that contains an "unbreakable substrate and an overlay window securely adhered to it."
"The fortified plastic window is especially suitable for portable electronic devices not only because of its unbreakable characteristics, but also because of its lightweight, transmissivity and hardness, which are all very similar to glass," Hojung Kim, general manager of the Communication Team, Samsung Display Company was quoted in the release.
Abacab Fund Sees Mispricing In Options As Black-Scholes Has Become "Inadequate"
Abacab Asset Management's flagship investment fund, the Abacab Fund, had a "very strong" 2020, returning 25.9% net, that's according to a copy of the firm's year-end letter to investors, which ValueWalk has been able to review. Commenting on the investment environment last year, the fund manager noted that, due to the accelerated adoption of many Read More
It was also announced that Samsung's unbreakable screen panel has already been certified by Underwriters Laboratories (UL,) which is known to be an official testing company for the Occupational Safety and Health Administration (OSHA) of the U.S. Department of Labor.
When the panel was tested at UL, it was dropped at 1.2 meters 26 times and remained the same as before dropping. The panel was also tested at both high and frigidly cold temperatures (at 71 and -32 degrees Celsius respectively), and the phone remained the same and didn't show any damage. The testers also attempted to drop it from a higher height of 1.8 meters, and the phone survived without damage.
This innovative panel could serve to be a great help, especially for those who are clumsy and easily drop their smartphone. However, it is likely that the panel will be used on its long anticipated foldable Samsung phone that is the center of attention at the moment. When the panel finally becomes available on some of the newer phones that are to debut, we are likely going to see people test-dropping it from even higher heights to test Samsung's "unbreakability."
This is great news with only a few more weeks before Samsung's scheduled huge event on August 9 in New York City, at which it'll debut the new Samsung Galaxy Note 9. At that event, Samsung could even announce its flexible phone, or maybe the Note 9 is to already sport the Samsung unbreakable screen. While a lot of Galaxy Note 9 rumors suggest that it is a huge upgrade over its predecessor, the unbreakable screen could really make it an evolutionary upgrade.