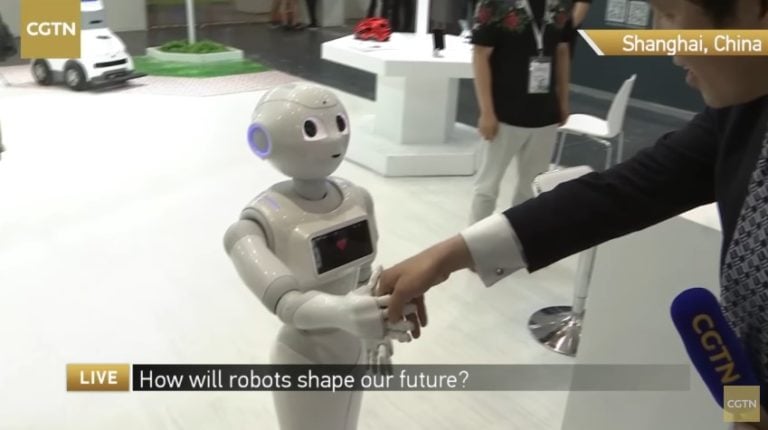 Shanghai is hosting the seventh China International Robot Show. Our China correspondent Yao Chin takes you on a live tour, showing you the latest tech, and a glimpse into how robots will play a major part in our future. And keep watching as there will be an exclusive show from a performer who has shared the spotlight with Rhianna and Will.i.am.
Q2 hedge fund letters, conference, scoops etc
How Will Robots Shape Our Future?
Warren Buffett's Annual Letter: Mistakes, Buybacks and Apple
Warren Buffett published his annual letter to shareholders over the weekend. The annual update, which has become one of the largest events in the calendar for value investors, provided Buffett's views on one of the most turbulent and extraordinary years for the financial markets in recent memory. Q4 2020 hedge fund letters, conferences and more Read More
Transcript
Good afternoon from Shanghai you're joining us live on CCN China Global Television Network. We are China International roadblocks set to be held here. There are some 300 exhibitors displayed 2000 robots here with an expected 80000 visitors up here over the four day period from Wednesday to Saturday. All the robots on display can be broken down into two sections. Once the service industry ones for the manufacturing industry. First of all let's have a let's look at the service industry. It's our friends and our minds and hopefully you will recognize me now that some say hello shake your hand. No for me Niihau Helma or sincere. She says it's nice to meet me. I think my Chinese not that great. Oh OK. So with me here is tell me more about how the service industry is benefiting from robotics and what his robots couldn't do. OK this is our robot on the sea. And you can listen to understand what people say. The most important respond. Yes this is a response because because he can work on it intact for a lot of hardware to finish the business. So OK so show me that what is what is what is part of what is people doing right now. She's she's looking around. She's using she's using cameras to sense where we are. But you recognize my face. Yes. So. So what is this application. Because I see a robot that's standing around wondering why that's not the case. Welcome to global enterprise global. So look at the profit system. OK.
So for example one of these environments we're talking about hospitals talking about what I'm talking about. Yes. OK. All right. Back rights to cooperate. OK. So for example my going to hospital and I say hello. So I. No but you can say OK I want to buy some that have a well off of products. No one can buy you will start a conversation. After some say it wasn't an accident. OK. You all. I've got to stop. Yeah OK. What happens if Kettner makes a mistake. Yes because I mean once an artificial intelligence is a race that might give you the wrong medicine. Right. Yes. So all the polls and we both station.