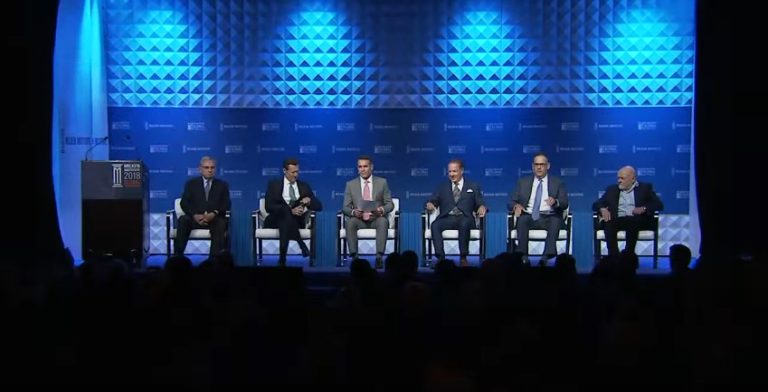 As monetary policies flip, real estate is demonstrating its appeal, steadily attracting capital while other asset classes exhibit signs of investor anxiety. What are the prospects for returns in global property markets? How are these assets positioned to handle changes in inflation and interest rates? Will new trade tariffs modify investment strategies? What anomalies can be seen in the current real estate cycle?
[REITs]
Q2 hedge fund letters, conference, scoops etc
Alluvial Fund May 2021 Performance Update
Alluvial Fund performance update for the month ended May 2021. Q1 2021 hedge fund letters, conferences and more Dear Partners and Colleagues, Alluvial Fund, LP returned 5.4% in May, compared to 0.2% for the Russell 2000 and 1.0% for the MSCI World Small+MicroCap . . . SORRY! This content is exclusively for paying members. SIGN UP Read More
Moderator
Erik Schatzker – Editor-at-Large, Bloomberg Television
Speakers
Neil Bluhm – Managing Principal, Walton Street Capital
Robert Morse – Executive Chairman, Bridge Investment Group
Eyal Ofer C- hairman, Ofer Global
David Simon – Chairman and CEO, Simon Property Group
Sam Zell – Chairman, Equity Group Investments
Real Estate Outlook: A More Attractive Asset?
Transcript
Good afternoon everybody and welcome to The Real Estate outlook. As God just said I'm Eric Schatzker and I am delighted to welcome a very distinguished group of panelists. I'll introduce you to them briefly if you'd like to read up a little more. Of course the Milken Institute has kindly provided us with very detailed biographies. Let me start on the far right. We have Neil Blum of Walton Street Capital immediately to my right as Bob Morris of the bridge investment group to my last AEL Ofir of Ofir global. To his left Simon excuse me David Simon of the Simon Property Group. And finally Sam Zell of Equity Group Investments I mentioned that their distinguished group of Real Estate Investors what makes them different however is that they don't all do the same thing. And I think that's going to become clear some of these gentlemen are highly specialized in what they do. David for example of course is focused on largely malls and the retail industry Bob is focused largely on value added investments in real estate. Some of our other panelists range more widely together. I think they're going to provide you with a really comprehensive sense of the outlook for real estate as an investable asset. And I think I'm going to begin with a very simple question which is where are we in the real estate investing cycle which of you guys would like to begin with that one had 11 veining the 11 inning of of of how many innings long Ekstrand and game time longer than I expected. What does that mean. Sam 4 and the 11 thing.
I think they know by now that the bottom of the recession was 0 9. We had a very unusual set of circumstances where from 0 9 until 15 we built almost nothing. I don't think there's ever been a period since World War II where we've ever built that little. Now how are we getting to get we equated with over supply and over the next 24 months. I think we're going to see a lot of new buildings. I don't know what the LIBIN innings mean. Why do say which I don't know what 11 innings me in because I'm not familiar with American football but spaceflight just shows you how much I know. I think what Sam is trying to say is the carton of milk in the refrigerator is well past its best before date. And I agree with that. Why the world is awash with money it's quantities reach unprecedented and and this money is chasing assets to the level which has not been seen before. And it causes asset values to increase and yield to compress to a level which any change in interest rates or inflation would make them unsustainable. Any change in inflation and in interest rates you know Erica. I think that in answering that question in part you have to put it in relative terms compared to other markets.
And and we've heard a lot about the equity markets and how equity valuations are high how interest rates are going to rise et cetera and in in real estate I think that there's there's potentially some value left on a relative basis compared to what are some pretty lofty valuations in the in the equity markets now it depends on what you buy where you buy it whether you're investing in the U.S. or or overseas. And in in some respects the core markets which are pretty closely correlated at least historically have been very closely correlated.