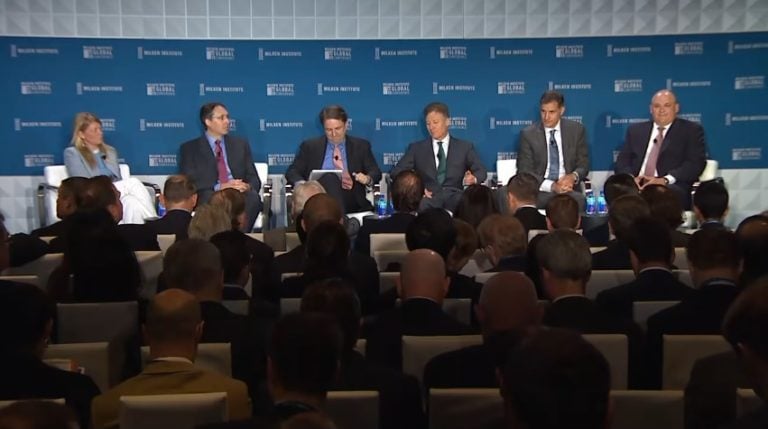 Last year, private equity hit an all-time fundraising record. The influx of cash has driven up valuations, and now some are concerned whether these illiquid assets can maintain their historic returns. Where are we in the current cycle? How is private equity responding to risks in an environment where multiples are stretched in both private and public markets? In which sectors do private equity firms expect to find the best pockets of opportunity to generate maximum returns? How are PE firms responding to oversubscribed funds?
Q2 hedge fund letters, conference, scoops etc
Moderator
Here's what Charlie Munger had to say at the Daily Journal meeting
Charlie Munger spoke at the Daily Journal Corporation's Annual Meeting of Shareholders today. Although Warren Buffett is the more well-known Berkshire Hathaway chief, Munger has been at his side through much of his investing career. Q4 2020 hedge fund letters, conferences and more Charlie Munger's speech at the Daily Journal meeting was live-streamed on Yahoo Read More
Jim Moglia - Managing Director and Group Head of Leveraged Finance Group, BMO Capital Markets
Speakers
Virginie Morgon - CEO, Eurazeo
Jonathan Rotolo - Head of Private Equity and Real Assets, Barings
Scott Sperling - Co-President and Co-Chairman, Thomas H. Lee Partners
David Wasserman - Partner, Clayton, Dubilier & Rice Limited (CD&R)
Andrew Weinberg - Founder and Managing Partner, Brightstar Capital Partners
Private Equity Business: Creating Value Against Increased Competition
Transcript
Please welcome your panelists for private equity creating value against increased competition moderated by managing director and group head of leveraged finance group at BMO Capital Markets. Jim Moglia so good morning. I also want to thank the Milken Institute for introducing me my found when I have subjects that are particularly exciting I forget to tell anybody in the room who I am and where I work. So we're going to come back to the subject in a second but I want to first introduce her panelists today certainly worth the time if not four or five times the time we have this morning to talk to cover the subject over On my far right versioning more going from she's a CEO of Euro zero. And then to my direct right John Rotolo who is head of private equity and real assets at Barings to my left. Scott Sperling who's co president cochairman of T.H. Lee. David Wasserman to his left Clayton duble. He's a partner there and then at the far end my my far left is Andrew Weinberg who's founder and managing partner at Brightstar Capital Partners. So fact is I had started a drum so Burnam long time ago and worked with Mike and at that time and for much of my career I was extremely excited that I was a founder of one of the transitional products in capital markets and capitalism.
And I have to say humbly that the private equity business of the various types has really despite maybe giving some credit to high yield bonds except for for being part of their founding has really changed significantly what's going on in our world and will be a significant part of what goes on into the future and the capitalist will tell you that we create social value by moving money to people that know what to do with that money and then and where to put that money. And I'm very proud today that these five as well as some of the others that you'll meet at the conference are a significant catalyst to the movement of money to where it makes the most sense. Now that's the good news one of the things we're going to talk about today is maybe some of the the tough parts of that job and I want to direct everybody to slide number one this slide we have it up shows what happens when you deliver for your investors is your investors want to reinvest and more investors want to put money in with you so there's been a significant amount of private equity fund raising. This is the fund raising for the LBO side of the business but it's much wider if you go beyond just elbows if you go to Slide number two this is one of the things that people are becoming concerned about which is has there been a build up of dry powder out in the marketplace and you know you don't have to get beyond second grade to know that your mom would tell you that money burns a hole in your pocket. So does money burning a hole in their pocket. We'll have to examine that a little bit more and then take you to slide number three and slide number three shows what's been happening to purchase multiples for acquisitions in the marketplace.
Obviously there's a there's a desire to try to find causality that if you give these guys more money and gals more money then eventually they bid up the prices of everything to crazy levels. And there's a decent case that that's worth examining. I want to go to a headline that brings that up. Is there too much dry powder too few deals. This is a headline for private equity spotlight really hits the subject of the day. Oddly enough that's from September 2013. So this seems to be a subject that's been hot for a long time. So perhaps the way to start this is I think that there is a combination of subjects. One is there's too much money too few deals a problem but most importantly how do our panelists today drive value creation value proposition so that they'll prove out that it's not the case that they should be feared when they are liquid. And maybe with that I want to go back to a quote that Scott here should be responsible for. Back in March 2010. I can't remember I had for lunch yesterday maybe a expert. We need to be careful that we do not push pricing beyond what makes sense. All right Scott How's that doing for you. You can tell it's great. It's working out. You know look I only start with the good news the good news is I've been doing this for about 37 years and during the entire.