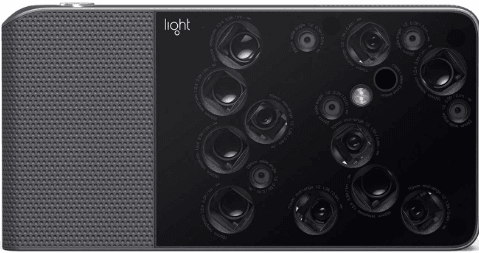 Camera maker Light is reportedly developing a smartphone with nine cameras to deliver a professional experience to users, according to The Washington Post. The camera maker, which has some big names such as Foxconn as investors, is looking to launch the phone with the multi-sensor array sometime later this year. For now, the company has working prototypes with lenses ranging between five and nine.
Smartphone with nine cameras in the works
The camera maker, which is looking to venture into the smartphone business in a big way, is familiar with Android since the open source OS powers its L16 camera (with 16 lenses on one side). Light's 16-lens camera can take multiple shots with varying depths and focal lengths simultaneously. The photos are then combined into one high-resolution image with the help of algorithms. Other features include portrait mode effects and 5x optical zoom. Light's smartphone with nine cameras could harness the same technology.
According to The Washington Post, such a massive sensor array in a smartphone would deliver 64MP photos, enhanced low-light performance and great depth effects. The price, however, might not be within reach of many, as Light's L16 camera is priced at $1,950. A buyer who pays that much would expect speedy software, which is not the case with the L16. To ensure decent sales for its phone, Light will have to crank up the software it includes in the handset.
Qualivian Investment Partners July 2022 Performance Update
Qualivian Investment Partners performance update for the month ended July 31, 2022. Q2 2022 hedge fund letters, conferences and more Dear Friends of the Fund, Please find our July 2022 performance report below for your review. Qualivian reached its four year track record in December 2021.  We are actively weighing investment proposals. Starting in November Read More
Adding nine cameras is no guarantee of success, and Light must be prepared for that. In the smartphone segment, Light will face off with Apple, Samsung and several Chinese behemoths. The challenge here is, even if Light does achieve the nine-camera feat, other companies will probably just copy the it. In the world of smartphones, being a technology pioneer hardly matters. Pricing and slow processors are other challenges the company needs to address to make a mark in the smartphone business.
Closest competition to Light's phone
Comparing the upcoming Light smartphone with nine cameras to current models, the closest smartphone would be from Chinese major Huawei, which recently revealed the first triple-lens rear camera: the P20 Pro. Apple's iPhone X comes packed with a 12-megapixel dual-lens snapper on the rear that utilizes the company's AI tech. The upcoming flagships from Apple and Samsung are expected to come with three lenses.
There are also reports that LG's upcoming flagship, the V40, will come with three lenses on the back. The device will reportedly have a total of five lenses, including the front-facing camera module. One of the front lenses is expected to be used for facial recognition and biometric authentication. The rear camera will likely have a standard wide lens, an ultrawide lens, and a third lens, the purpose of which is not known.
On the basis of megapixel count, the Nokia Lumia 1020 and Pureview 808 could be touted as competition, as both boasted a 41-megapixel sensor.
Buyers want more cameras
The camera has become one of the most important features of a smartphone. Last year analysts with Keypoint Intelligence estimated that users collectively take more than 1.2 trillion photos over the course of a year. Capitalizing on this development, smartphone makers are looking to increase the number of lenses on their devices.
Something that was not easily available a few years ago can be found easily today, courtesy the groundbreaking development in machine learning and artificial intelligence. Most premium smartphones now also offer depth effects such as bokeh mode, which enables you to blur out everything except the part of the photo you want to focus on.
The trend of multiple rear-facing cameras is here to stay, looking beyond the desire for detailed photos and broader photographic scope. These smart cameras can efficiently optimize photograph settings based on the conditions in which the user is taking the picture. Thus, don't be surprised if future smartphones come with nine camera lenses, a built-in fingerprint sensor and a folding screen.
Moreover, technology will likely make it possible to charge phones continuously through the air. It might sound like a technology straight out of some science fiction movie, but researchers have figured out ways to beam low-level power through the air. Firms such as Ossia and Energous are able to send power using radio frequencies, whereas Wi—Charge uses infrared light that is closer to lasers. Such technology, however, is still in its nascent stage and will take years to materialize.
Updated on