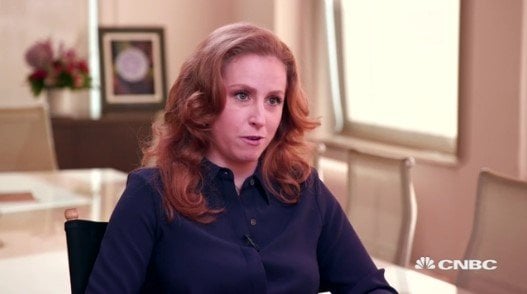 Lauren Bonner, plaintiff in a lawsuit against Steve Cohen's hedge fund, discusses her decision to take Point72 to court.
Q2 hedge fund letters, conference, scoops etc
Lauren Bonner Suing Point72 And Steve Cohen Speaks Out About Alleged Gender And Pay Discrimination
Point72 plaintiff speaks out from CNBC.
Jim Chanos Unveils Lastest Short As Fund Manager Bets On Further Market Declines
Jim Chanos has a new short target in his sights. Earlier this week, the hedge fund manager disclosed that he is betting against "legacy" data centers that face growing competition from the trio of technology giants, which have previously been their biggest customers. The fund manager, who is best known for his winning bet against Read More
Transcript
You just said it filed this lawsuit more than 100 days ago. Why did you do it. Well I joined the firm initially to build a technology platform that would help us uncover traits of greatness investors. The idea being that we would be able to find and if off the radar nontraditional talent who had all the great transects of an investor and I love that work and I continue to love that work. But while I was there what I saw over time looking through the data was that there was an institutional bias that was so entrenched that it just made it pretty impossible for women to advance economically or professionally. You're still going to work every day. You came from work today. What what is it been like since you filed. It's awkward but it's also not that bad. It's I used to come into work feeling pretty demoralized and now at least I get to come into work feeling a bit more positive about what I'm doing. You you run point seventy two's talent analytics team. What does that mean. For the purposes of this case what types of information were you privy to that maybe other women at the firm may not have known about that allowed you to highlight what you alleged to be patterns of discrimination and pay disparity. So I see all the relevant talent data about investment professionals which means that I see things like female candidates coming out of college have to have GPA is an essay tees that are 20 to 25 percent higher than their male peers.
To get the exact same job I see all kinds of data at really every stage. Has your job changed at all since you filed the lawsuit. My role is the same but I'm a little bit less busy than I used to be. Can you describe for me how you define the culture at point seventy two and ways in which you were uncomfortable as you laid out in the lawsuit. I think it was important to share some of the data so that people know that this is a purely there's a pure data driven case. But I also thought it was important to share some of these other stories that bring color to the environment so people can understand what it's like to walk past the presidents office or sit in his office while the word p#ssy is written on the whiteboard above his head. I think it's important for people to understand what it's like when a male colleague offers up his assistant for sex to another male colleague. I think people need to understand what that feels like and how absolutely degrading it is to try and feel like you have a professional presence when this is clearly how women are viewed. Now you speak the last lawsuit about getting passed over for promotion. Tell me about that experience. Well I I joined the firm. I built a cutting edge technology platform that our president and many leadership said was groundbreaking and innovative. And then I was told that I was too aggressive to be promoted. What does that mean aggressive too aggressive to be promoted. I don't know.
Updated on